John's Note: Jon Justice from Rockmart, Georgia, has been bowfishing for 12 years. Chuck Belmore, one of the hosts of "The Habit" (http://thehabit.tv/news/content/1-tv-show/) TV show, got him started in bowfishing. Today both Chuck and Jon host "The Habit" TV show.
John E. Phillips: Why did you and Chuck Belmore decide to start a bowfishing TV show?
Justice: We've been hunting and fishing together a long time and been bowfishing a number of years. We started filming our bowfishing shows and putting them on YouTube.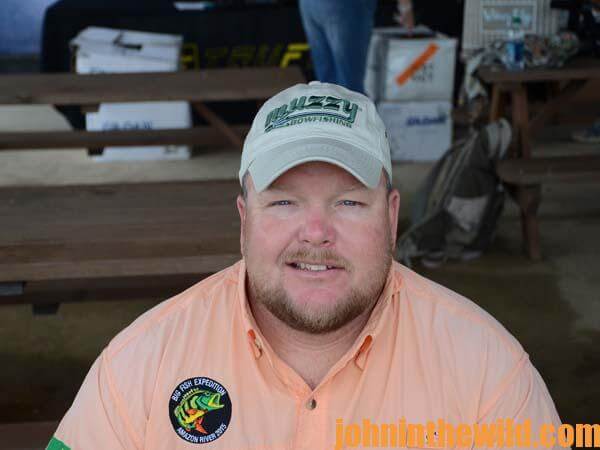 Phillips: Why does bowfishing have such a big fascination for you?
Justice: I like to have a good time with my friends, and bowfishing not only allows me to shoot my bow and harvest fish after bow season for deer has ended, but it enables me to have a good time with my friends out on the water. We joke and kid each other when we miss fish and get all excited and whoop and holler when we take a nice-sized fish. Any time we're out on the water, we're having a good time. And, when you throw in the element of being able to shoot fish, we have an even better time.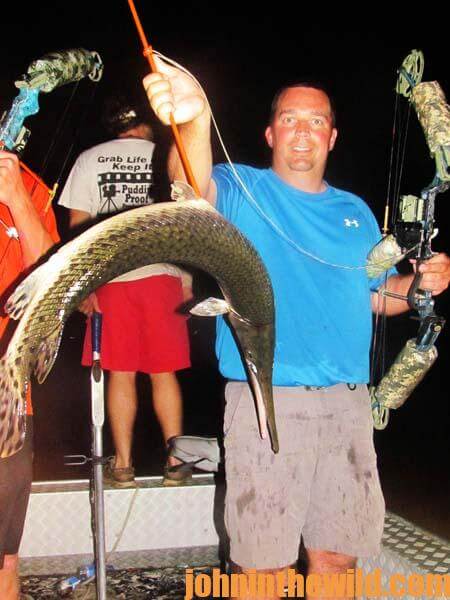 Phillips: Do you enter any bowfishing tournaments?
Justice: Not anymore. I competed in a couple of them, and I quickly learned that to be highly competitive and have a chance to win, you need to spend 4 or 5 days scouting before a tournament. I have a fulltime job working in the asphalt and concrete trade, 5 days a week. We usually do our shows on the weekends, and that's another thing I like about bowfishing and filming, is that they don't interfere with my job. Often on weekends, the lakes and rivers are really crowded, especially during the daylight hours. But at night on the weekends, there are very few, if any, other people on the water – especially late at night or early in the morning when we're bowfishing.
Phillips: Why would you encourage other people to consider the possibility of bowfishing at night?
Justice: If you've not ever been on a lake or a river at night hearing only the hum of a trolling motor, you'll have the opportunity to see a world that few if any sportsmen ever have the chance to see. Have you ever seen a fish sleep? I have. Have you ever seen a fish bed at night? I've seen a lot of bedding activity by many different kinds of fish when we're out on the lake at night with the big lights on the front of our boat shining down into the water. Bowfishing is like owning a big aquarium and staying up at night and watching the fish. Too, we see many other critters along the shoreline that we may not see during daylight hours.
Jon Justice – "Why I Bowfish:" https://youtu.be/1SxDk_YeJSk
To get John's book, "The Bowfishing Bible," go to http://amzn.to/22zX7Zz. To learn more about hunting and fishing from John E. Phillips' print and eBooks, go to www.amazon.com/author/johnephillips and www.barnesandnoble.com.
Next: Jon Justice on Bowfishing and Shooting Flying Fish
EXPLORE MORE: you'll love these stories from John too