Editor's Note: I called Joe McElroy of Cullman, Alabama, and talked to him about what had happened (see Day 1). I asked how he won 2nd place in the 2021 B.A.S.S. Nation Kayak Series National Championship Tournament. How did he meet JT and his parents, Jason and Tara Borofka? What motivated him to give away his winnings at this tournament, and what have been the results of this unexpected act of kindness?
John E. Phillips: Joe, Tell us what happened when you knew you had won the tournament.
Joe McElroy: I was in the lead after the first day of the tournament by more than 10 inches, and people got very excited because that was a tremendous lead to have after the first day. I had a pretty good feeling that the bass still would be holding on the point I'd been fishing du
ring the second day of the tournament. But I felt privileged to have been able to qualify for this national championship. So, I put everything in God's Hands and decided I would just go fishing that day. And if I caught one bass, then I'd concentrate on trying to catch the next one.
I was concerned, however, because the 30 anglers who had launched on Day 1 at the same ramp where I launched saw me catching those bass and knew exactly where I was fishing. I decided if I had a lot of company where I'd been fishing then, I'd drop back and fish the boat docks where I'd been successful during the practice days. But on Day 2 when I put in at the launch site, instead of having 30 competitors putting in at that launch, there were only about 10.
I think part of what happened was that those 30 competitors didn't get the whole story about the launch site. They could pay $25 to launch, but they couldn't leave their trailers at the launch site. So, many of those competitors had their vehicles and trailers towed off, and they had to pay about $300 to get those out of impoundment. The rule was you could launch for $25, but then you had to take your trailer and vehicle to another parking lot and leave it there. Then, when you came in from fishing, you had to go back that 4 miles to get your vehicle and your trailer. So, after that first day when many of those anglers spent $325 to get their vehicles and trailers back, only about 10 anglers followed the rules and put in at the launch site where I was. However, because I was staying at a nearby condo, I could leave my vehicle and trailer at the condo.
On Day 2, none of the other anglers fished my point. They knew I was in the lead, so they stayed away and let me fish that point to try to win. When 2-1/2 to 3 hours were left in the tournament, a group of competitors stopped fishing and came to the point to watch me fish and see the bass I was catching. In those two days of fishing, I caught and released about 50 bass. And, the average bass I was catching probably weighed 5 pounds. My biggest fish I weighed came in at about 10.86 pounds, although kayak bass fishing tournaments don't count the poundage of a bass but rather measure the inches of the bass. At the end of the tournament, we went to the Bassmaster Classic Stage in downtown Fort Worth.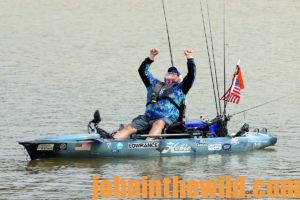 At the end of Day 2, officials from B.A.S.S. called the top-10 anglers and told us to meet at the chamber of commerce for a media event. And that's when I met Jason and Tara Borofka. The 10 of us were in a type of roundtable meeting where we introduced ourselves and told where we lived. I heard Jason say that he just had moved from California to Texas, and that he'd fished only one kayak tournament, but had placed well enough to make the national finals. At that media event, Jason briefly mentioned that he had a young son (JT), and that he had moved his family to Texas because there were doctors there who were much-more familiar with his son's disease than about any other place in the nation. His son could receive better treatment in Texas. That was on Friday evening. The next day we were scheduled to go to Fort Worth for a final presentation of the awards and the checks.
Saturday morning, I was out packing my trailer and truck with all our gear to go back home after the awards ceremony, when my wife came out and said, "Joe, someone I don't know wants to talk to you," and she handed me the phone. On the other end of the line, was the tournament director Jon Stewart, who explained, "We had to give you a 1-inch deduction because the mouth on one of the bass you measured was not completely closed." He told me what the time stamp was on the picture I had sent in, so I could look at my phone and see the bass' mouth was open, and how big the bass was. I accepted the decision after reviewing my photos of the bass. What I didn't know at the time was that 1-inch deduction would cause me to lose the tournament by 1/2-inch. (See the kayak tournament rules at (https://www.bassmaster.com/.)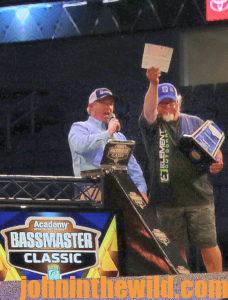 The arena where the awards ceremony would take place was 6-blocks away. After leaving our kayaks in a secure area, Jason asked, "Is there anyone who can take me, my wife and my son to the arena?" I said, "Certainly, we can," and we made arrangements with the tournament director for Tara and JT to ride with my wife to the arena. Jason and I talked for a while. He told me that his 2-year-old son was on a portable ventilator, and I also learned that, although this was Jason's first kayak tournament, he had fished professionally out of a big bass boat in times past. But his brother had talked him into fishing a kayak tournament on Clear Lake in California, where he lived at that time, and he had won that event, qualifying him for the national tournament.
The top angler in the kayak tournament would be called last to receive his reward. Jason had finished 7th. He said how thankful he was to be able to compete and win this prize and then talked about his son, JT. He made an appeal to anyone in the audience to contribute to the research being done in Pittsburgh, Pennsylvania, to find a cure for JT and others and gave this
website (http://www.pind.pitt.edu/labs/palladino-laboratory/). When Jason sat down, I told him, "I want to know more about this research center, and how people can contribute."
While on the stage, I looked out into the crowd and saw my wife sitting with Tara Borofka and JT in his special-built stroller that carried his portable ventilator. I'd already accepted my second place $5,000 check, when God tugged on my heartstrings, and told me I needed to give that money for the research being done to help JT Borofka get better. I held up the check, and said, "I'm donating this to JT."
Later, Ryan Lambert, a world-champion kayak fisherman, and others in the tournament-fishing program decided to put on a virtual tournament to raise money for JT. The owner of Tourney-X Management System (https://tourneyx.com/) agreed to manage the tournament for us. Registration for the charity tournament that started July 1, 2021, at this writing had 965 kayak fishermen already registered for the virtual tournament – making this tournament the biggest kayak tournament. It's nationwide. Every penny raised will go to research trying to find a cure for JT's disease. We're hoping to have 1,000 kayak bass anglers in this tournament. We've already raised over $50,000 just in registration fees.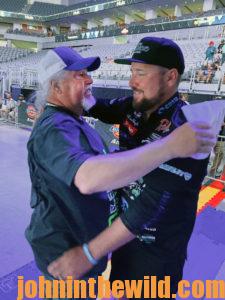 Also companies from all over the nation have donated products for an auction that will be a part of the fundraiser. We've not only had the fishing-tackle industry donate products to be auctioned off, but also the hunting industry. We've had new kayaks, trolling motors, batteries and huge amounts of other products affiliated with our sport donated. The tournament ended on July 31. If you go to Kayak Bass Fishing on Facebook (https://kayakbassnation.com/2021/06/24/jason-borofka-savejt-com/), you can get the particulars about how you could have entered the tournament, the rules and the winners. The tournament was called "TourneyX Save JT Charity Tournament."
To learn more about TPI, go to https://www.savejt.com/
Check out B.A.S.S. Kayak Bass Tournaments by visiting www.bassmaster.com/kayak, or write jstewart@bassmaster.com for more information.
To learn more about catching bass, check out John E. Phillips' book, "Bass Pros: Season by Season Tactics," at https://www.amazon.com/ available in Kindle version and https://www.amazon.com/ for Audible and print versions. (On right side of the Audible page for this book and below the offer for free Audible trial, you can click on Buy the Audible with one click). You may have to copy and paste this click into your browser. (When you click on this book, notice on the left where Amazon says you can read and hear 10% of the book for free).
Tomorrow: Learning from Kayak Bass Fisherman Jason Borofka about JT and the TPI Disease