Editor's Note: The Bassmaster B.A.S.S. Nation Kayak Series National Championship had 147 kayak bass fishermen from all over the country. This two-day tournament was held on Possum Kingdom Lake in Texas. Joe McElroy, who finished in 2nd place, fished a Texas-rigged and plum-colored Zoom Z-Craw (https://zoombait.com/z-craw/), with a 3-inch Driftwood custom swimbait (https://www.driftwoodcustombaits.com/) with an underspin in the shad color. In kayak-fishing tournaments, the size of the bass is judged by the length of the bass. The bass are placed on a measuring board, then a photograph is taken with a phone and sent in to the official scorekeeper. The contestant with the most inches of bass, caught and released, wins. On Day 1, Joe McElroy had 107 inches plus for five bass, roughly estimated to have weighed about 35 pounds. His second day total was about 103 inches, and those fish would have weighed about 35 pounds too. Go to https://www.bassmaster.com/. to learn more about rules for kayak tournaments.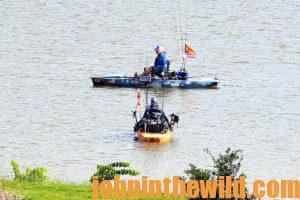 Joe McElroy: I had a group of spectators watching me fish, and most of those bass would have weighed about 8-pounds each. I never had fished this lake before, so I did a lot of online research and gathered old fishing reports from the Texas Parks and Wildlife (https://tpwd.texas.gov/) that told the conditions of the lakes, the weather, tournament standings and lures used to catch the winning bass. In my research, I studied the last 5 years of these reports to also learn the water temperatures on the lake at the time of year we'd be fishing and water elevations.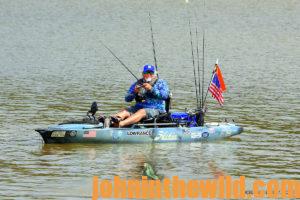 Next, I went to Google Earth to look at aerial photos to see the underwater structure in the lakes. Most of these lakes in Texas were formed by being flooded, and that left large pockets of underwater structure in the lake from before it was flooded. Finding that standing timber when the lake was full was almost impossible. So, I studied the lake maps when the lake was at its lowest point. I marked thousands of waypoints I wanted to fish. I also knew that the bass would have spawned 3-4 weeks before the tournament was held. At the time we'd be fishing, I understood the bass should be coming out of their primary spawning areas and stacking-up on secondary points leading to the main lake. I narrowed my search down to pinpointing three or so main creeks that led into Possum Kingdom Lake.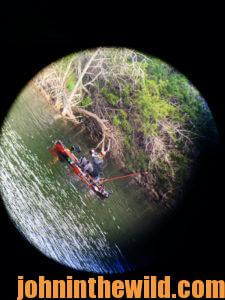 After that, I searched for launch sites on the lake because, in these kayak tournaments, we have to launch from public-access sites. Then you have to determine how long you'll have to paddle, peddle and/or use a trolling motor to reach the spot you want to fish. In the B.A.S.S. Nation Kayak Series (www.bassmaster.com/kayak), anglers are permitted to use trolling motors. That's what I planned to do. However, one predictable event that always seemed to happen with anybody's tournament was the weather changed unexpectedly, and it did on the second day of our practice days. The region got 6-1/2 inches of rain. The lake flooded with mud, and all the places I'd planned to fish looked like a chocolate milk shake.
My wife and I were staying in a condo that overlooked a bay near the dam where I believed would be the last part of the lake to be least affected by the muddy water coming from upstream. Every day I set-up a Swarovski 70X spotting scope (https://sandsarchery.com/) like western hunters use on my balcony. Each day I could see where these contestants were pre-fishing in this area, and the lures they were using – even the number-one kayak Texas angler. I made pictures and videos of him catching bass on my iPhone and saw he was fishing a green-pumpkin Senko worm rigged wacky style. No one was fishing docks like we would in the Southeast, and that's where I'd been catching bass during pre-practice. I decided to put in at the resort's boat ramp to be close in these protected waters. I could throw a football lure and hit the first floating dock from where I was standing on my balcony. So, my game plan for the first day of the Championship was to skip a Neko-rigged Senko worm under these docks.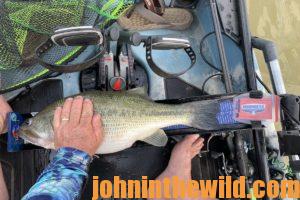 I later threw a top-water lure and got no bites. I had a swimbait tied on, and I caught a 22-inch bass on a point. When the bass quit hitting the swimbait, I started casting the Texas-rigged Z-Craw worm on a point and never fished more than 75-yards away from this point.
The Hobie kayak (https://www.hobie.com/kayaks/) I use has a MirageDrive system – pedal propulsion – with pedals like what you have on a bicycle to move the boat. Because I had a Lowrance depth finder (https://www.lowrance.com/) on my boat, I could see the fish on the point and drop a pin (mark the spot on my depth finder) where I saw the bass holding.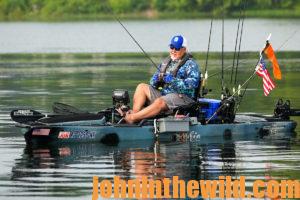 Several different contestants came to that point where I was fishing and asked if they could fish the point. I always answered, "No problem." When I saw the kayaks coming my way, I'd pick up my decoy bait, an 8-inch swimbait, and cast it. This place I'd been fishing was called the Cliffs. The point that led into the floating docks was a manmade riprap point that protected the floating docks from waves and weather. That riprap went out maybe 100 yards, and that's where I ended up catching about all my fish. My game plan was to go out to that point, try to catch bass using a top-water lure, like the Zara Spook (https://www.lurenet.com/heddon-zara-spook), and then move into this cove where all the floating docks were. But once I found all those bass out on the point, I fished both days there and never went to the floating docks. On the point, I was catching bass on 50% of my casts.
To learn more about TPI, go to https://www.savejt.com/.
Check out B.A.S.S. Kayak Bass Tournaments by visiting www.bassmaster.com/kayak or write jstewart@bassmaster.com for more information.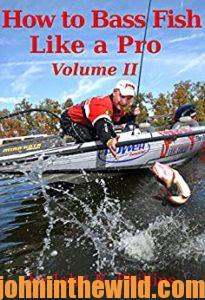 To learn more about bass fishing, check out John E. Phillips' latest book, just published in 2020, "How to Bass Fish Like a Pro, Volume II," at https://www.amazon.com/ for Kindle, print and Audible versions. (On right side of the page and below the offer for free Audible trial, you can click on Buy the Audible with one click). You may have to copy and paste this click into your browser. (When you click on this book, notice on the left where Amazon says you can read and hear 10% of the book for free).
Tomorrow: Learning How Joe McElroy Fishes for Kayak Bass