Editor's Note: Here's kayak fisherman Joe McElroy's equipment and how he fishes.
What's Joe McElroy's Kayak Equipment: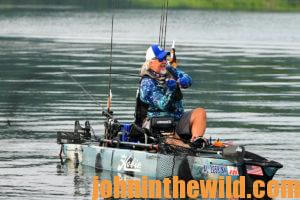 I love my Hobie kayak. For electronics, I have a Lowrance TI2 that has 3D StructureScan (https://www.lowrance.com/). I fish with G. Loomis rods that are 7'2" and 7'4." My reels are Shimano Metanium 6.2:1 gear ratio (https://fish.shimano.com/). On one rod, I had 27-pound Sunline Shooter fluorocarbon (https://sunlineamerica.com/). On the other rod, I had Sunline 16-pound-test fluorocarbon. I also have a Power-Pole (https://power-pole.com/) on the back of my kayak to hold my kayak in place when I find fish. I also use a ketch board
(https://www.kayakbassfishing.com/), a measuring device that measures bass in inches down to 1/4-inch. On the board, you must have the fish's mouth to the left, mouth closed, and pressed up against the end of the measuring device – a lip that turns up. You hold the fish on the board, have a tournament identifier that has to be in the picture as well and photograph the bass on the board straight down. After you get the picture on your cellphone, you upload the picture to the tournament-managing system – TourneyX (https://tourneyx.com/). This system manages all the catches of all the contestants in the event and allows you to upgrade your five biggest bass just like you'd weigh them for a Bassmaster tournament for big bass boats. After we send the picture, we release the bass.
To learn more about essential kayak fishing gear for tournaments, visit https://www.oldtowncanoe.com/.
How Joe McElroy Got Into Kayak Fishing: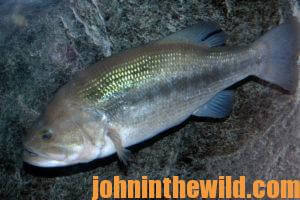 I got my first kayak in June, 2019. I bought that kayak to be able to access bass-fishing waters that big bass boats couldn't reach. I'd fished bass tournaments out of big boats, but I'd seen numbers of places on lakes and rivers before I would've liked to have fished but couldn't due to the shallow water. Also, there was so-much bass-fishing pressure on major lakes and rivers, I thought a kayak would provide opportunities for me to get exercise and go where other bass-fishing boats couldn't. My first kayak was a Hobie PA14 (https://www.hobie.com/kayaks). I chose that boat because it was big and stable and one of the best kayaks on the market at that time.
I didn't know much about kayak tournament bass fishing then. I competed in 15-20 kayak tournaments close to home, and I joined the KBF – Kayak Bass Fishing, which was the leader in kayak fishing at that time. So, I started fishing their regional and state tournaments. I was doing really well in those tournaments and winning some of them. I fished 40 of them the first year I had my kayak and participated in them. I really got hooked on kayak bass-fishing tournaments.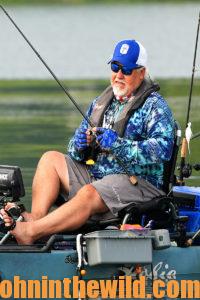 I qualified for the 2020 Kayak Bass Fishing series and fished that tournament on Lake Guntersville in Alabama. However, once Bassmaster got into the kayak bass-fishing tournament program, I switched to their tournaments. I also fished the Hobie Bass Open Series Tournament circuit (https://www.hobie.com/). So, I traveled all over the United States fishing these two tournament circuits. The Bassmaster kayak-fishing tournaments are usually one-day tournaments, and Hobie's are generally two-day events. 2020 was the first year that Bassmaster offered a Kayak Division for bass fishing.
I like fishing kayak bass tournaments because kayak fishermen can get into waters where big boat anglers can't fish and catch bass that have experienced very-little fishing pressure. A large number of really-great bass fisherman participate in these kayak-fishing tournament circuits, so the tournaments are very competitive. You have to scale-down the equipment you'll normally carry in a bass boat – less tackle, fewer rods, less clothing and other gear. But I still take 12 bass rods with me on my kayak. I'll have six rods in rod holders on my kayak, and I'll put six more rods behind me in a Hobie H Crate (https://www.hobie.com/). More and more high-tech equipment's being designed and manufactured for kayak fishermen than ever before. Many of us call our kayak fishing, "skinny water fishing," because we're fishing small creeks and tributaries, and our boats only draft a few inches of water.
How McElroy Fishes for Bass in a Kayak: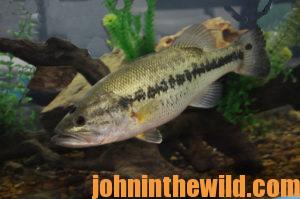 Bassmaster has a five-tournament kayak series, and kayak fishermen qualify for the championship by finishing either in the top-10 points race, or by fishing four of the five tournaments. I fished four of the five tournaments to qualify for the 2021 Bassmaster B.A.S.S. Nation Kayak Series National Championship.
Something I found to be very different about kayak bass fishing is that setting the hook on a bass is completely different than if you're sitting or standing on the deck of a bass boat. A kayak will move due to the wind and currents, so setting a hook may be hard. If you're moving in a kayak, you won't be able to feel your lure on the bottom because it may be riding up off the bottom and then dropping back to the bottom. To get a good hook set, a kayak angler has to be able to feel the bass take the hook before the fish sets the hook. More and more kayak fishermen are fishing braided line because it cuts through the water better than other lines, you can feel your bait better, and you can get a quicker hook set. When you get ready to set the hook in a kayak, you may have to set the hook over your back, over your shoulder or from other awkward positions because your kayak's moving.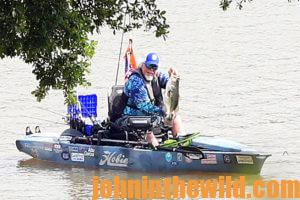 Today many of the top kayak anglers are becoming sponsored by kayak, lure, electronic manufacturers and trolling motor manufacturers. The only sponsor I've ever had has been Realtree Fishing (https://store.realtree.com/), and the company has provided me with some nice equipment. Now, Element Outdoors (https://elementoutdoors.com/) is my sponsor, and that company makes outdoor apparel primarily for hunting, using the Realtree patterns.
What's the Cost of Kayak Equipment and the Future of Kayak Tournament Bass Fishing: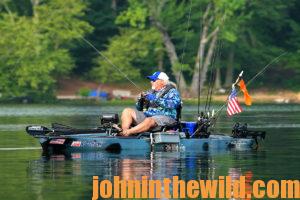 This sport is growing tremendously. To kayak fish, you can spend $300-$500 for a boat. Or, you can buy a very-nice kayak for about $1000. A top-of-the-line kayak will cost about $5000. To have it fully rigged out with electronics, Power-Poles, navigation lights, a motor and other gear, you'll probably spend another $8,000. So, a fully-rigged kayak will cost about $15,000, which is still cheaper than an aluminum jon boat with a big motor and a trolling motor. A kayak trailer costs $8,000. So, for a top-of-the-line bass-fishing kayak, you're looking at $30,000. A tournament bass boat fully rigged costs about $125,000. Some of the national bass pros are starting to compete in kayak tournaments. For instance, Jordan Lee (https://majorleaguefishing.com/) is sponsored by Native Kayaks(https://nativewatercraft.com/), and Michael Iaconelli (https://majorleaguefishing.com/) is also fishing national kayak tournaments. More bass fishermen are fishing out of kayaks because they're inexpensive, you can fish areas where other fishermen can't fish, you get plenty of good exercise and fresh air, and kayaks are just fun fishing.
To learn more about TPI, go to https://www.savejt.com/.
Check out B.A.S.S. Kayak Bass Tournaments by visiting www.bassmaster.com/kayak or write jstewart@bassmaster.com to get information.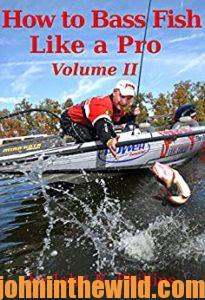 To learn more about bass fishing, check out John E. Phillips' latest book, just published in 2020, "How to Bass Fish Like a Pro, Volume II," at https://www.amazon.com/ for Kindle, print and Audible versions. (On right side of the page and below the offer for free Audible trial, you can click on Buy the Audible with one click). You may have to copy and paste this click into your browser. (When you click on this book, notice on the left where Amazon says you can read and hear 10% of the book for free).