John's Note: When I learned how Kevin Caudle of Gum Pond, Alabama was using a new lighting system to catch stripers on deep, clear Lewis Smith Lake in north Alabama, I decided that those same techniques should work to catch deep-water crappie at different times of the year. To test this idea, I contacted Dan Dannenmueller, one of the nation's top competitive crappie fishermen and the owner of the Bass Pro Shops Crappie Masters Tournament (www.crappiemasters.net) and the online free magazines www.crappienow.com and www.catfishnow.com. I asked Caudle to bring his lighting system and go with Dannenmueller and me on the Alabama River in central Alabama at night to see if this new lighting system would bring deep-water crappie up to within catchable range for crappie fishermen at night. Dannenmueller had gone out early that afternoon and found some spots that were holding deep-water crappie. I'll show you more about what we learned about how to catch crappie at night with deep-water and shallow-water flexible, non-floating, submersible lights that are inexpensive, almost indestructible and deadly efficient.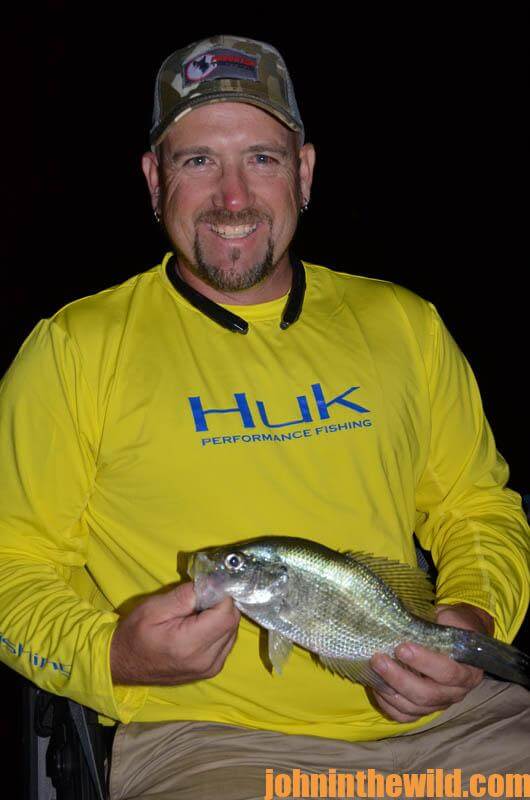 One of the reasons I wanted to put Kevin Caudle and Dan Dannenmueller together for this crappie-fishing adventure on the Alabama River was because of Dannenmueller's reputation and expertise in the crappie field. Dannenmueller is constantly looking for new and better products to tell the readers of "Crappie Now" magazine how to find and catch more crappie. He's also trying to learn new techniques that he can use in competitive fishing and enjoys fishing for and eating crappie and catfish.
Kevin Caudle, who is not a crappie fisherman, is a striper fisherman and uses these new lights to concentrate bait fish and catch stripers. He's learned he can concentrate bait fish under these lights. Putting his trolling motor on SLOW, he can cause bait fish to stay under the lights until he arrives at a point on Lewis Smith Lake where stripers hang out. By combining the experience of these two men – Caudle and Dannenmueller – we've learned a new and better way to find and catch crappie by using lights at night to catch crappie at different times of the year when most crappie fishermen don't fish and/or when the weather's so cold or so hot that most anglers don't want to go out and look for crappie to catch. You can see the video, "Dan Dannenmueller on How to Get a Free 'Crappie Now' Magazine and a Free 'Catfish Now' Magazine." To learn the times of year and places to fish for crappie at night, click here on the video, "How, When and Where to Night Fish for Crappie Throughout the Year."
For more information on the Bait Snake Fishin Light from Enlightened Outdoors, go to www.baitsnake.com.
To learn much more about crappie fishing, get John E. Phillips' Kindle eBooks and some print books, "Reelfoot Lake: How to Fish for Crappie, Bass, Bluegills and Catfish & Hunt for Ducks," "Crappie: How to Catch Them Fall & Winter," "Crappie: How to Catch Them Spring and Summer," "Catch Cold Water Crappie Now" and "Catch Crappie All Year: Fishing a Single Pole, Using No Boat and Farming Crappie" by clicking on each, or go to www.barnesandnoble.com to see Nook books.
To receive and download for free "The Crappie Catchers' Cookbook," by John and Denise Phillips that offers free recipes, go to http://johninthewild.com/free-books.