Editor's Note: I'd worked out my work schedule, so I could take off on a Tuesday in late May to go fishing with my buddy, fishing guide and tournament winning crappier, Jonathan Phillips of Wetumpka, Alabama. Phillips had just won the Alabama Crappie Masters Championship and was catching plenty of big crappie. He felt confident we could have a good day on the waters of the Alabama River, about 1-1/2-hours from my home. However, when I called him on Monday night, Phillips said, "We've had 7-1/2-inches of rain in the last 24 hours on the Alabama River. Since you live just outside of Birmingham, you know the entire state's waters, including numbers of feeder creeks, are flooded and out of their banks. I know this much water will move the crappie around from where they were during the Crappie tournament. Also, a lot of trash will be in the river. I think finding crappie will be harder, and there's an 80 percent chance of rain on Tuesday. We can go if you want to, but I really think we can pick a better day to fish. I've developed some summer patterns that have been really working well. If we wait a week or two, I feel certain we can catch some good-sized crappie." But we caught numbers of the biggest crappie I'd ever taken in these flood waters.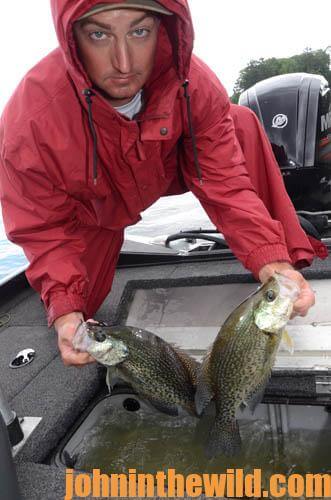 Phillips uses 8-pound test SpiderWire Invisi-Braid http://www.spiderwire.com/spiderwire/?q=invisi-braid, because he often gets heavier boat wakes fishing lakes or rivers in the hot summer months. Phillips is convinced that feeling his bites with that thin, small braided line than with monofilament line is easier. But when using braided line, Phillips has to make sure he has a lighter hook set than if he's fishing more-shallow water with monofilament line that has some stretch in it. "If you set the hook too hard, when you're fishing with braided line, you may pull the hook and the bait away from the crappie, or you can tear a hole in the crappie's thin lip, which allows the crappie to get free from the hook before you can get the fish to the boat," Phillips explains. Phillips likes a 1/2-ounce sinker on the bottom of his line to get the baits down to the depth of water where the crappie are holding but to knock the hook out of any type of wood structure on or near the bottom.
Phillips' poles of choice are ACC Crappie Stix (http://acccrappiestix.com), made in Illinois by Andy Lehman. "I fish the jigging poles that are designed to hold in your hand, because they allow you to feel some light bites that you may not notice with other poles," Phillips says. "Even when crappie fishermen fish all day, they may not be able to feel as many of those bites as they get. I like the 10' and the 11' jigging poles, because I want to get that far out in front of the boat and the side of the boat. The other thing I like about these rods is that they're strong enough to pull a 2-pound-plus crappie into the boat without having to use a net. Because I'm fishing with braided line, often when I get a crappie to the surface of the water, if I let the line have the least bit of slack, the hook will pop out of the crappie's mouth, and the fish will get off the hook and away from the net. Generally, I swing a big fish into the boat, rather than using a dip net. I have pulled a 2-1/2-pound crappie into the boat before without using a net, however, when I know I have a fish that big or bigger hooked, I'll use a net."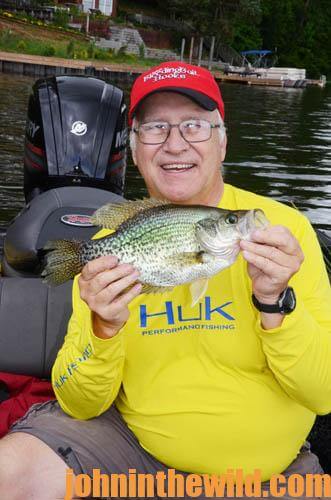 Having more than one spot to fish also is a real advantage. As Phillips mentions, "On the lakes I guide on, I usually have 50 to 100 different locations where I catch crappie. I never try to catch all the crappie on either one of my locations, since I believe that crappie attract other crappie. So, I don't like to catch more than four or five crappie out of each spot I fish."
Other very-important factors that enable Phillips to consistently catch bigger crappie in the hot summer months than most of us do is that he's fishing places that most other crappie fishermen don't fish, and he's fishing at a time of the year when the fewest number of crappie fishermen will be out on any body of water. The crappie he's finding and catching are usually old and big crappie. Phillips wants to consistently produce good limits of crappie for the people he guides and fishes with, preferably crappie in the 1-/1/4- to 2-pound ranges.
In May when Phillips won the Alabama Crappie Masters Championship, he fished several spots to catch his winning bag of crappie. "When I get ready to fish a tournament, I have a game plan," Phillips reports. "I have places I believe I can go to and catch tournament-winning crappie. I also have a backup plan that should produce a limit of fairly-good-sized crappie. These good fish spots don't usually hold a lot of crappie, but I usually can catch two or three good-sized crappie out of each of those locations. When I get to my next plan, the crappie I catch in these spots may not win a tournament, but they're generally big enough to earn me a check. I set-up this same type of routine during the summer months, so that I've always got places I can go to that I've either fished or scanned before, and I've either caught or seen crappie holding on those spots."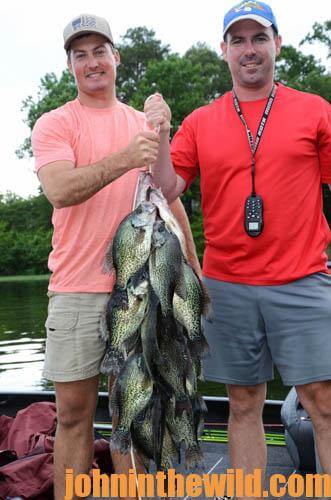 To learn much more about crappie fishing, get John E. Phillips' Kindle eBooks, and print and Audible books by going to http://johninthewild.com/books/#crappie or to www.barnesandnoble.com for Nook books. To receive and download for free "The Crappie Catchers' Cookbook," by John and Denise Phillips, go to http://johninthewild.com/free-books.
To fish with Jonathan Phillips and learn how he catches big crappie all summer long, contact him at 334-391-9735, or go to his Facebook page at Team  Phillips Guide Service https://www.facebook.com/Team-Phillips-Guide-Service-935028296557829.
EXPLORE MORE: you'll love these stories from John too