Editor's Note: 31-year old Jason Cook lives in Lebanon, Kansas, 9 miles west of Kansas City. He's been hunting turkeys since he was 6-years old and started guiding hunters to deer when he was 16. He's the owner of Land of Giants (https://huntlandofgiants.com/about/) and leases 30,000+ acres of prime deer-hunting land with some 200" bucks. He also guides duck hunters in Kansas and Canada. "My goal always has been not to be a typical outfitter," Cook explains. "I want to run my guiding business completely different from how all other guides do."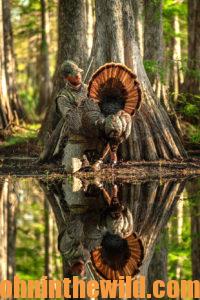 Cook operates two very-successful types of hunting businesses: deer and ducks. But, when turkey season comes around, the only person he'll be guiding is himself.
"When you're calling turkeys, those aren't the only critters you're calling," Jason Cook says. "I'm totally addicted to turkey hunting. I hunt every day during turkey season – whether rain's falling, or the wind is blowing. When I don't have a turkey located, I'll go sit by a tree and listen – even if I probably won't hear a longbeard gobble. I work hard running my outfitting business during the Kansas deer season and decided many years ago that I won't guide for turkeys. Instead, turkey hunting is recreational for me."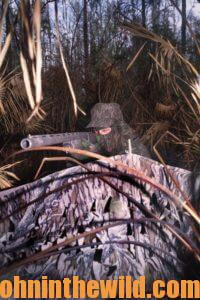 Cook has been traveling to Florida for many years to hunt turkeys and has built good relationships with several landowners who let him hunt their properties. He's built these relationships by trading for giant deer hunts in Kansas for the opportunity to hunt turkeys in Florida. According to Cook, "The Florida deer, generally speaking, are small and have small antlers, while our Kansas deer are really big with big antlers. That's the reason that private landowners in Florida are willing to allow me to take Osceola turkeys in Florida in exchange for the opportunity to possibly take one of the biggest bucks they've ever seen in Kansas. If I didn't trade out land to hunt in Florida, I'd lease land there for me and my buddies to hunt."
During May in Kansas, Cook is often fighting snow storms as turkey season starts there. "When I left Kansas for the opening day of turkey season in Florida in March this year, the temperature was 37 degrees with a strong wind. When I arrived where I was planning to hunt in Florida, the weather was 92 degrees. Florida is always my favorite place to hunt turkeys – not only because turkey season starts early there, but also because the weather is so warm."
To learn more about turkey hunting, check out John E. Phillips's book "The Turkey Hunter's Bible," available in print, Kindle and Audible versions at https://www.amazon.com/gp/product/B007HT1IUS/ref=dbs_a_def_rwt_hsch_vapi_taft_p1_i7. You may have to cut and paste this link into your browser. (When you click on this book, notice on the left where Amazon says you can read 10% of this book for free and hear 10% for free). To learn more about other turkey books by John E. Phillips, go to www.amazon.com/author/johnephillips.
Tomorrow: Jason Cook Is Attacked by a Florida Panther While Turkey Hunting