Editor's Note: In late spring and summer, you can catch crappie in many unorthodox ways, including fishing with knitting thread, fake hair or fur, jugging, goldfish, chumming and egging to name a few tactics. This week we'll look at fishing strategies you can use for crappie that you've probably never considered.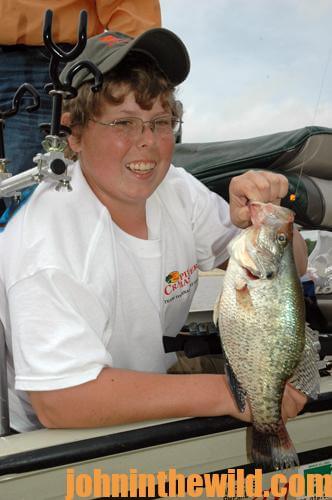 Fishing for Ankle-Deep Crappie:
I've fished with some anglers in creeks only 6- to 8-feet deep during the spawn who have placed their corks within 2 inches of the ends of their wire crappie hooks baited with minnows. Then they swing the corks and minnows into ankle-deep water beside downed logs and stumps more than half out of the water. Often the fishermen will spot the backs and the tails of the crappie barely sticking out of the water or laying just under the water beside the wood. Slab crappie will take minnows in extremely-shallow areas like this.
Chumming:
Try chumming, a technique usually associated with saltwater angling, to improve your crappie fishing. Anchor over a crappie-looking spot, and sprinkle cornmeal around the boat every few minutes. Soon minnows will begin to gather to feed on the chum, and the minnows will attract the crappie.
Splashing for Crappie:
If you've had little to no action when fishing for crappie, try slapping and splashing the water with your paddle. Although this tactic may seem weird, the commotion will sound like feeding fish, which often will attract nearby crappie to your bait.
Egging Crappie:
To attract minnows and thereby crappie to your fishing area, crush your breakfast egg shells.  Take them to the lake. Sprinkle the shell pieces overboard in a circle around the boat. The pieces will flutter seductively down through the water and draw in both minnows and crappie.
Gravelling Your Way to Crappie:
If you have access to a pond either before or after it's built, you can have more crappie to catch by spreading driveway-type gravel in a small area in the shallows. The crappie will use this spot for spawning, which will concentrate them.
Fly-Fishing for Crappie:
Although few people fly-fish for crappie, and many may consider this an unusual way to catch crappie, you can have great fun taking numbers of crappie on your fly-rod.  Utilize a 4- to 6- weight outfit and weight-forward floating or fast-sink tip line.  Attach a 4- to 6-foot leader tapering down to a 6- to 8-pound tippet. Fish with a small streamer fly in sizes 2 to 6.  You may have to crimp a small split shot on the leader 1 foot in front of the fly for extra weight. Cast the fly near deep points, bridge pilings and flooded timber, along drop-offs and to the edges of weed beds. Then retrieve with short, sharp strips to work the fly at 4- to 12-foot depths.
To learn much more about crappie fishing, get John E. Phillips' Kindle eBooks, and print and Audible books by going to http://johninthewild.com/books/#crappie or to www.barnesandnoble.com.
To receive and download for free "The Crappie Catchers' Cookbook," by John and Denise Phillips, go to http://johninthewild.com/free-books.
Tomorrow: Shooting Docks, Fishing Beaver Sticks and Fishing the Doughnuts to Catch Crappie