Editor's Note: Forty-two-year-old Troy Grogan lived in Utah for 26 years. Then he moved to Farmington, New Mexico, 16-years ago. He's been hunting elk for at least 28 years. "I like the Mossy Oak Brush pattern camo (https://store.mossyoak.com/camo-patterns/brush), because where I live in the West, there's a lot of sage brush and cedars, and it really fits the open country where I hunt," Grogan explains. He's taken several mature bulls and also 30 cows and spikes.
In 2015, I drew a limited entry tag in Utah in the Manti-LaSalNational Forest (https://www.fs.usda.gov/mantilasal) – the area where I grew up, and where I'd hunted most of my life. We knew all the roads there, and where the bulls usually hung out.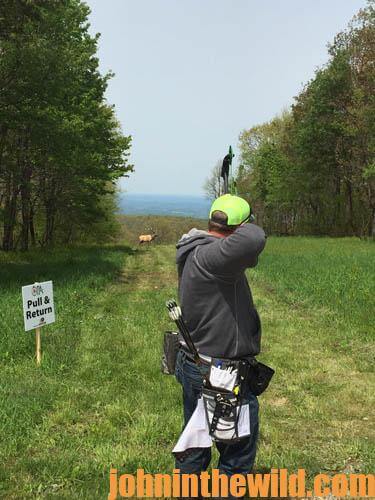 This hunt was at the end of August when the elk weren't bugling very much, but we had heard this elk bugle. I decided to go check him out and see what kind of bull he was. We had seen some pretty-good bulls in this area in past years. The bull was in a region that had been burned several years before, and a lot of quaking aspen trees had grown up through the fallen, burned timber. This section of land was really, really thick. It had a few open areas, even though the majority of the property was really thick.
This bull was in a really-big herd. About 10-other bulls were with him, and they were pushing about 80 cows. We had seen this herd earlier, and we had jumped some of the cows in the herd. I spotted a bull that would score about 300 inches. However, since this tag was hard to draw, I didn't want to shoot that bull, because I knew I probably would see a larger bull.
Although the herd had spooked a little, they weren't terrified. We kept up with them until they settled down again. Then we got into the herd and had elk walking around us – perhaps 10-20 yards away from us. The bull I decided not to shoot was well within bow range, and I began to rethink whether I should shoot him or not. But then, I looked up, and I could see the herd bull that wasn't right in the middle of the herd raking his antlers against a tree. I decided this was the bull I wanted to go after. My brother Calvin was with me. We moved slowly, but we were only able to close the distance about 10-20 yards, because that herd bull was across a pond that led up into an open meadow. So, nothing but open ground was between us and the bull.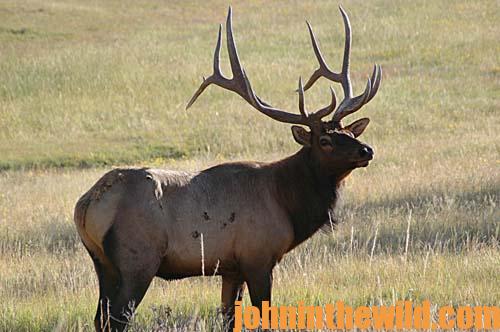 Calvin ranged the bull, and he was 116 yards from us. I'm a professional archer, and I was shooing for Hoyt (https://hoyt.com/bowhunting) at that time. I shoot tournament archery, and I always practice shooting out to 140 or 150 yards. I know I can shoot a group inside a pie-plate target at those distances under perfect conditions with no wind. Also I use a sighting system on my hunting bow that allows me to dial in the range, and then I can aim accurately. So, even though the shot was at 116 yards, it was well within the range that I knew I could shoot accurately. I was using a Montana Black Gold Pure Gold sight (http://www.sandsarchery.com/Black-Gold-Pure-75-Series-Archery-Sight-s/151.htm), and I dialed it in for 116 yards. For 12 years, I've been practicing shooting up to 140 yards. When I drew my bow back, I was confident that I could place that arrow where it needed to be to bring the bull down. The bull finally quit raking the tree and turned to walk off. When I released the arrow from my Hoyt Carbon Matrix bow, he was looking at us.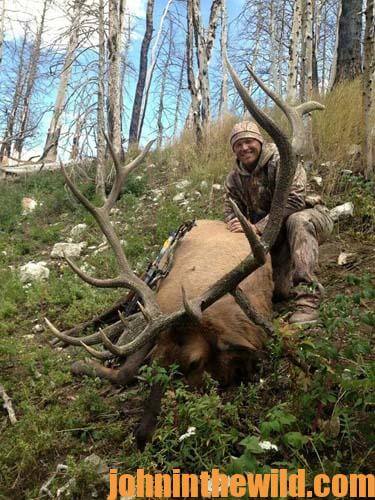 When I'm hunting elk, I like to shoot a heavy arrow. Once my bow fired, it was silent. I had confidence in my Rage Hypodermic broadhead (http://www.ragebroadheads.com/hypodermic/). The bull was quartering-away from me, and the broadhead entered somewhat low right behind the last rib and buried up all the way to the fletchings. He ran off a little ways, and we watched him until he lay down. We waited 45 minutes after that until we went to him.
The bull I took was the herd bull, and he scored 336 on Pope & Young. I called some of our cousins who live close by, and they came out to the unit and helped us debone the meat and carry the head out. There were four of us with pack frames. So, we made the 1-1/2-mile trip out and didn't have to go back and make a second trip.
To learn more about John's elk books go to http://johninthewild.com/books. Also, John's latest elk book, now available, is titled, "Elk: Keys to 25 Hunters' Success." To get John and Denise Phillips' free cookbook, "Miz Denise's Outdoor Cooking: More Than 35 Recipes for Elk and Mule Deer," go to http://johninthewild.com/free-books.
Tomorrow: Dean Sanchez Takes a 300 Point Bull with His Bow