John's Note: Steve Brown from Millbrook, Alabama, fishes the Alabama River as his home lake. But as a professional crappie fisherman, Steve Brown fishes rivers and lakes all over the United States and shares what he's learned that will help each of us be better anglers on rivers. He defines himself as a crappieholic.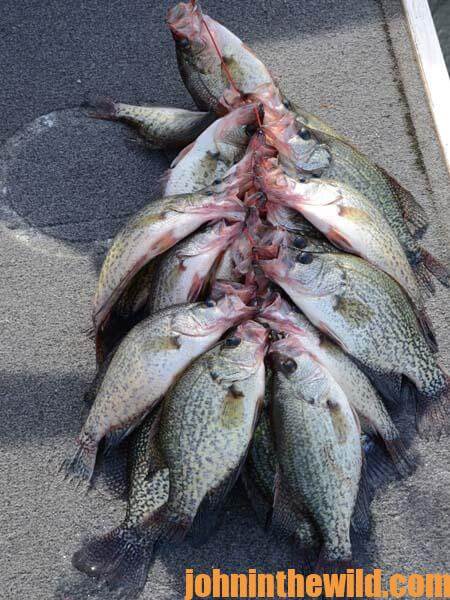 Generally, crappie like to hold under, in or above some type of structure. Structure can be defined as brush tops, stumps, roots, drop-offs or any other form of bottom break or disruption on the bottom of the river. The other ingredient that causes crappie to hold onto structure is the bait fish in or around that structure. You can build the best brush pile a crappie ever has seen, but if that brush pile doesn't have bait fish close to it or in it, the crappie won't be there. Picture a dining or a kitchen table where you normally eat. Regardless of the glasses, plates and silverware that sit on that table, if there's not food on that table, you have no reason to sit around that table. That's the way crappie are about structure. There needs to be bait fish holding near that structure. You need both ingredients – structure and bait fish – to find and catch crappie in the summer months. I've learned if I put out 10-different brush piles, only one of the brush piles usually will produce crappie that weigh 1-1/2-pounds or more.
When I begin to talk about brush piles and river fishing, I'll see a group of fishermen shake their heads. Someone always asks, "On rivers, in the fall and spring, we often get major flooding conditions, and in the summer months, when folks are running their air conditioners, there's a lot of current running through rivers. How do you keep brush piles from being washed away when there are floods and current coming through the river in the summer months?" You need to find any breaks in the river – underwater sandbars or major bends in the river – that will break the current. If you don't put the brush on the downcurrent side or behind some type of current break, your brush piles won't stay in a river.
For instance, while on the Alabama River recording this interview, I found a shallow sandbar at the head of an island. The top of the sandbar was only about 2-3 feet deep, but after we came over the sandbar, there was a 16-foot drop-off and a big brush pile in that drop-off. The current came around the island and over the 2-foot bottom, which was the sandbar, but the crappie held in that 16-foot drop-off out of the current to have a great place to feed. If you can find a boulder, a big tree trunk or a creek channel that's maybe 2-feet deep or deeper and runs out into the major river channel – all those types of bottom breaks are where you can sink brush. Or, often you can find brush to catch crappie in the hot summer months and perhaps in the cold winter months.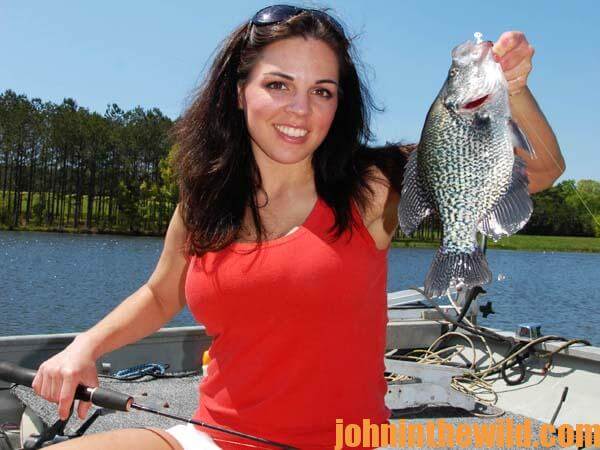 Another  question I'm asked is, "If you're going to put brush out in the river system to attract crappie, what type of brush do you like to sink?" I prefer to sink sycamore trees to make my brush piles, since those are hardwood trees. One of the properties of sycamore trees is that they hold a lot of moisture, making them easy to sink. They don't float up off the bottom as many other types of hardwood trees will. If you're sinking oak trees, you have to use much-more weight to sink them to the bottom than you have to use to sink sycamore trees. To fish a river system effectively, I like to sink 20 brush piles. That's not a large number of brush piles, but one of the reasons crappie and bass fisherman build brush piles is so they can find underwater structure easily that's invisible to other crappie fishermen.
However, as sonar has gotten better and better, today side-scanning depth finders make locating brush, stumps, logs and bottom breaks much easier now than it's ever been. So, I don't have to put out as many brush piles as I once did when I first started crappie fishing. I've almost reached the point where I believe that putting out brush piles is almost a waste of time, because the new electronics (depth finders, GPS and side-scanning depth finders) are so good that you can see and locate any type of brush pile or structure that's on the bottom in any creek or river you want to fish. We all know that side-scanning depth finders have revolutionized bass fishing, but I really I believe the side-scanning depth finder helps a crappie fisherman locate fish much more effectively than it does a bass fisherman.
Bonus Videos with Steve Brown
"Single Pole Fishing on Rivers:" https://youtu.be/48JANm18uSY
"Map Fishing Crappie:" https://youtu.be/tCg2MMb7pK8
John's Note: I met Steve Brown at the Bass Pro Shops' (www.basspro.com) Crappie Masters' (www.crappiemasters.net) Alabama Championship where the sponsors included: www.bobbygarlandcrappie.com; Black River Tools (www.blackrivertools.com); www.purefishing.com including Johnson Fishing and others; B'n'M Poles (www.bnmpoles.com); TTI Companies' Fishing Group (www.tticompanies.com); Hampton Inn and Suites (http://hamptoninn3.hilton.com/en/hotels/alabama/hampton-inn-and-suites-prattville-MGMCFHX/index.html); www.elmoreco.org; www.gammafishing.com; and www.prattvilleal.com.
To learn much more about crappie fishing, get John E. Phillips' Kindle eBooks and some print books, "Crappie: How to Catch Them Fall & Winter," "Crappie: How to Catch Them Spring and Summer," "Catch Cold Water Crappie Now" and "Catch Crappie All Year: Fishing a Single Pole, Using No Boat and Farming Crappie" by clicking on each, or go to www.barnesandnoble.com.
To receive and download for free "The Crappie Catchers' Cookbook," by John and Denise Phillips that offers free recipes, go to http://johninthewild.com/free-books.
Next: Don't Be Intimidated by River Fishing for Crappie