Editor's Note: Luke Brewster of Virginia, hunted in Edgar County, Illinois, and harvested the world's record non-typical white-tailed deer with a bow on November 2, 2018. This harvest was certified by Buckmasters (https://buckmasters.com/), Pope and Young (http://www.pope-young.org/world-records_main.asp), and Boone and Crockett (https://www.boone-crockett.org/). I had the opportunity to interview Luke at the Buckmasters Deer Show in Montgomery, Alabama, in 2019, and I asked Luke to describe how he found and took this huge buck that scored 327-5/8 inches.
The stand I was hunting from (see Day 1) had been put up about 5 years earlier. Justin, who had had a shot at this monstrous buck the previous year, and a few of my other buddies had talked about taking that stand down, but for some reason they didn't. When we were discussing who was going to hunt where, I made a split-minute decision to hunt from that stand. We only had about 200 wooded acres to hunt.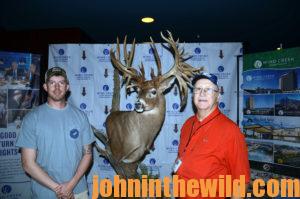 We roughly scored the buck with the drop tine glued on and without the drop tine. He scored 311 inches when we submitted the rack to Buckmasters, Pope and Young and Boone and Crockett. The drop tine was glued on for the panel scoring, but the panel also wanted to score it without the drop tine. The buck was officially scored at 327 5/8 inches and it was the number-one hunter kill non-typical whitetail. So, at that time it was officially scored and registered as the number-one non-typical buck taken with a bow on all three scoring systems. The pictures of the buck made their rounds throughout the hunting community on all social-media platforms. This deer really set the internet on fire. Of course, there were a lot of negative comments from people who were jealous because they thought they had seen this deer.  I considered those negative comments as "earned jealousy."
The first criticism I got was this buck had been raised behind a high fence, or that my buck was a high fence escapee. There were many other crazy comments that weren't true, however, we called the game warden and had him examine the deer. The first thing he did was check the deer's ears to see if there was a hole in them, because a deer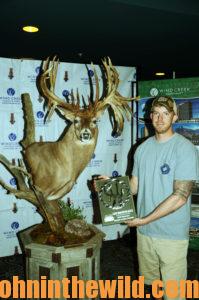 that's raised in a high-fence enclosure had to have a tag in his ear. My buck didn't have a hole in his ear. Also, we told and showed the game warden where I'd shot the buck, so he could document everything about the kill, know it was a legal kill and certify that the buck was a wild buck.
A question I was asked after I took this buck was, "Why didn't you get nervous when you saw this big buck working that scrape at 26 yards?"  Honestly, I didn't have time to get nervous. Everything happened so fast. I didn't see the buck, until I took the binoculars down from my watching does, and then all of a sudden, there he was. Also, I'd been practicing for that kind of moment for quite a few years. Every time I shot a deer target in my yard, the thought of seeing a deer of a lifetime and having to aim and shoot quickly always was going through my mind. When practicing, I shot at targets out to 100 yards and even further, but in the woods, I never took a shot at more than 40 yards. When I first saw the buck at 30 yards, I waited until he couldn't see me and hung my binoculars up slowly. I was hunting from an Osage orange tree, so I was really well hidden. Since my bow was on a bow hanger with my arrow already on the string, I slowly reached for my bow and made sure I had a good grip on it before I tried to take it off the bow hanger. Then I put my mechanical release on the D loop of my bowstring, and I mentally went through my checklist to make sure I did everything I always did in practice to get a good shot. I focused on where I wanted the arrow to hit the deer, and where I wanted it to exit. Then, I looked at my 3 Pin Spot Hogg Sight (https://spot-hogg.com/sights/) and put the pin where I wanted the broadhead to hit the buck. Because I'd practiced going through this routine often, very quickly I was able to get my bow from the bow hanger to full draw in only seconds.
Since taking that deer, I've had lots of interviews, gone to several different deer shows, done some videos and even went to Montgomery, Alabama, for the Buckmasters Deer Show. Right now, my schedule includes some other deer shows. I'll be meeting a lot of people and telling the story of the hunt over and over again. To learn more about this deer, you can go to @brewsteroutdoors on Instagram, where I'll be posting my schedule. There you can also find pictures of the buck in the field where I took him.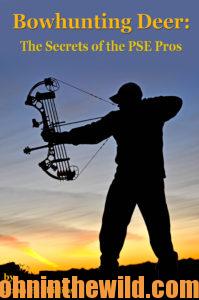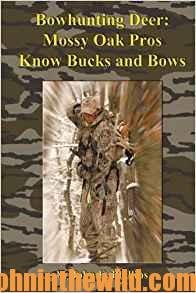 To learn more about hunting for deer, check out John E. Phillips' bowhunting books, available in Kindle, "Bowhunting Deer: Mossy Oak Pros Know Bucks and Bows" (http://amzn.to/1QGvdQx) and "Bowhunting Deer: The Secrets of the PSE Pros" (http://amzn.to/VBr1qW). If necessary, copy and paste this link into your browser.
Tomorrow: Mark Watson Tells about His 300-3/8 Inch Kansas Deer.