Editor's Note: Captain Colton DeBlieux owns Liquid Force Inshore Charters (https://fishingbooker.com/charters/view/4466) in Orange Beach Alabama. As a youngster, he learned that during the summer months when the weather was hot, water skiers, jet skiers and fishing boats all were very active during the daylight hours. He discovered that he could find and catch more fish, especially speckled trout, redfish and flounder, by dock fishing at night, especially during the hot months of summer and early fall. DeBlieux has a Facebook page at https://www.facebook.com/liquidforceinshorecharters, and his phone number is 251-233-5731.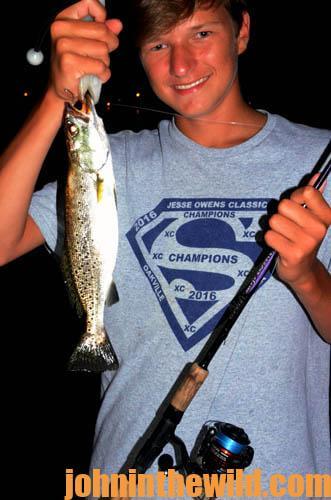 I'm much like a postman who goes for a hike on his day off, even though he may be walking all day for 5 days delivering mail. I like to fish. So, on nights when I don't have a charter, I call some of my buddies like Dustin Hayes and others, and we'll go out and fish the lights. The other advantage that I have by fishing the lights at night when I don't have a trip is that I can keep up with which lights are producing best just before I have a charter or right after I have a charter.
On this trip, I pulled my shrimp net and caught plenty of shrimp and croakers, and we started fishing on Bayou St. John. At the first light we went to, the speckled trout seemed to be having a convention, because we could see numbers of trout feeding on shrimp right on top of the water. We caught about 30 trout that night, and we had 21 keeper trout. We stayed in Bayou St. John that night and didn't even go over to Old River to fish. We also caught six good redfish, with some more than 26 inches. The biggest trout we caught was about 24 or 25 inches and weighed about 4 pounds. August and September have proven to be good months for catching big trout under the lights. We seem to catch more trout in the 4-6 pound range at this time of the year than we do during the early spring. But we'll only catch one or two of those big trout each night we fish.
One of the questions I'm often asked is, "What light seems to produce best?" I've found that there is more than one factor that makes some lights better than other lights. Usually, the stronger the current is running under the lights, the more fish we'll catch off those lights. The other key factor is that the lights need to be over a bottom that is 7-8 feet deep.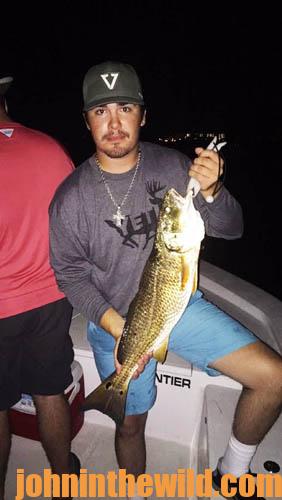 The Green Monster lights (www.thegreenmonsterfishinglight.com) are underwater green lights that are very productive to fish over, because you can see the bait better with the lights. When the water is clear, you can see the bait and the fish deeper in the water. The other lights that seem to produce best are the very-bright white lights that are on some docks that shine down in the water with a bottom 7-8 feet deep. Now, you can catch speckled trout under a dock light that's 10-feet deep or more, but I've noticed we catch the most and biggest trout under the lights 7-8 feet deep. The lights that don't seem to produce as well are faded yellow-colored lights, or orangish-looking colors. Now, we have caught some good-sized trout from these colored lights, but more often, there will only be one or two trout under the orange or the yellow lights.
Another question I'm often asked is, "How often can you go back to a light you've fished the night before and still catch specks and reds?" Generally, we always catch trout under the lights where we always catch trout over and over again, unless we've just worn the fish out and caught numbers of fish under that light. If that happens, I may wait 2-3 days before I return to that light to fish. Each night I fish, I'll fish six to eight lights, and usually three of those lights consistently will produce fish every time I fish them.
I have some lights that are over 7-8 foot deep water, and almost every night we catch trout or redfish over them. As long as the current is running in front of those lights, we just about always catch fish there. One other factor that helps fishing under the lights is an outgoing tide, which usually produces more fish than an incoming tide.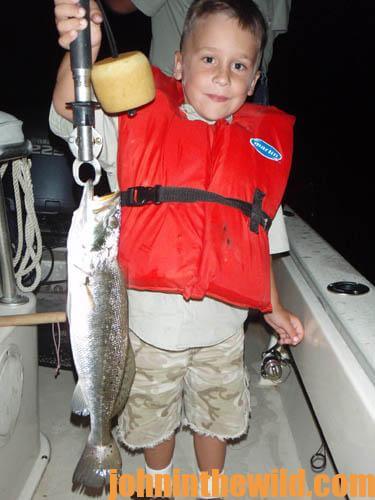 Sometimes I'm asked, "Do you take families out fishing?" My answer is, "Yes, I really enjoy family trips." I usually put Mom and Dad in a good spot on the boat for them to fish and catch fish. Then I work with the youngsters teaching them how to fish, how to cast and how to bait their hooks. If they're younger, I'll cast for them to start with and hook them up with either trout or redfish, so they can reel in the fish. If they have heavy fish and want me to, I'll help them hold the rod.
I enjoy family trips, because they're a lot of fun for the kids, as well as Mom and Dad. If Mom and Dad want to help the kids fish, that's fine, but most of the time Mom and Dad enjoy fishing. They don't have to worry about the youngsters, because I'll be taking care of them. My favorite thing about night fishing is having the opportunity to teach youngsters how to fish.
To learn more about saltwater fishing, check out John E. Phillips' Kindle eBooks and some print books at http://johninthewild.com/books/#gulf.