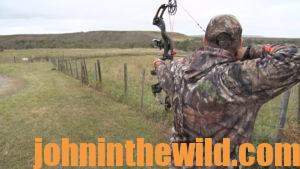 Editor's Note: Mark Drury of Drury Outdoors (https://www.druryoutdoors.com/) is known first and foremost as an expert white-tailed deer hunter and turkey hunter. You can forecast deer movement with his app at (https://www.druryoutdoors.com/deercast.php#.W9H2GeJOmUk) that combines local weather info with the distinct characteristics of each of the 13 phases of whitetail season to deliver a custom forecast for peak deer activity of where you should hunt down to the hour. This app combines 70 years of Mark and Terry Drury's whitetail-hunting expertise with hour-by-hour real-time algorithm-driven deer movement forecasts and an abundance of videoed Mossy Oak hunts. But what you may not know is that Mark also enjoys hunting mule deer and uses what he learns during mule deer hunting in September and October every year to prepare for whitetail season.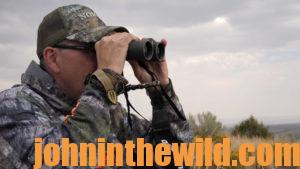 I've taken 18 mule deer in 18 years – almost all of them with my bow.  I'm often asked how I get ready for a mule-deer hunt. When I hunt mule deer, I use the spot-and-stalk technique. So, the first thing I do is make sure I'm in the very-best physical condition possible. I certainly don't want to hold my guide or anyone else in our group, including the cameraman, back because I'm not in good physical condition. I try to stay in shape all year, but for my early-season mule deer hunt I work harder to get in shape than I do for any of my other hunts.
I also practice shooting my bow all year along. But once again when I'm preparing to go mule deer hunting, I practice shooting at longer distances than I do when I'm whitetail hunting.  When you shoot at longer distances than you're accustomed to shooting, your mistakes are amplified, and you can see what you're doing wrong much quicker. When I'm practice shooting, I also shoot from various positions. I've found that you'll rarely if ever have an opportunity to have your feet squarely up under you and be in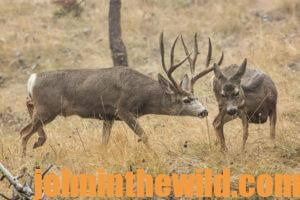 the same position from which you shoot as you are when you're  back home practicing. I shoot sitting, kneeling and bent over because those are how most of my shots have been.
I also try to shoot at different elevations. Every now and then a mule deer will be on level terrain, but most often, the mule deer at which I'm shooting will be uphill or downhill from   me. I want to be certain that I'm prepared for bow shots from 50-60 yards. However, the last four mule deer I've taken with my bow have been more than 60-yards away when I've shot. Today I often practice shooting out to 70-80 yards, however, hoping I never have to take a shot that far. Most of the places I hunt for mule deer I won't have a shot at 60 yards or less.
What Equipment Drury Uses:
Something else people ask me is what type of boots I wear when I'm mule-deer hunting. I like the Danner (https://www.danner.com/men/hike/) hiking boots and wear these boots all year. Your boots are your wheels on the ground when you're hunting. If you get blisters on your feet, or you're uncomfortable in your boots, mule-deer hunting will be miserable.
Also I don't make any changes with my equipment when I'm hunting mule deer from when I'm hunting whitetails. I really like a Leupold (https://www.leupold.com/) range finder, featuring angle compensation. My binoculars are Leupold 15x  – and I call them my Superman eyes, since I can see an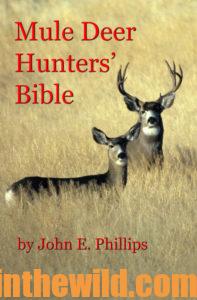 antler tip of a  mule deer even in the shade of a tree. I wear the same daypack for whitetail or mule deer hunting. I prefer to wear Mossy Oak Mountain Country (https://www.mossyoak.com/camouflage/mountain-country) camo. Much of my mule deer hunting is done in Alberta, Canada, in the foothills of the Rocky Mountains, and that Mountain Country blends in best there besides blending in with a variety of terrain types.
To learn more about mule-deer hunting, check out John E. Phillips' book, "Mule Deer Hunter's Bible," available in Kindle, print and soon to be available in Audible August, 2019, at https://amzn.to/2Kg62w5
Tomorrow: What Is Mark Drury's Biggest Mule-Deer Buck
EXPLORE MORE: you'll love these stories from John too