Editor's Note: At first glance, you don't expect an attractive, 5'2" lady to be an elk outfitter and guide who not only can find, call in a bull elk, field dress the animal, pack out the meat and take care of the horses, the humans and the animals in the high mountains of southwest Colorado. But Mia Anstine of Pagosa Springs, Colorado, also is a writer, photographer, mother and wife. According to Mia, "I've hunted elk as far back as I could remember. I'd tag along with my dad when he hunted elk. I've been hunting elk as an adult for the last 22 years. I started my guiding career about 12-years ago and guide mainly for Wolf Creek Outfitters (https://www.gohunt.com/outfitter/wolf-creek-outfitters-inc), a few non-profit organizations and some landowners in my area. I'm also a licensed outfitter. Wolf Creek Outfitters hunts in southwest Colorado, all on private property."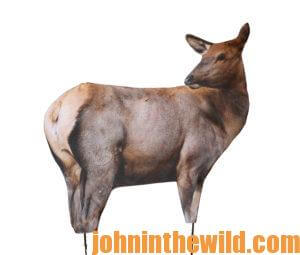 The hunt for my birthday bull elk was on the morning of September 29, 2018. My birthday had been September 16, 2018. My husband Hank and I had by lunchtime made two stalks on two different bulls. We decided to ride our horses for about 2 hours and reach a high point on a ridge, so we could get cell service up in the mountains. (We rode to that place every 2-3 days to call our family while we were eating lunch to report on how the hunt was going). 
For our afternoon hunt, we decided to go to the meadow with the elk we'd seen earlier in the hunt. We knew that the elk were feeding there. We put out our Montana decoy (https://www.montanadecoy.com/) and called in some young bulls first. We got video of those smaller bulls coming to the decoy. We discussed whether we should stay at that meadow, having not seen any big elk there. 
Suddenly, we heard a bugle and headed north toward it. But we spooked a grouse, and he flew off, spooking the bugler. Almost immediately we heard another bugle south of us and could tell by the bull's bugle that he was mad and wanted to fight. I set-up 20 yards to the left and in front of the Montana decoy. Hank went some ways back from the decoy to find cover where he could set-up and continue to call to the bull. While Hank looked for a place to call from, I spotted antlers coming through the dark, fallen timber on the ground and up the steep terrain. I thought to myself, "We've got the wind in our favor. If this bull keeps coming to me and gets close enough for me to take a shot, I'm going to take him. This bull is great. He's the one I want." The bull came out of the timber and focused his attention on the decoy.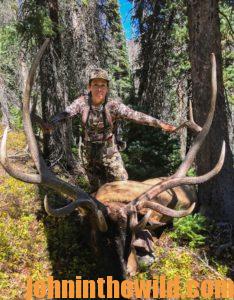 When I was setting-up at my stand, I ranged several different spots to know which sight pin to use to aim. Once the bull stopped exactly where I'd hoped he would, I already knew the distance. I released my arrow. Later I ranged the yardage, and the bull had been standing only 15 yards from me. I had aimed a little bit up and behind the bull's front elbow. The bull took the arrow, jumped, ran about 75 yards, stopped and then stood under a pine tree. Hank slipped into my stand site and whispered, "You made a good shot, but your arrow didn't make a clean pass-through. I saw the fletchings on your arrow on the outside of the bull. So, a good portion of your arrow is inside the bull. We just have to sit here and wait for the bull to fall." 
Generally, when I arrow a bull, I'll wait about an hour before I start blood trailing him. This bull wasn't looking at us, however, only a few minutes after I shot the bull, the wind changed directions, twirled and carried our human odor right to the bull. The bull jumped up and ran away from us. We saw exactly the direction the bull had run. Hank and I decided to wait longer, before trying to recover my birthday bull. After we waited an hour, an approaching storm came closer and closer to our position with dark clouds and a high wind. We discovered a big patch of blood about 2 feet in diameter, followed the blood trail for less than 100 yards and found another big spot of blood. Night was going to fall in the next 30 minutes. So, we made the decision that the weather was cool enough that the meat wouldn't spoil if we left the bull overnight. Another major consideration was the terrain. I'd shot the elk at an elevation of 11,000 feet high on the side of this canyon. The bottom of the canyon was at 2,000 feet elevation. We didn't want to pressure the bull, have him run down the canyon through all that fallen timber and reach the bottom of the canyon. I was worried about our chances of finding my bull the next morning. Before I went to sleep, I told Hank, "Just pray to God that we don't have rain tonight." About midnight, the skies opened-up and heavy rain, sleet and snow fell. Once we woke up the next morning, 12 inches of snow was on the ground.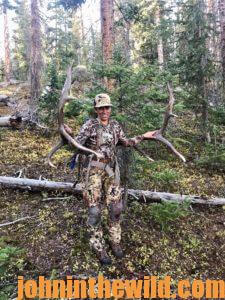 The Search for the Birthday Buck: 
I knew the fresh snow probably would cover not only the blood trail, but also the tracks of the bull. We had rain gear with us, since Colorado's weather can change drastically in the mountains without warning. The rain had washed all the blood away, and the snow had covered the blood trail. Hank and I realized we'd have to do a grid search to find and follow the blood trail to my bull. We went to the spot where we'd seen the last blood the night before, and Hank started to walk to the right of that place, and I walked to the left. I walked back and forth for about 2 hours, but I couldn't find or see my bull. I was getting worried that we might not locate the bull due to all the downed timber. I decided to return to the place where Hank and I had started our search and learned that Hank had found my bull about 200-yards downhill from where he and I had started our grid search.
I had been on an emotional roller coaster – going from being extremely depressed to being extremely excited. The bull had fallen in a small, grassy opening in the timber. We made quite a few photos, and I notched my elk tag and tied it to the bull's antlers and packed the bull out to our horses. After field dressing the bull, Hank carried out hindquarters to the horses. I started skinning out the head and the shoulders of my birthday bull because I knew I was having him mounted. Hank came back and took another hindquarter out to the horses. I got the two front shoulders of the elk taken off the body and removed all the rest of the edible meat. When Hank returned, each one of us carried out a front shoulder and the meat. Then I packed-out the head and cape in an Alps Outdoors Huntress day pack (https://www.alpsbrands.com/alpsoutdoorz/products/packs/huntress). The only thing in the pack was the cape. I strapped the head and the antlers onto the day pack and carried it out. We had started searching for my elk at about 7 am, and by noon we had all the meat and the head and the rack packed-up on our horses and headed back toward camp by about 12:30 pm. We rode our horses and went to our truck and took the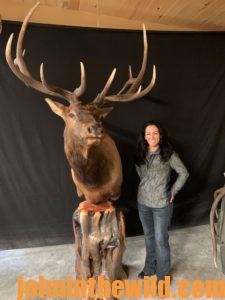 meat to the coolers. We returned the next day with our horses and packed-out our camp.  
I had to wait for two years to finally get my bull elk from the taxidermist. We had to save up money to pay and have the bull mounted. I had a mountain lion that I had taken that was being mounted ahead of my bull. So, I took the cape of my bull to the taxidermist to get it tanned. In the meantime, I had a friend of mine do an European head and antlers mount, while the cape was being tanned. Finally, in the spring of 2020, the taxidermist told me to bring the European mount to him because he was ready to mount my bull. I'd shot the bull in 2018, and I got the mount back in November of 2020.
To learn more about hunting elk successfully, check out John E. Phillips' book, "Elk: Keys to 25 Hunters' Success," available in Kindle, print and Audible versions at https://amzn.to/2IDszQk. You may have to copy and paste this click into your browser. (When you click on this book, notice on the left where Amazon allows you to read 10% of the book for free and to hear 10% of the book for free).
John E. Phillips has published several more books this fall and winter of 2020 you'll enjoy.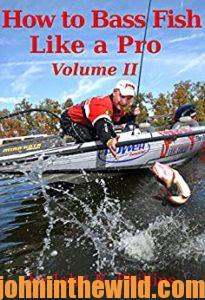 1) "How to Bass Fish Like a Pro, Volume II" – available in Kindle and print at https://www.amazon.com/gp/product/B08LBD7M4G/ref=dbs_a_def_rwt_hsch_vapi_taft_p5_i2
In "How to Bass Fish Like a Pro, Volume II," you'll learn tips and tactics from 21+ Bassmaster Classic winners, two Major League Fishing champions and 20+ Bassmaster Anglers of the Year about some of the dramatic changes in bass fishing. 
2) "PhD Gobblers: How to Hunt the Smartest Turkeys in the World, Revised Edition" – available in Kindle, Print and Audible at https://www.amazon.com/gp/product/B083V83RLG/ref=dbs_a_def_rwt_hsch_vapi_taft_p4_i8
Turkeys that have earned their PhDs in the turkey-hunting wars know more about hunter-dodging than most hunters know about turkey hunting. These turkeys have built such a huge database on humans they've earned their PhDs.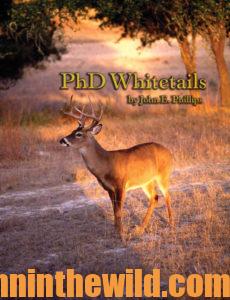 3) "PhD Whitetails" – available in Kindle and Print and soon to be in Audible at https://www.amazon.com/gp/product/1979793387/ref=dbs_a_def_rwt_hsch_vapi_taft_p7_i3
To become a "PhD Whitetail," a whitetail deer has to have gone to school on hunters. He knows when to move, where to move, and how to move to avoid detection. The professional hunters in this book have spent their lifetimes finding these bucks with doctorates.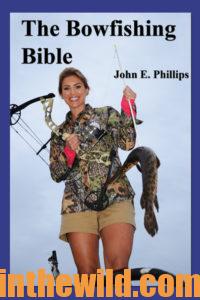 4) "The Bowfishing Bible" – available in Kindle, Print and Audible at 
https://www.amazon.com/gp/product/B01D566HM0/ref=dbs_a_def_rwt_hsch_vapi_taft_p4_i1
This book doesn't promise salvation or a ticket to heaven, but it does give you much of the information you need to be a happy, successful, productive and winning bowfisherman.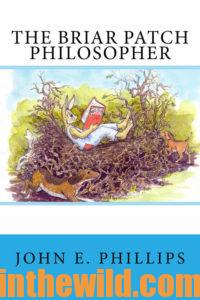 5) "The Briar Patch Philosopher" – available in Kindle, Print and Audible at https://www.amazon.com/gp/product/B00MX0ZODI/ref=dbs_a_def_rwt_hsch_vapi_taft_p5_i4
Some of the reviews for this book include statements like, "I find myself looking through these wonderful thoughts about life, courage, love, children and God. This collection of sayings are very useful in helping me control my emotions. Some of my favorites include:
"Feelings change, Truth remains."
"Embrace fear, because it's an excellent motivator."
"Life is a race. The beginning, we can't control, and the end can't be determined. But how well we run in the middle is all that counts. "