John's Note: Sonny Schindler and the other captains who work for Shore Thing Charters (http://www.shorethingcharters.com/, 228-342-2206) have developed some of the most-successful summer tactics for catching speckled trout and redfish on the Upper Gulf of Mexico coast. These captains fish out of Bay St. Louis, Mississippi, and guide in both Mississippi and Louisiana waters. We've asked Schindler to give his best tactics and techniques for catching speckled trout, redfish and other species in warm weather.
Question: Captain Sonny, I see a lot of fishermen fishing at all the bridges around Biloxi and on farther down the coast. What can you catch, if you fish around the bridge pilings?
Captain Sonny: Depending on the time of year you're fishing, you can catch speckled trout, redfish, flounder, croaker, black drum, sheepshead, sharks, juvenile cobia and small mangrove snapper. You never know what type fish will take your bait – one of the main reasons to fish the bridge pilings. Fishing the bridge pilings is always exciting. Also the bridges provide a place for us to fish on bad-weather days and particularly provide exceptional fishing in the fall and winter.
Question: Captain Sonny, we have a picture of some of the lures that you use to fish for speckled trout and redfish. Tell me what they are and how you fish them.
Captain Sonny: The bottom lure is the Yo-zuri Sashimi. Next, we have the Rapala Skitter Walk. Then, we have the MirrOlure Paul Brown Corky, the Top Dog Junior and the Top Dog.
One of the most unusual lures is the Corky, a suspending twitch bait, originally made by Paul Brown out of Texas.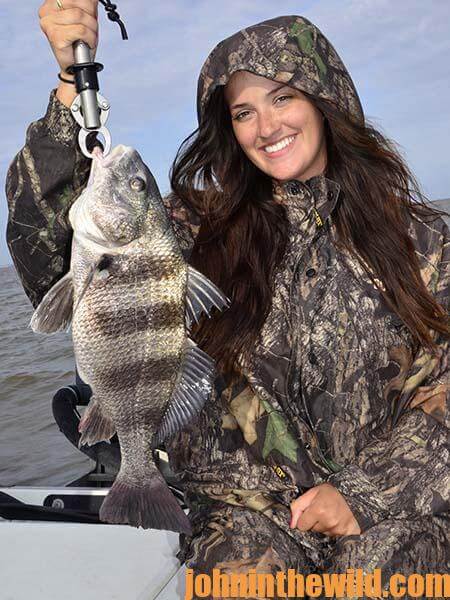 The Corky has an erratic scooting type of motion. On days when you know that fish are in the location you're fishing, but they won't come up to the top and take a surface bait, the soft-plastic Corky can be a trip saver. Most saltwater, top-water and suspending lures have hard bodies. But with the Corky, when the speckled trout or redfish attacks that bait, because it's soft-plastic, they'll hold on to the bait longer – giving the angler more time to set the hook.
Question: Captain Sonny, what do you do on bad weather days?
Captain Sonny: Luckily, we have a lot of protected water areas on Mississippi's Gulf Coast that we can fish, even when the weather's bad. We won't go out when we have dangerous waters or dangerous winds. However, if the water is muddy, chop is on the water, or the rain's falling, we still have places we can fish and fish that we can catch, even close to shore.
I've already mentioned fishing the nearshore reefs and the bridges. But we also have several nearshore reefs and ditches where we usually can find giant black drum, even when the weather is bad.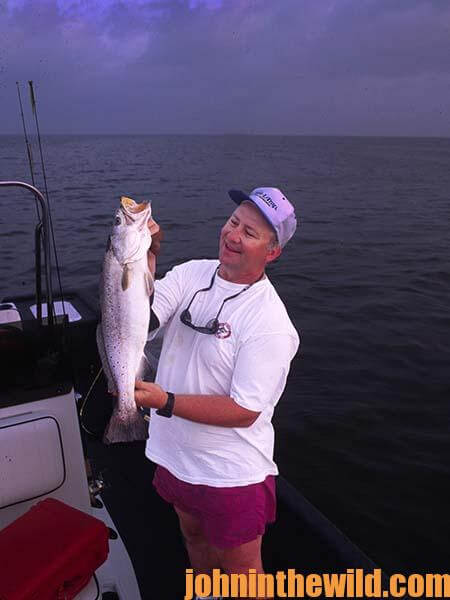 Often, we can catch redfish and black drum on nearshore reefs, even if we can't get to the areas we like to fish for speckled trout and slot redfish. Most of our anglers really enjoy fighting those big black drums that may weigh 15-30 pounds or more. The smaller black drum that are usually 5 pounds or less are also as good to eat as the red drum, commonly called the redfish. So, if a party shows up, and bad weather does too at the same time, we usually have places we can fish, have bent rods and enjoy plenty of big fish action, if we can't get to the areas where we normally fish for specks and reds.
Another great spot to fish that works out really well when we know bad weather may be on the way is our Cat Island Lodge.
We know if we can get to Cat Island before high winds and bad weather hits, we'll usually have plenty of protected waters on the inside of Cat Island where we can fish. Even on calm days, the Cat Island trip, staying at the lodge, enjoying a comfortable place to eat, sleep, watch television, catch crabs, go floundering at night and/or fish from a kayak really appeals to many of our fishermen.
If you've never fished the Mississippi Gulf Coast or the Louisiana marsh, give us a call. We'd love to show you some of the best-kept secrets of how a good speckled trout, redfish, flounder and tripletail fishing can be in the summertime. We'll leave you with a favorite southern expression, "Y'all come!"
Check out this video for more information from Captain Sonny Schindler:
To learn more and get John and Denise Phillips' eBooks and print books "The Best Wild Game & Seafood Cookbook Ever: 350 Southern Recipes for Deer, Turkey, Fish, Seafood, Small Game and Birds" and "Fishing Mississippi's Gulf Coast and Visitor's Guide." Click here to get these books.
About the Author
John Phillips, winner of the 2012 Homer Circle Fishing Award for outstanding fishing writer by the American Sportfishing Association (ASA) and the Professional Outdoor Media Association (POMA), the 2008 Crossbow Communicator of the year and the 2007 Legendary Communicator chosen for induction into the National Fresh Water Hall of Fame, is a freelance writer (over 6,000 magazine articles for about 100 magazines and several thousand newspaper columns published), magazine editor, photographer for print media as well as industry catalogues (over 25,000 photos published), lecturer, outdoor consultant, marketing consultant, book author and daily internet content provider with an overview of the outdoors.