John's Note: Scott Hendry of Livingston, Alabama, has been turkey hunting for more than 30 years and has been guiding at Bent Creek Lodge (www.bentcreeklodge.com) in Jachin, Alabama, for more than 20 years.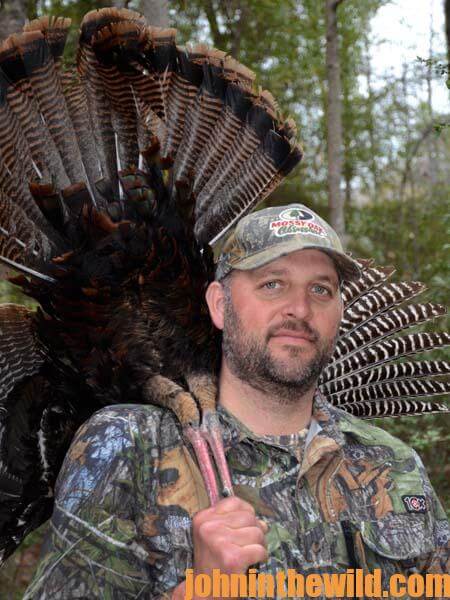 Calling Too Much:
Many times when I take a hunter out on a turkey hunt, he'll want me to call every time a bird gobbles. Often I'll hear from behind me, "Why don't you call some? Why don't you call some more?" Our turkeys in south Alabama often experience a lot of turkey-hunting pressure. We've learned over the years that the more we call to a turkey, he will become call-shy and won't come in or respond to a call. Often in my hunter's mind he doesn't believe I've called enough to get that bird to move toward us. A hunter who has been with me one or two times soon learns that on the ground we hunt, the least I call, then the more likely he is to see and have a shot at a gobbler.
Forgetting Essential Items for Turkey Hunting:
Another mistake that happens quite frequently is when a hunter gets ready to go hunting early in the morning or late afternoon, oftentimes he'll leave one of the most-critical tools of the hunt – his shotgun shells – in camp or forget his gun. I've had this problem happen so often that I always keep my shotgun underneath the seat of my truck. Then when we arrive at the woods, and my hunter steps out of the truck and looks like he's just eaten a mouth full of cow manure and says, "Oh, no, I've left my gun at the camp. What will I do?" I'll then hand the hunter my gun, load it for him, show him where the safety is and let him practice aiming my gun, all of which takes no more than about 2-3 minutes. Then we're ready to go hunting. I also carry in my hunting vest 12 gauge shotgun shells and 20 gauge shotgun shells in different sizes – 2-3/4, 3 and 3-1/2-inch shells. These problems are due to my hunters getting so excited in the morning. Generally they don't realize they don't have their shells, until we climb out of the truck, and they're ready to load their shotguns. I always bring extra shells and my shotgun to solve those problems.
A couple of years ago after my hunter and I stepped out of the truck and put on our hunting vests, I told my hunter to, "Go ahead, and load your gun." My hunter turned, looked at me and announced, "I don't have my gun." So, I handed my gun to the hunter. He told me, "I've never shot your gun." "Don't worry about it," I said. "My shotgun is like anybody else's shotgun. I'll show you the safety and help you load the gun. You'll do fine." Sure enough that hunter killed a turkey that morning with my shotgun, and I was really glad that I had brought my shotgun and shells. When the turkey was on the ground, and the high-fives and hugging were over, the hunter was still upset about leaving his gun back at camp. I smiled at him and explained, "Don't worry about leaving your gun. We got our turkey, we had a great morning to hunt, and we won. Nothing else really matters. There's no need for apologies."
On another hunt, I was taking a young hunter to hunt turkeys. We'd hunted on the previous day. I'd taken a shell out of the chamber and put it in the magazine with the other shells on his automatic shotgun, so the following morning all he had to do was pull the receiver back and put a shell in the barrel. However, unbeknownst to me and my hunter, the boy's dad had completely unloaded his son's gun when he got back to camp. We climbed out of the truck, and I told my young hunter to put a shell in the chamber. He said, "There's not a shell coming up from the magazine and going into the barrel." I told him, "Well, give me your shells, and I'll load the gun for you." The boy frowned before he spoke and explained, "My daddy's got my shells." I'd been in that predicament before because I have a young daughter who hunts with me. I always carry extra 20 gauge shells when I hunt with her. Luckily I had those extra shells, and I loaded the youngster's shotgun for him. He took a turkey that morning. The boy asked me, "Why do you have extra shells, since you don't even carry a gun when we hunt together?" I smiled and answered, "Because I don't ever know when my hunter may need extra shells, and I want to have them for him."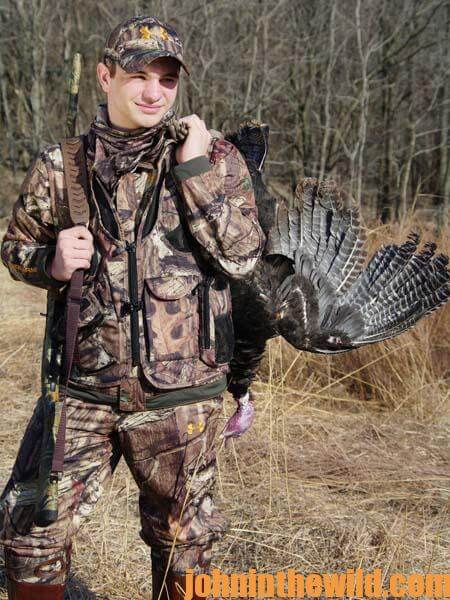 At least once a year, one of my hunters will forget some piece of essential equipment. I always carry an extra pair of camouflage gloves and an extra face mask with me, because I know before the season's over, one of my hunters will forget his gloves or face mask. Now let me explain that guides aren't immune to forgetting equipment either. After a turkey is down, and we want to shake hands and high-five our clients, we may take our gloves and face net off and leave them in the woods. So, I may be the one who needs the extra pair of gloves or face mask. I always advise every hunter to carry extra headnets, gloves and shells in his hunting vest. Once you have to use them, then as soon as the hunt is over, go, and purchase extra replacement headnets and gloves.
"Scott Hendry with Another Great Turkey Hunt:" https://youtu.be/FyrJNh3XstY
To get John's book, "The Turkey Gobbler Getter Manual," for free, go to www.johninthewild.com/free-books to download.
To learn more about turkey hunting from the masters, get these Kindle eBooks and print books by John E. Phillips, including: "The Turkey Hunter's Bible (available as an eBook or in paperback)," "PhD Gobblers: How to Hunt the Smartest Turkeys in the World," "Turkey Hunting Tactics," "How to Hunt Turkeys with World Champion Preston Pittman," "The 10 Sins of Turkey Hunting with Preston Pittman" and "Outdoor Life's Complete Turkey Hunting." Click here to get these books.
Next: What Turkey Guide Doug Shipp Has Learned from Hunting Turkeys