John's Note: When you do everything right on your hunt, why doesn't a buck show up when you expect him? We all often ask this question, but we rarely get a satisfactory answer. About 90% of the deer harvested each season are taken while moving and feeding. Rarely will a hunter find and take a bedded-down buck. If you know when, why, where and how deer move, you more realistically can predict when the buck should come in to you.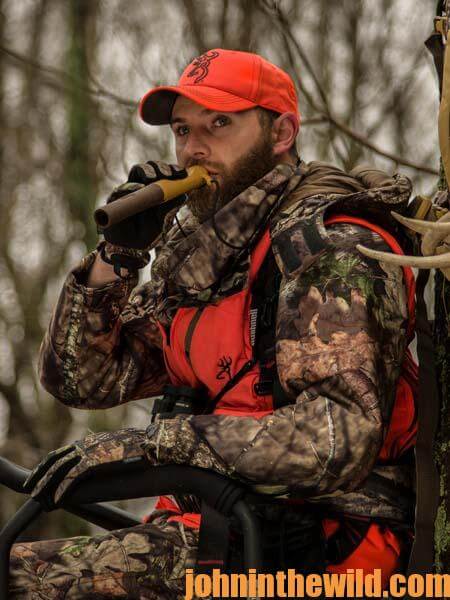 * Call deer up with unfamiliar sounds. Have you ever coughed and had a deer run to you? Have you ever dropped items from your tree stand and watched a buck come up to see what has fallen out of the tree? According to the late biologist James G. Teer, "Often, if you make an unfamiliar noise and stand still, the deer actually will hunt you. The animals want to find out what made has that noise. They'll approach you warily – snorting and stomping their feet trying to make you move. Then if you do move, the deer will flee."
An interesting study in Wisconsin indicates that deer become more frightened by the noise of cross-country skiers than by snowmobiles. You also can get deer to come to noise by cranking up a chain saw. In some states, loggers have reported deer standing close to freshly-fallen trees. The deer have determined that when a tree falls, the green foliage and nuts become easily accessible.
* Get off the land and into the water. Deer will go places where hunters don't, such as out in the water. If you've hunted flooded timber or lands that flood on the property, you realize that all the hunting pressure comes from the land with none coming from the water.
* Hunt the roads. In most states, you can't hunt legally from roads. Most hunters prefer to hunt in the deep woods where they don't see or hear any road traffic. If the majority of hunters hunt in deep woods, you'll quickly realize that the older bigger bucks have to stay near the roads where they can see and hear 18-wheelers and honking horns. By scouting the edges of roads, especially major highways (check your state's regulations), you'll often discover deer trails that will lead you to bucks that other hunters never see.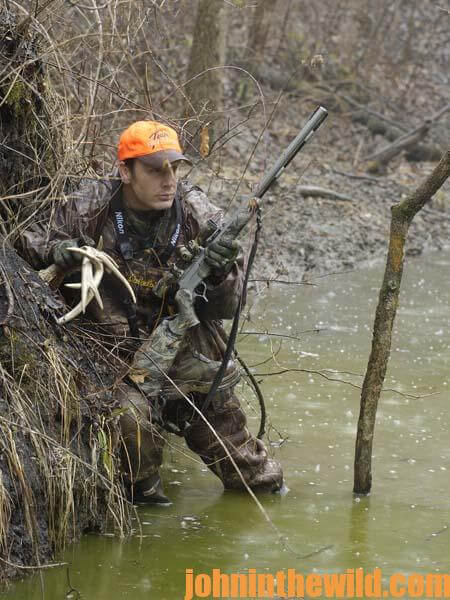 * Hunt little places. "While sitting in a tree stand 18 feet in the air on the edge of a fence line about 3-feet wide, I could see all the traffic going up and down the road," Preston Pittman of Mississippi, a longtime student of deer and nationally-known game caller (http://www.pittmangamecalls.com), says. "I'm sure everyone thought I'd lost my mind. The little patch of cover I hunted along that fence line didn't look wide enough to hide a deer. But just before dark, I took a nice 8-point buck on that fence line."
* Put water to your back. Riverbanks work well as barriers to stop deer. Does travel up and down riverbanks more frequently than bucks do. If you put the river to your back, all the deer that move along that bank will have to pass in front of you. Also with a favorable wind, you won't spook deer behind you across the river.
* Pinch deer down. The larger the area of woods you have to hunt, the less likely that a buck will walk by you. The smaller the section of woods you have to hunt, the more likely a buck will walk by you. Large woodlots on either end of a narrow strip of woods, funnels, bottlenecks and tight places provide the best places to see the most deer and the most bucks at any time of the year.
* Shrink your visibility. Many deer hunters put their tree stands up along power line right-of-ways next to an open field or on the side of the mountain where they can see the entire side of the other mountain. Reason dictates that the more land you can see, the greater your odds for bagging a buck. However, older-age-class bucks, especially in heavily-hunted areas, have learned that by staying in thick cover, they can survive. For this reason, during gun season, treat your hunting rifle like a bow. Hunt in thick cover where you may not can see more than 30 yards in front of you. But you'll notice that your chances of taking a buck drastically will increase.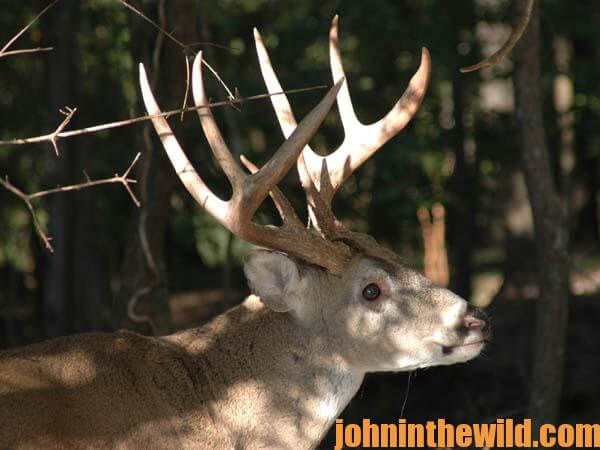 The answer to the question "Why don't bucks come in?" varies. If you hunt at the wrong time of the day, under incorrect weather conditions for that area, over the wrong food source or in the wrong type of terrain, or, you have your tree stand in the wrong place, you may not see a buck. If all these excuses fail, then realize that perhaps the bucks just don't like you.
To get John E. Phillips' Kindle eBooks and print books on hunting deer, "How to Hunt and Take Big Buck Deer on Small Properties," "How to Hunt Deer Up Close: With Bows, Rifles, Muzzleloaders and Crossbows," "PhD Whitetails: How to Hunt and Take the Smartest Deer on Any Property," "How to Take Monster Bucks," "How to Hunt Deer Like a Pro," and "Bowhunting Deer: Mossy Oak Pros Know Bucks and Bows," or to prepare venison, "Deer & Fixings," click here.
For information on making jerky from your deer to provide a protein-rich snack, you can download a free book from http://johninthewild.com/free-books.