Editor's Note: Joe Drake from Fortson, Georgia, first started hunting turkeys in 1979 and began entering turkey calling contests in 1981. He has been guiding hunters to turkeys since 1985. He won the World Turkey Calling Championship in 1987. He's won three national championships, one US Open Championship, eight Georgia State Turkey Calling Championships, seven Southern Open Titles and several other state championships.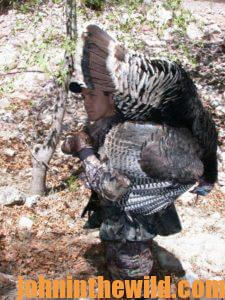 I hunt an area in Wyoming where you can see for miles, so we spend a lot of time hunting Merriam's turkeys with binoculars. A quality pair of binoculars is a must. I was on a ridge in Wyoming with an outfitter and two clients, and we could hear a turkey gobbling but couldn't see him. This same scenario happened three or four times on the different ranches we were hunting. I'd cut and yelp as loudly as I could, and I just barely could hear a turkey gobble. But I couldn't see him.
Many times, turkeys in Wyoming would gather around places where hogs or cattle were fed because the turkeys ate some of that same food. On this hunt, we finally spotted a gobbler with two hens inside a fence where cattle were fed. As we watched through the binoculars, we saw the turkey stick his head out and gobble after I called, but you barely could hear the gobble. This turkey was about a mile away. I kept calling to him. After I'd called the fifth time, that turkey shook like a wet dog, broke his strut, walked over to the fence, ducked under the fence and started walking toward this ridge where we were.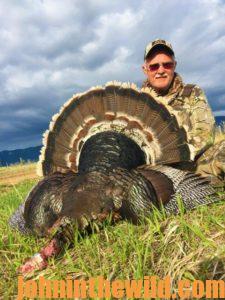 One of our clients said, "I don't believe a turkey left his hen, came under a fence and walked toward us." I noticed that every time I called to that gobbler, he'd stop and strut and then come out of the strut and start marching toward us like a soldier. When I saw him fly the creek, I told our clients, "One of y'all needs to get your gun out of the truck because that tom's coming toward us." One of the clients retrieved his gun, as I kept watching the turkey not on our property marching toward us. By this time, both hunters had their guns, and I told them, "Y'all go over that little hill and try to find some sort of bush to get behind." Finally, one of our hunters took the gobbler. We returned to that same point several times that year and harvested three more turkeys in the horse pen right behind the barn. They each walked that mile to come up the knoll I was calling from, and our hunters took their gobblers.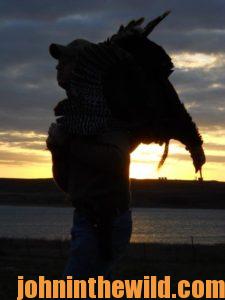 * What I Learned from These Horse Pen Merriam's Turkeys:
a) Merriam's turkeys that hear you calling from long distances often will come to you, especially in open country.
b) You may want to call more frequently when a turkey gobbles every time you call and stops and struts to encourage the turkey to keep moving toward you.
c) I know now that if you see a Merriam's turkey on a power line across an open field, and that gobbler answers your call, keep calling to him, so he won't stop and strut. I used this tactic when I was hunting with my grandson, Christopher Drake, when he was 9-years old. We were hunting on a military base near a jump zone where paratroopers' airplanes landed in this big field. We spotted a turkey that was at least 1/2 – to 3/4-mile from us in an open field. I kept calling to that bird, until he walked up within 20 yards of us. Christopher took him with his 20-gauge shotgun.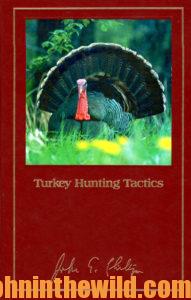 To learn more about turkey hunting, check out John E. Phillips's book, "Turkey Hunting Tactics," at https://www.amazon.com/gp/product/B007PK9B2G/ref=dbs_a_def_rwt_hsch_vapi_taft_p2_i9
that's available in Kindle, print and Audible versions. You may have to cut and paste this link into your browser. (When you click on this book, notice on the left where Amazon says you can read 10% of this book for free and hear 10% for free). To learn more about other turkey books by John E. Phillips, go to www.amazon.com/author/johnephillips.
Tomorrow: The Outdoor Writer and the Headless Turkey and Getting Lost Hunting Easterns and Rio Grandes with Joe Drake