Editor's Note: After seeing thousands of new product items, this past year in 2017, I've selected some of the most beneficial and most interesting with the best price points. This week you'll find camping and emergency gear, boots, raingear, vocations you can learn from home, electronics, food-preparation aids, knives, lights and transportation to name a few.
Food Preparation:
1) De-Fishing Soap – This versatile, all-natural odor-removing soap designed by the wife of an avid fisherman to remove the smell of fish off your hands and fishing gear is something that every new pioneer can use in many different ways. Environmentally friendly, De-Fishing Soap can be used at home, in the field or when camping to be sure your hands are clean. It works on many odors and can be used too as a pre-soak for your laundry to rid clothes of odors. www.defishingsoap.com.
2) Edgecraft Corporation's Chef's Choice – This brand of advanced technology small kitchen electrics from EdgeCraft Corporation of Pennsylvania, includes electric and manual knife sharpeners, food slicers and food grinders as well as other useful products for your kitchens. https://chefschoice.com/.
3) Hi-Mountain Seasonings and the Big Shot Jerky and Sausage Gun – This company offers anyone who processes his or her meats – both wild and homegrown – many products. Besides the various seasonings, brines and marinades available for making jerky, snackin' sticks, sausage and hot dogs, Hi-Mountain has videos on its website to aid you. The company also offers the Big Shot Jerky and Sausage Gun and clear collagen casings for making hot dogs and sausage. https://www.himtnjerky.com/.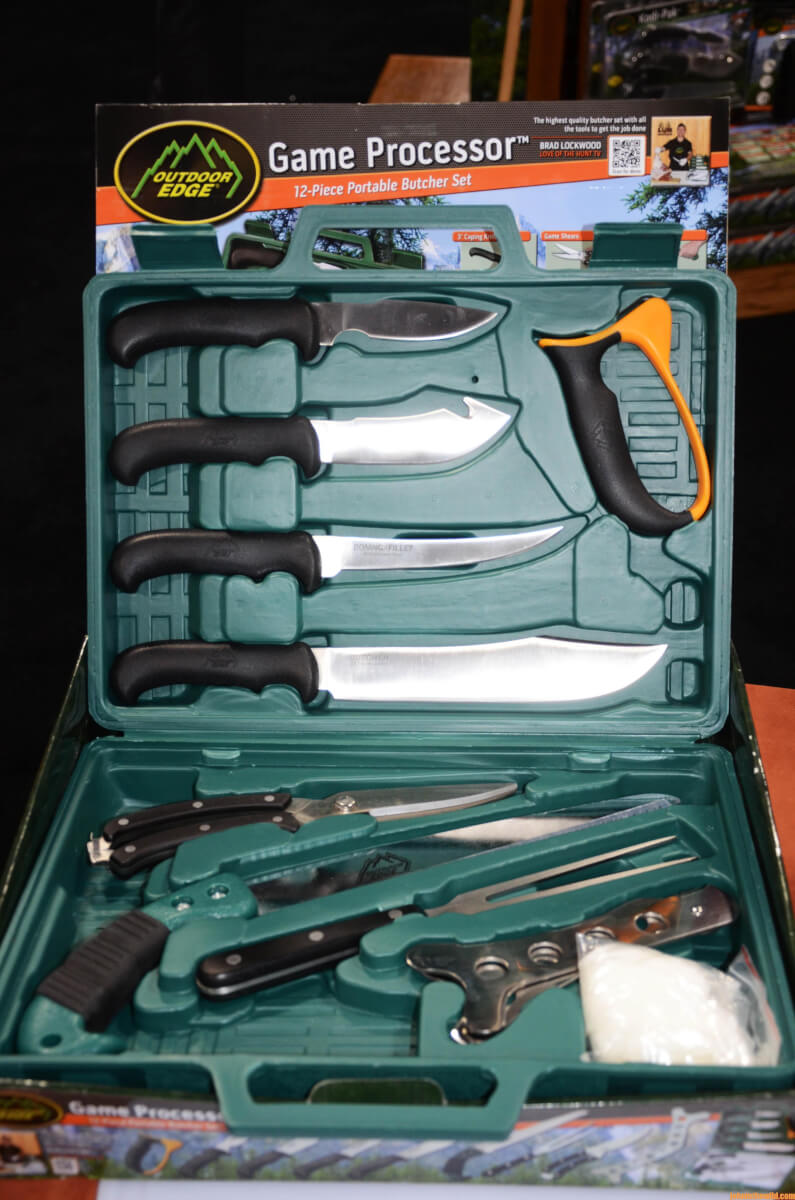 4) Outdoor Edge's New Animal Processing and Butchering Items – The 12-piece Game Processor butchering and processing set in its hard side carrying case has been the flagship of this company and includes four knives with 420J2 stainless steel blades, a carbide knife sharpener, shears for processing birds, a rib cage spreader for holding open the ribcages of larger animals, a carving fork and a cutting board. The Wild-Pak set comes with a hard side case with knives with blaze orange handles that makes keeping track of your knives and tools much easier. The Wild-Lite is the lightest, most compact set for home processing. The Butcher-Lite, comes with a nylon roll pack that converts to a belt scabbard. https://www.outdooredge.com/.
5) Tink's Field Dressing Kit from Arcus Hunting –This Field Dressing Kit comes with arm-length gloves to put on first and a pair of surgical gloves that you put on top of the other gloves. The two-glove field-dressing kit allows the hunter, the farmer or the rancher to field dress an animal without getting blood on his or her clothing. The surgical glove that goes over the arm glove enables you to have more sensitivity for skinning and caping. When you're field dressing, you roll the shoulder length glove off your arm and down and over your hand to take it off, and you're clean. www.tinks.com.
Knives, Multi-Tools, Hatchets and Axes:
1) Adventure Knife Corporation's Kovacek KR3 – A problem associated with using a knife after dark is oftentimes you have to hold a light to see where the knife's cutting. According to Adventure Knife's Bill Brin, "The new Kovacek KR3 has a light just above the blade that shines on where you're about to cut. The small light also has a magnet on its back side, so when you move the light and place it on the side of the knife, the light functions as a small flashlight." www.adventureknifecorporation.com.
2) Katz Hatchets and Axes – Made of 1060 carbon steel with Tennessee hickory handles and quality leather sheaths, these Katz hatchets and axes feature the best components from across the world. You can clear brush easily with the hatchet. The company's unique splitting ax that's designed primarily for splitting wood has an ax head that weighs 3 pounds that you can use at your hunting or fishing camp too. The wedge part of the ax is designed to force the wood open when you hit it. The weight of the ax head and the force of the swing you put behind it splits the wood. www.katzknives.com.
3) Sheffield Knives' 14-in-1 Multi Tool – This inexpensive tool that's crafted of stainless steel, has most everything you'll need for quick fixes. The tool includes a hammer, a knife, a saw, a bottle opener, a can opener, linesman and regular pliers, a nail puller, a wire cutter, a wire stripper, a screwdriver and a file and comes with a sheath. This tool is built to go anywhere and do any job. It's available at Academy Outdoors and Sportsman's Warehouse. www.sheffieldknives.com.
4) Silver Stag Knives – The dark waves rippling through the knives' blades tell the story of the more than 60-different Silver Stag Knives that are made of Damascus steel. "Damascus is a form of layered steel," Chris Shires, production manager, reports. "Made of 1095, the 20 layers of steel are heated, folded between 180 and 240 times in a forge and hammered. The steel comes out in a billet, and the blade shape is cut out. Then the blades are ground and sharpened, but no two finished knives are exactly alike." https://www.silverstag.com/.
5) Utica Cutlery Company's Green Bone and Brown Bone Knife Series – There's a million reasons for carrying a pocket knife, and Utica has made new slim and attractive pocket knives. According to Dave Allen of Utica, "We have eight new models of beautiful, single-bladed, silver nickel-bolstered pocket knives in both green bone and brown bone made of 1095 carbon steel. These slim knives fit into your pocket easily and have many uses." www.kutmaster.com.
To learn more about a wide variety of outdoor subjects, including hunting, fishing and cooking, go to www.amazon.com/author/johnephillips.
Tomorrow: New Outdoor Product in Lights and Others