John's Note: You can do plenty to stack the odds in your favor, if you start planning now for a successful deer hunt. The sooner you can get that buck in your sights, the better.
The Nut Hunter:
In many areas, deer season occurs after the acorns have begun to fall from the trees. Although deer prefer acorns, there are some acorns that they tend to eat more than other acorns. Wildlife biologists in most states can tell you the type of acorn that the deer favor during the first part of the season. In the region where I hunt, the white oak acorn and the chestnut oak acorn seem to be preferred. Some of the areas where I have taken the most deer have been under these types of acorn trees. But finding a grove of white oaks in a region isn't necessarily as productive as locating one white oak by itself. According to expert "deerologists," the solitary tree will tend to draw more deer and concentrate them in a smaller space than will many trees in a spot.
The best way to tell if an acorn tree has the ability to draw enough deer to warrant placing a tree stand is to check the ground under the tree. There should be plenty of droppings, tracks and halves of acorn shells where the deer have popped the meat of the acorn out with their teeth and left the two halves of the shell. Seeing the halves instead of fragments of shells will let you know that you are seeing deer sign and not squirrel cuttings. Another good indicator is when several trails are coming from various different directions to the tree you plant to hunt. This will show that deer will come from several directions.
The Also Scouter:
This is the tactic I primarily use before deer season arrives. I am by no means a purist deer hunter. I enjoy doing many things in the outdoors, and deer hunting just happens to be one of them. So, I have discovered I can combine my scouting for deer with other outdoor activities. One such activity is squirrel hunting. If the deer in your area feed heavily on acorns during the first part of the season, generally where you locate squirrels you will find deer. When I'm out squirrel hunting, I also will look for tracks, droppings and acorns broken in half to indicate a deer's feeding. For some years now, I have taken deer in the same regions where I bag several limits of bushytails each season.
Besides squirrel hunting in the fall, I enjoy bass and crappie fishing. In my Old Town canoe, I enjoy fishing in backwoods sloughs, beaver ponds and creeks that feed into the major reservoirs near where I hunt. As I paddle these waters, I search for deer sign. Whenever I see a good region that I think is a likely spot for hunting deer, I get out of my canoe, check out the area, look for deer sign and make a mental note for the first of the season. Employing this tactic, I can fish and also scout for deer.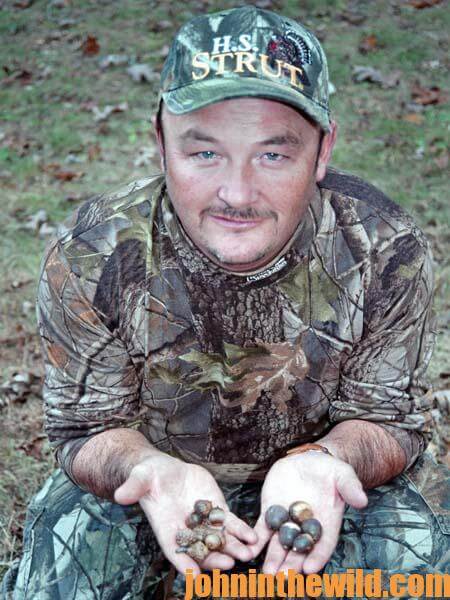 Most hunting clubs require their members to attend a work day usually 2 or 3 weeks before the hunting season. During these work days, roads are cleared of fallen trees, green fields are planted, and repairs are made to hunting clubs or trailers. While riding the woods roads on either a 4 wheeler or in a pickup truck, hunters can begin to watch for deer sign along mud holes and places where the ground is bare. All of these examples are of elementary scouting. However, they may give you an idea of the places where the deer are moving. From the signs you discover on the road, you can begin to go off into the woods in either direction to look for more definite signs, while still attending and participating in a work day.
For most of us, deer hunting involves a great deal of luck, a lot of patience and the ability to guess right every now and then. But the man who scouts for deer before and during the early season and finds where they're moving, what they're feeding on, and where to set up his tree stand to make visual contact with the animals, increases his chances of bagging a deer on opening day by 200 percent. The most effective and reliable hunting is done by the man who scouts before the season. He'll have to spend less time hunting and have a better chance of taking his deer than most hunters in the woods this season.
To learn more about deer hunting, you can get John E. Phillips' Kindle eBooks, "How to Hunt and Take Big Buck Deer on Small Properties," (John's latest book), "How to Hunt Deer Up Close: With Bows, Rifles, Muzzleloaders and Crossbows," "PhD Whitetails: How to Hunt and Take the Smartest Deer on Any Property," "How to Take Monster Bucks," and "How to Hunt Deer Like a Pro," or to prepare venison, get "Deer & Fixings." Click here to get these books.