Editor's Note: The fastest-growing segment of the outdoors industry is women. In the last 25 years, there have been numerous women who have blazed the trails for careers in the out of doors. Last week and this week, I'm highlighting 14 of these inspiring ladies from my newest book, "Outdoor Women's Hall of Fame – Premier Edition," available at http://amzn.to/2AlVYJE. They are living their dreams as outdoor professionals.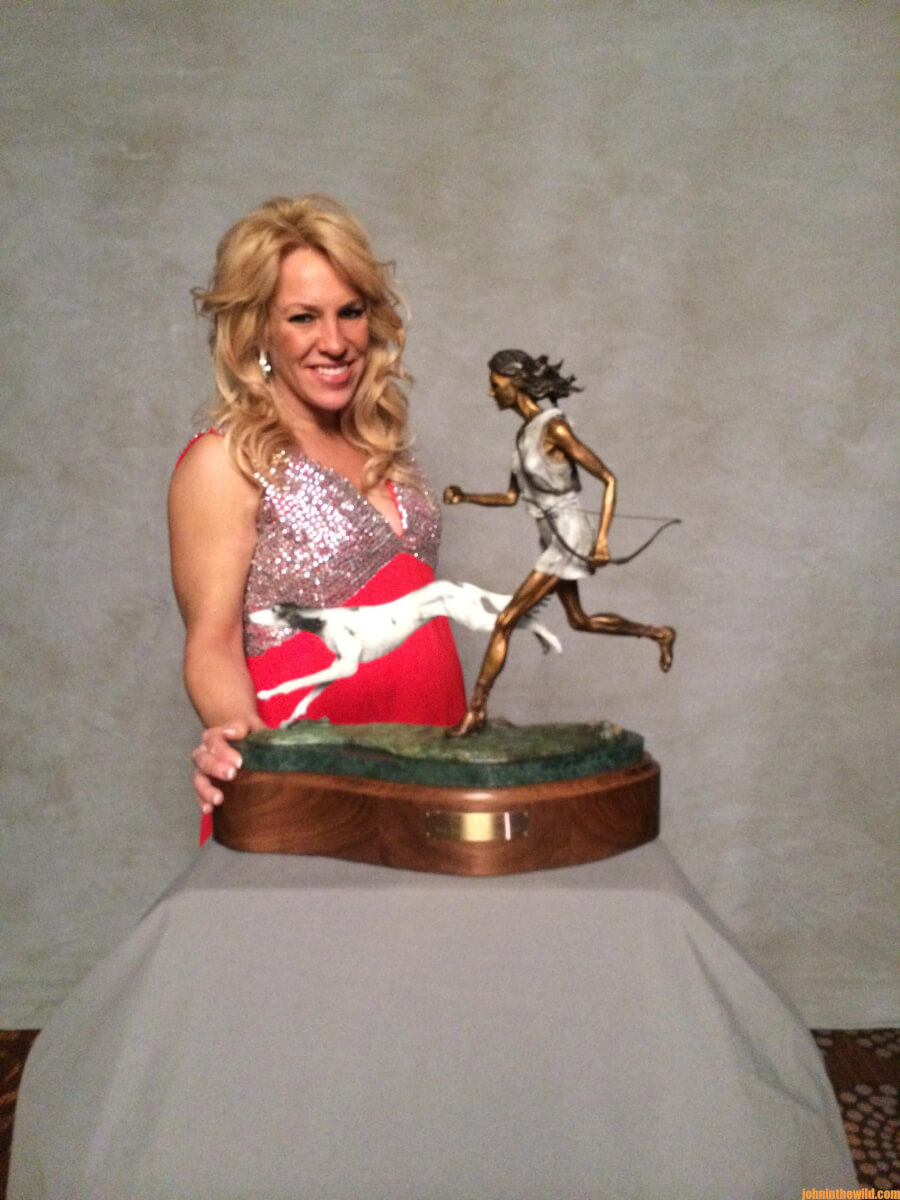 Olivia Opre – Defender of Hunters and Hunting
Olivia is an international big game huntress, hunting consultant, 2014 Safari Club International (SCI) Diana Award Winner, 2003 Mrs. Nebraska, official measurer for SCI, Rowland & Ward, Boone & Crockett and Pope & Young and TV and film personality. She's been a tremendous driving force – a warrior – in the defense of hunting and hunters. She has hunted all over the world for the past 24 years, debates against anti-hunters and preaches the gospel of hunting as a conservation practice. Olivia is definitely more stalk than talk.
According to Olivia, "I first started hunting when a boy from my neighborhood introduced me to the sport of hunting. We'd hunt in our backyards and anywhere else we could for doves, ducks and small animals. When my dad, Peter Nalos, saw how much fun I was having hunting, he decided that he and I would travel all across the United States and the world and hunt together. Hunting became a passion for both my dad and me; but more importantly, we looked forward to spending time together."
Learning the Importance of International Hunting to Communities:
"I've hunted in about 12 or more states and 20-different countries," Olivia explains. "Some of those countries I've hunted more than once. I've hunted in eight different countries in Africa, including Benin, Cameroon, Ethiopia, Mozambique, Namibia, Zimbabwe, South Africa and Tanzania. I've also hunted in Mongolia, Romania, Switzerland, France, Spain, Canada, Mexico and New Zealand.
"My dad, who was a cardiologist, was able to afford to take us on hunting expeditions all over the world. It was his idea that we travel to foreign lands and hunt various species of animals. I guess I really got the fire for hunting when I was in Zimbabwe, Africa, on my first international African safari. On this hunt, I learned and understood the role of the hunter as a humanitarian and a wildlife conservationist. We provided meat and income for the people we employed and for the country where we hunted. The monies we spent for the safari helped the government to provide schools and water wells and purchase medical supplies for its people. The people we employed as hunters, trackers, cooks and other key people on the hunt could earn more money from our safari than they could in any other way in the remote villages where we stayed. I learned why hunting was and is for the greater good of man and for wildlife.
"On that first safari, we were in an area known as a CAMPFIRE area, a program originally created by Americans. The title of the program was the Communal Areas Management Program for Indigenous Resources (CAMPFIRE). By hunting in this region, we were required by law to give the meat of the animals we harvested to the indigenous people who lived there and had to fill out paperwork to prove that we gave the meat to these people.
"I was amazed at how an entire village would stop its daily work, come out to the road and stare at us and the meat we were bringing to the village. At that time, the children in many of the villages where we took the meat never had seen a white woman with blonde hair. They wanted to touch my hair and my skin. Meeting those people was neat, as was understanding how important the meat we harvested was to those people. We employed people from the village to cook for us, clean the camp and track. They also helped us butcher and load-up the animals and the meat. Some of the villages we went to were planning to use the money made from our hunt to drill water wells for the people of that village and for the animals in that region. They were so appreciative of the money and could use it to bring in doctors and dentists to the village, much-needed medical supplies, build schools and pay game wardens."
Becoming a Woman Hunting Guide:
"After my African safari with my dad, I joined Safari Club International (SCI) (https://www.safariclub.org/), attended my first SCI convention and won a free hunting trip to the 777 Ranch (www.777ranch.com) in Hondo, Texas. While I was there, the owner of the 777 Ranch told me, 'You should come and work for me.' Before long I said, 'Yes,' to that opportunity. I went back to Wyoming where I'd been attending college and studying international agricultural business, because I'd always loved animals. I wanted to play a role in the world's economy and how different countries produced meats, grains and vegetables. However, I packed up my stuff and moved to the 777 Ranch. I worked there as a guide for about 1-1/2 years. That's how I got head-over-heels into the hunting industry.
"Then I had a job opportunity to work for Cabela's (www.cabelas.com). To grow as a hunter and part of the outdoor industry, I knew I needed to continue to learn and hunt. I worked at Cabela's Outdoor Adventures – a consulting firm for people who want to go on all types of hunting, fishing and outdoor activities. After I worked in this part of the business, Dick and Mary Cabela asked me to come to work for them personally, plan all their hunting trips, learn to measure animals for the many types of record books, plan their safaris for them and help write political letters and speeches. At each of those jobs, when I had any off-time, my dad and I continued to hunt all over the world. He and I enjoyed spending time together. The hunts we went on maximized the time we spent together and the things we learned together.
I've done a webpage titled the 'Chronicles of a Huntress' (https://www.getzone.com/olivia-opre-chronicles-huntress-african-conservation/) and that's forced me to take pictures of about every animal I've harvested, and I've also got film and videos of just about every hunt.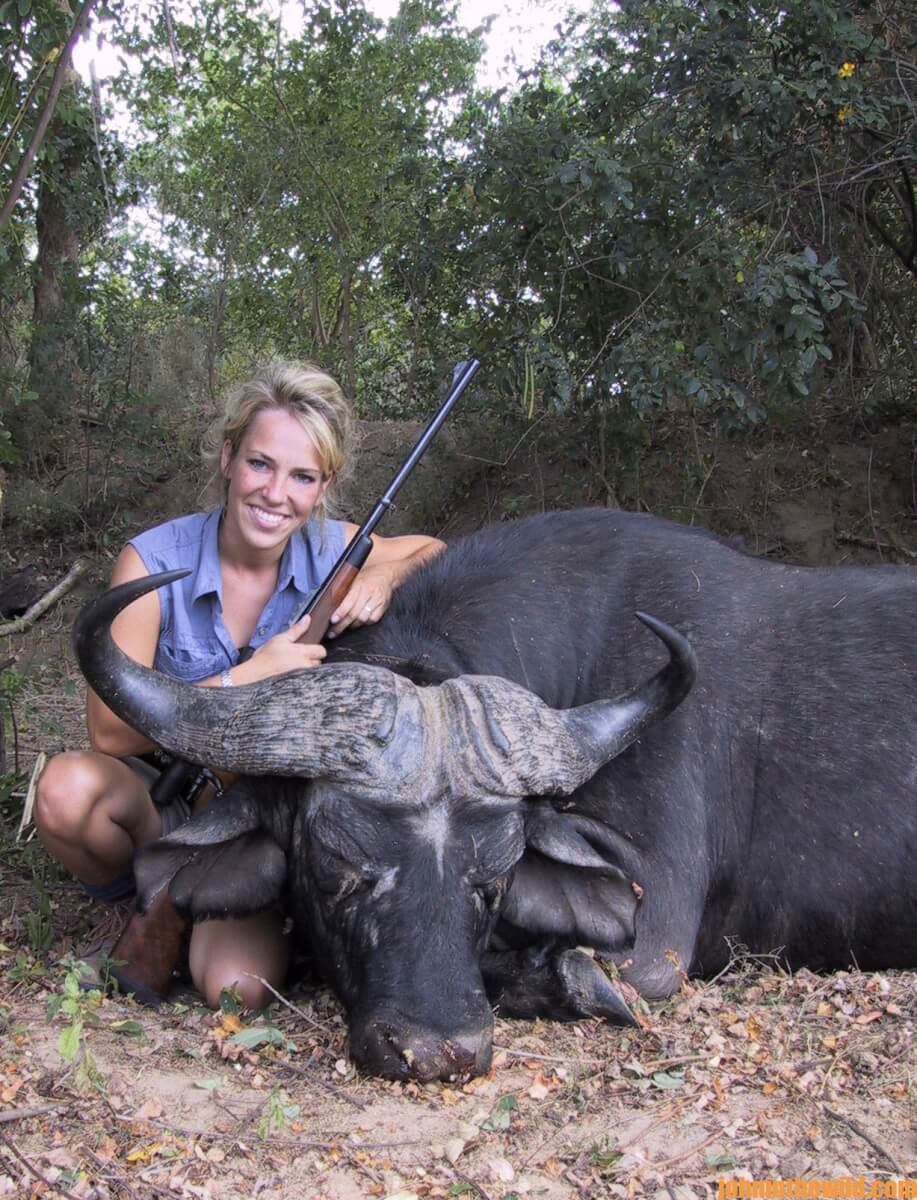 Being Mrs. Nebraska, Promoting a Pro-Hunting Platform and Marrying Tom Opre:
"While doing all of my hunting and working for Dick and Mary Cabela, they strongly recommended that I enter the Mrs. Nebraska beauty contest," Olivia reports. "I called the director of the contest and told them, 'I'd like to enter the contest under one condition. If my platform is pro-hunting, will you support me if I win?' The director said, 'Absolutely, we'll support you.' If I could win that contest, I felt like I'd have a platform to explain why hunting was important to all types of people. When I agreed to compete for Mrs. Nebraska, my platform was: 'Why Hunting Is Important to Conservation of Wildlife and to People.'
"Once I told Dick and Mary Cabela that I would enter the contest, they made a bet between the two of them. Dick told Mary, 'There's no way Olivia can win this contest with a pro-hunting platform.' Mary came back with, 'Yes, she will.' And, I did win the title of 2003 Mrs. Nebraska. I went on to the Mrs. America Pageant. I didn't make the top 10, which were the only places the pageant announced. However, during that year as Mrs. Nebraska, the national director of the Mrs. America Pageant told me, 'We've never had a Mrs. America or a Mrs. World who has obtained as much publicity as you have as Mrs. Nebraska, because of your pro-hunting platform.' I was on national TV, in many national magazines and newspapers and on numerous national radio shows. I don't believe there ever had been a woman in a beauty pageant with a pro-hunting platform before. So, I was unique in a way.
"After my year as Mrs. Nebraska, I was asked to appear on outdoor hunting TV shows. As the publicity for me and my platform continued to grow, I did thousands of interviews with all forms of outdoor media. A sash, a title and a crown gave me a larger audience to promote conservation and hunting than I ever had imagined. What was unique was that instead of, 'preaching to the choir,' I was able to speak and carry the pro-hunting message to an entirely-new group of people, who probably never had heard or understood how and why conservation, hunting and humanitarianism all fit in the same pair of boots. I was able to talk to children in schools, Boy Scout and Girl Scout groups and Moms and Dads. I would not have had the opportunity without the sash, the crown and the title of Mrs. Nebraska.
"One of the biggest audiences I was able to speak to was at a SCI Political Action Committee (PAC) meeting that had a large number of senators and congressmen at it – about 1,000 people. I explained to them about the attacks I was receiving from the anti-hunting community and how we wanted to generate excitement and interest in protecting hunters and hunting for the future against the onslaught of the anti-hunting press. My objective in speaking out publicly about hunting was to help to preserve the sport of hunting for future generations. I wanted my children to have the opportunity to hunt like I had in the face of anti-hunters screaming out bloody murder and trying to ban all forms of hunting.
"Recently, I met with the director of the SCI Foundation when the issue of Xanda the lion hit the media. I asked him, 'What can SCI do to counter the negative publicity that hunters are receiving for hunting and taking lions?' He explained, 'The Foundation can do very little to counter the negative publicity that hunters are getting, because Xanda was legally and ethically harvested by a hunter.' I explained, 'I have a platform to speak from, and I plan to attack the anti-hunters and counter their arguments with the truth about hunting and conservation. If I don't, maybe no one will, and there'll be no counterpoint to the anti-hunting people's message.' Since then, I've been on a numbers of TV shows – even in England – presenting the conservationists' and the hunters' points of view about harvesting lions.
"Xanda, the lion, has been promoted as being the son of Cecil the lion that first brought attention to lion hunting when he was killed. When Cecil was taken by a hunter, I debated Virginia McKenna, the founder of the Born Free Foundation (www.bornfree.org), which included the actors from the movie 'Born Free.' Two years after Cecil was harvested, the anti-hunters began to promote the idea that a second lion harvested by a hunter was Cecil's son Xanda, although there was no DNA evidence to prove this claim. Then I debated Virginia McKenna's son, Will Travers, because I felt that someone had to talk about the intrinsic values of hunting.
"When you talk to anti-hunters about harvesting lions, they never consider the fact that lions are a renewable resource that provides money and food for indigenous people when the hunters go on lion hunts. Without the financial incentive of lion hunting, indigenous people will destroy lions. Indigenous people keep livestock as one of their primary food sources, and lions eat livestock and occasionally people. However, hunters help control lion populations and aid in preserving lion populations, so there always will be lions for hunters to hunt and monies to be made to boost the economy of foreign countries and their indigenous people. For that reason, protecting lions and ensuring that there are huntable populations of lions is a direct benefit to native people.
"Over the years, we've seen that when an animal no longer has value to the hunters that the population of animals is usually greatly reduced and almost – if not totally – wiped out. Native people have learned that if they let lions live, they'll have jobs, water wells, medicine and schools as a byproduct of lion hunting. So, there's a value to keeping lion populations huntable and sustainable.
"Some years ago, a good friend of mine, outdoor writer Larry Weishuhn, urged me to enter the Extreme Huntress (http://www.extremehuntress.com/) competition owned by Tom Opre. Well, I did fairly well in the competition and Tom and I became friends. About 1-1/2-years later, Tom called me as he was traveling through Texas. We had coffee together, and a year later we married."
Being a Part of SCI:
"I have become a strong supporter and advocate for SCI, because its mission statement and purpose for being matches perfectly with what I believe. I'm also involved with the Boone and Crockett Club (http://www.boone-crockett.org/), the Pope and Young Club (https://www.pope-young.org/), the Rowland Ward Club (https://rowlandward.com/) and any other hunting conservation organization that stands for conservation, hunting and the rights and the responsibilities of hunters. In the last 2 years, I've become very active in the communications industry on the subject of lions and lion hunting, mainly because I'm a woman. I've taken three African lions, and I totally understand the socioeconomic value of lions and lion hunting to African countries and indigenous people."
Looking at Olivia's Future:
"In 2014, I was awarded the Diana Award by SCI, an award given to the greatest women hunters in the world. I've been nominated for the C.J. McElroy award (http://member.scifirstforhunters.org/static/wha/docs/15/CJ%20McElroy.pdf) – an award presented to someone who has played a major role in the hunting world and in wildlife conservation," Olivia explains. "My husband Tom and I just finished a film, 'The Mountain Goat Project,' which is a conservation series about why mountain goat hunting is important. We're also filming some different videos and films on why hunting and conservation are very important for the preservation of wildlife in the future. I also appear on a number of outdoor TV shows as an advocate for women hunting and conservation.
"When NBC Sports eliminated hunting programs from their offerings, because of the pressure being exerted by the anti-hunters, especially the anti-lion hunters, we moved our television show to www.getzone.com, and you can go to www.firesteelfilms.com. We also have videos on YouTube. Tom and I are raising four children, three daughters and a son, so besides being an advocate for hunting and hunters, I'm a mother and a wife. I'm also Tom's partner in TV, video and film productions. However, my major career is as an international adventure consultant. I help hunters travel the world for hunting trips, as well as setting-up photo safaris, fishing trips wing-shooting trips and other outdoor adventures. I'm also employed by Jack Brittingham's World of Hunting Adventure (http://www.jackbrittingham.com/). Right now, our focus is to help get our children excited about the outdoors. I've really enjoyed reliving vicariously my first adventures in the outdoors through their eyes."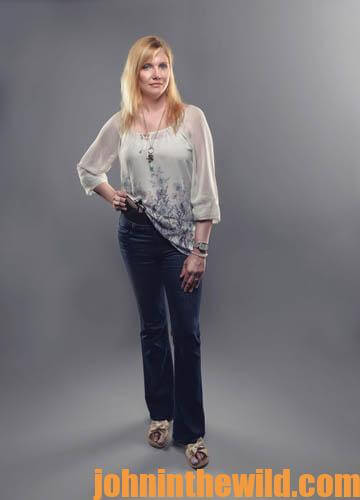 Beth Alcazar – an Advocate of Concealed Carry
Beth Alcazar of Chelsea, Alabama, is a certified handgun instructor with many organizations, including the SIG SAUER Academy (https://www.sigsaueracademy.com/) and the Well Armed Woman Organization (http://thewellarmedwoman.com/), the United States Concealed Carry Association (USCCA) (https://www.usconcealedcarry.com), the National Rifle Association (NRA) (https://home.nra.org/) and the Refuse to be a Victim Program (https://rtbav.nra.org/) and is a featured writer with "Concealed Carry Magazine."
Beth definitely breaks the stereotype of a pistol-packing mama – tall, attractive and possessing the southern graces of being a lady who's been raised in the South. If you see Beth on the street, she'll probably be the woman you'll expect to be the least likely to carry a pistol, much less three pistols and to shoot accurately. Also, if you know Beth's academic background, you'll feel certain she's the least likely to be a shooting instructor and a master with handguns.
Beth Learns How to Be a Writer:
"In 2000, I did an internship with outdoor writer John E. Phillips to learn how to be a writer and how to market what I wrote," Beth explains. "I never intended to write about hunting, fishing, shooting and the out-of-doors when I landed this internship. I just wanted to learn how to sell the articles I wrote, and I knew John could teach me that skill. I was a non-hunter, non-angler and on the verge of being an anti- hunter. I wasn't as extreme as PETA, but I didn't choose to kill animals or really see the need for taking the lives of animals – mainly because I had no concept of hunting and how hunting related to conservation.
"However, because John was an outdoor writer, as part of the mentoring process he taught, I went to outdoor shows, the SHOT Show (Shooting, Hunting Outdoor Trade Show) and outdoor writers' conferences. I met outdoors people and learned and began to understand the value of hunting and fishing. I also attended a Bassmaster's Classic and gained a greater understanding of fishing and the people who fished and the catch-and-release program practiced by B.A.S.S. and other fishing organizations.
"Once I learned to hunt, fish and shoot, I became passionate about the outdoors and outdoor sports. I had a teaching degree with a concentration in language arts, a second major in education, a master's degree in education and a master's degree in communications' management and marketing. I wanted to get these degrees to keep from being pigeonholed as, 'Just a teacher.'
"While teaching and working on my master's degree in management and marketing communications, I also was teaching college-level classes. One of the sections in the class I taught was about writing resumes and finding jobs. As a part of the class, I went online and showed my students how I'd look for a job on the internet. I came across an interesting tidbit of information about a research-and-demonstration golf course not far from my home that wanted to hire someone as an account manager. So I told my students, 'This ad is a perfect example for me to use to show you how I'd apply for this job.' I showed them how to write a cover letter and how to present their resumes for this job.
"As I wrote a cover letter and updated my resume, I began to think that this job would allow me to teach as well as use my skills in communications and marketing. So, I sent in my cover letter and my resume. I was called in for an interview and worked there for 8 years as the communications manager, primarily dealing with marketing and public relations. I also did employee training and taught customers how to use the products that we sold."
 The Day a Gunman Walked into My Oldest Daughter's School:
"After my internship, while I was getting additional college degrees, I continued to write and sell occasional articles to a wide variety of magazines and did some freelance editing occasionally, for individuals as well as for companies. But I really didn't get involved heavily in writing or shooting, until the day a gunman walked into my daughter's middle school.
"This individual had worked at the middle school previously, so he was known by the teachers and the staff of the school as well as some of the students. He arrived at the school a little before the school day ended, between 2:00 and 3:00 pm, when students were readying to board school buses or get in the carpool line. He entered the building and took five young girls hostage in the gym.
"This incident happened only 4 to 5 months before the Newtown, Connecticut, shooting, on December 14, 2012, at the Sandy Hook Elementary School. Sandy Hook's school doors were locked, but the gunman, 20-year-old Adam Lanza, shot out the glass next to a door, went inside and began his rampage. Soon 26 people had been killed, including 20 students, ages 6 to 7, and six adult school employees and some other injuries.
"Luckily when my daughter was at her school some months earlier, an armed school-safety officer was present and defused the situation quickly, efficiently and correctly. Nothing happened to the girls, there were no shots fired, and no one was injured. After the incident ended, all the parents in the community, including myself, were very upset and very frightened. I thought to myself, 'Okay, Beth, it's great and wonderful that you know about guns. Knowing we have a gun at home for self-protection is comforting too. But you need to know everything you possibly can learn about guns and self-protection to protect yourself and your children.' I'm a mama hen, so, if someone's threatening me or my family, I need to know how to deal with that situation and how to protect my family.
"I made the decision to make a lifestyle change and to do all I could not to become a victim or allow my children to become victims. That's when I decided to research to find out what type of training was available for me and my husband. I wanted to know what I could learn, how I could improve my skills and how to carry a handgun safely, and if necessary to learn the way to use that gun, if the need came. About the same time, I became aware of the need to learn self-defense skills, and my job ended. I was 7-weeks pregnant then. I had a family I needed to help support. I had skills in education, marketing, PR and a background in the outdoors and writing, but how could all this work together to help take care of my family and help other people? I reached out to many of the contacts I'd made over the last 10 or15 years and asked, 'What can I do for you?'"
One Written Article Led to a Career in the Outdoors:
"The editor at the United States Concealed Carry Association (USCCA) said, 'We'd like to have a woman's voice in our magazine. Could you write an article for us for 'Concealed Carry' magazine?' Because of the gunman at my daughter's school, I wrote that article about the emotions I felt, and why I decided I needed to know how to defend myself and my children if a similar situation happened, and I was involved. I thought writing the article would be therapeutic. That one article caused me to start working hand in hand with the USCCA to drive home this idea and tell other ladies about the resources for women to protect themselves and their families.
"I learned of the many women in this country who were ex-military, ex-law enforcement and experts in their fields with firearms. However, due to their backgrounds and experience, often everyday women like me had a tough time connecting with these professionals and felt intimidated, since they knew so much more about guns than we did. Although I was an everyday woman and the least-likely woman you'd ever expect to be carrying a firearm, those were the kinds of  ladies, ladies just like me, that I was and still am passionate about reaching with the knowledge, skill and information I've acquired. As I reach out to these ladies, I say, 'If I can do it, you can do it.' With the various school shootings, suicide bombings, plane hijackings, demonstrations erupting and other sinister things going on in our world, you need to know how to protect yourself and your family, just like I do."
I Became a Competition Shooter, and You Can Too:
"I'm often asked, why I decided to compete in shooting competitions. I realized that competition shooting would further my education in how to shoot, how to handle firearms safely, how to shoot accurately and how to keep my shooting skills at a higher level. Luckily my husband Sean was very excited about getting involved in shooting competitions, because he'd been shooting all his life. He felt that competition shooting would allow us to spend more time together and have fun shooting guns. So, Sean and I went to Brock's Gap Training Center (http://www.brocksgap.com/) in Hoover, Ala., not far from our home, where a number of shooting competitions were held. We found that shooting competitions were exciting, challenging and lots of fun.
"Today, I'm just a mom with a gun. Although I don't have the fanciest guns or the latest equipment, I had my eyes opened by all that I could learn about taking the pistol out of the holster, putting the pistol into the holster, moving quickly and shooting accurately. There were many things about firearms that I didn't know, and today I'm a better teacher because I've wanted to learn all I could about firearm safety and the many different types of firearms' competitions available to a woman shooter. And, for concealed carry, I have three go-to pistols that are sub-compacts and easy to conceal on my body. I always teach women that carrying their pistols the same way every day is best. I typically carry my gun in a corset holster in the appendix position. I also carry a back-up gun in a concealed carry purse."
Beth's Future:
"I made three videos for women with the USCCA that are designed specifically for women's needs that you'll enjoy. In the videos, we tackle the tough questions like:
* how a woman can carry a concealed weapon;
* what holsters and options for concealed carry are available for women; and
* what's situation awareness and how not to become a victim.
"Some of the scenarios include what to do if you become uncomfortable in an elevator, a parking lot or anywhere else you feel threatened. When I decided I needed to know how to learn and protect myself and my family and how to fire a gun safely and accurately if need be, I wanted to share this information with all the women I could. To learn more about the availability of our videos, you can go to https://www.usconcealedcarry.com/. The USCCA also has a Facebook page at https://www.facebook.com/pg/United-States-Concealed-Carry-Association.
Tomorrow: Linda Powell Steps into a Major Role with a Gun Company