John's Note: The Wesner Ranch/Double E Outdoors in Reydon, Oklahoma, with holdings in both Texas and Oklahoma, homes plenty of turkeys, as well as a wealth of history.
When I went to Texas and Oklahoma to hunt for 4 days, with the chance to take two gobblers in each state on each day, I carried my paper-thin Mossy Oak TrekLite camouflage, knowing that Texas and Oklahoma would be hot.
I also threw in a suit of Under Armour (www.underarmour.com) base layer, because I thought the mornings might be cool, and a Browning (www.browning.com) Gore-Tex Paclite rainsuit on the slim chance that we might have heavy dew or a light shower. On the first morning of the hunt, the temperature dropped to 23 degrees with accompanying sleet and snow. If not for my base layer, a pair of cloth gloves and a fleece skull cap, plus all my other clothes, I'm sure I would have frozen. The desert of Texas wasn't supposed to have snow and sleet, to my way of thinking, especially during turkey season, but it did. To complicate matters even more, spring was a few weeks late, and all the gobblers were henned-up.
After we struck out, Chauncey Wesner said, "Let's go to a place where the turkeys feed. We'll build a natural blind next to a cedar tree. We won't have to call much, because the birds show up there every day. I've seen jakes and hens there, and there should be a longbeard, too." We got to our site at 2:00 pm, constructed a makeshift blind out of cedar branches and waited. Within 45 minutes, we saw several hens and jakes. Then there was a lull when we didn't see any birds. Because we'd been getting up early in the morning, covering a lot of ground, eating dinner late and going to bed even later, Chauncey and I both were tired. As I looked to my left, I could see Chauncey taking one of those wonderful early afternoon naps on his stand. Chauncey was as deeply asleep as a man in his grave when I heard footsteps off to my right.
I turned my head slowly to see a young gobbler not 5 feet from my stand.
At the same time that my eyes met the jake's,
the bird exploded skyward. Chauncey jumped as if he'd sat on a porcupine. Adrenaline had replaced the ZZs of sleep, and we both were on full alert. About 30 or 40 minutes later, a flock of hens came in to feed, and then we spotted three jakes coming down the trail to our left. One of the jakes walked within 3 feet of Chauncey and studied him like I'd study the menu in a French restaurant, even though I couldn't read or speak any French. Chauncey and I closed our eyes to keep the birds from seeing the whites of our eyeballs. We took short breaths, so our clothing didn't move as we breathed. Finally, the jakes backed out.
A good friend of mine, Preston Pittman, once told me, "When a flock of turkeys accepts you close to them, they'll continue on with their business as if you aren't there." That's exactly what happened this day in Texas. After those two jakes had looked us over and checked us out, the hens in the flock were watching the jakes. When the jakes backed away from us and began to feed, they rarely looked our way again, even when we heard a turkey gobble. The next time we heard a longbeard make his presence known, he was inside 50 yards.
I was able to move my Mossy Oak camouflaged Mossberg 930 (http://www.mossberg.com) to my knee and prepare for the shot without startling any of the turkeys. When the longbeard finally came within range, I made a few minor adjustments and took the gobbler. After the high fives between Chauncey and me, Chauncey smiled and said, "I thought I'd get busted when that jake was looking straight at me, but I had on that Mossy Oak Brush (http://www.mossyoak.com) camo from head to toe and sat as still as I possibly could, until he finally turned away. I'm glad we finally got a bird for you. Now we just need to get three more."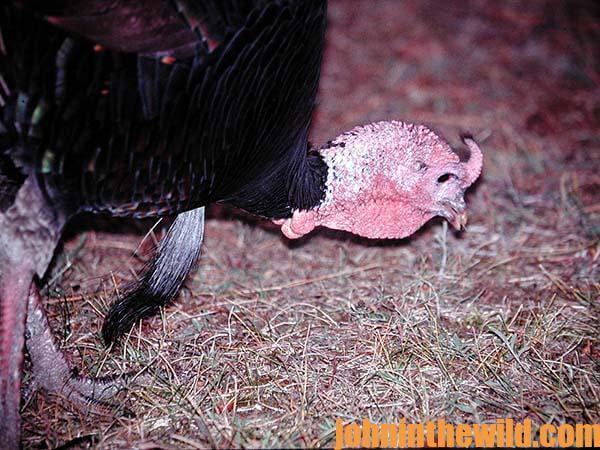 "I plan to hunt until the last minute of the last day," I said. "But if I don't take another gobbler, I've still had a great hunt, taken plenty of great photos and collected several interviews and stories. Not only is the hunting fabulous out here, but just learning the history of this area and your family has been more than worth the trip to me and already has started me wanting to come back."
For more information on hunting with the Wesners, go to www.doubleeoutdoors.com, or call 806-565-4679.
To learn more about turkey hunting, get John E. Phillips' new eBook "How to Hunt Turkeys with World Champion Preston Pittman." Click here to get this book.
About the Author
John Phillips, winner of the 2012 Homer Circle Fishing Award for outstanding fishing writer by the American Sportfishing Association (AMA) and the Professional Outdoor Media Association (POMA), the 2008 Crossbow Communicator of the year and the 2007 Legendary Communicator chosen for induction into the National Fresh Water Hall of Fame, is a freelance writer (over 6,000 magazine articles for about 100 magazines and several thousand newspaper columns published), magazine editor, photographer for print media as well as industry catalogues (over 25,000 photos published), lecturer, outdoor consultant, marketing consultant, book author and daily internet content provider with an overview of the outdoors.