John's Note: The night was sultry, the moon had refused to shine, and the summertime air needed air conditioning. We had been chunking and winding since way before dark. Although we had caught quite a few largemouth bass, the real prize for which we were searching – the striped bronze tiger that prowls the stump rows and rocky bottoms of Pickwick Lake on the Tennessee/Mississippi/Alabama border – had eluded us. Summer is the prime time for catching smallmouths at night along the Tennessee River that meanders primarily through Tennessee and Alabama. And, Austin James of Athens, Alabama, knows how to catch them.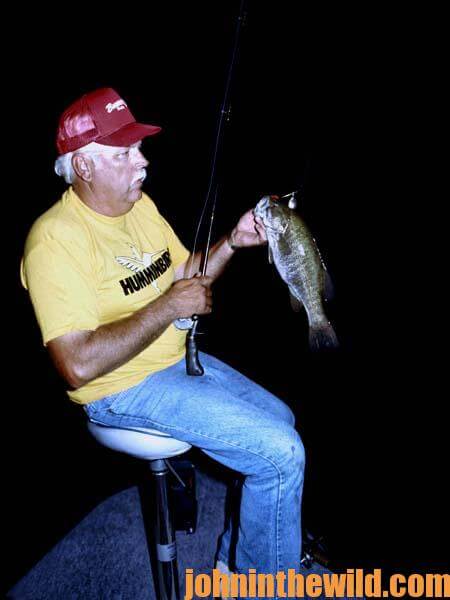 Although Pickwick and Wilson lakes both produce lunker-size smallmouths during the hot summer months, James believes that of the two lakes – Pickwick is the best summertime night fishing for smallmouths. "I also am convinced that Pickwick is the best smallmouth lake in America, not only for the summertime angling at night for smallmouths but also for the bronzebacks taken in the spring and fall," James explained. "I don't really believe that an angler will have to fish for more than two consecutive nights at Pickwick in the summer to catch a 5-pound smallmouth. If an angler is dedicated to catching a smallmouth weighing over 5 pounds, then he may have to fish for three or four consecutive nights. During the summer months, taking a smallmouth weighing more than 7 pounds is tough at Pickwick Lake. However, for most smallmouth fishermen throughout the nation, a 7-pound bronzeback is still a nice-sized fish. Pickwick has a lot of open water with plenty of bottom structure and cover as well as an abundance of baitfish for the smallmouths to eat. There are also more underwater humps, old roadbeds, submerged locks and wing walls and other fishable big smallmouth waters available on Pickwick than any other lake I know."
To learn more about John E. Phillips' bass fishing books in both Kindle eBooks and print books, click here.
EXPLORE MORE: you'll love these stories from John too