John's Note: Ole Mr. Whiskers loves dam sites, but fooling him there can be maddening – unless you get in the groove. My fishing buddy and I were catching two to four catfish per hour. But the anglers in the nondescript, flat-bottomed johnboat across from us were taking a couple of cats every 5 to 10 minutes. Frustrated, I decided right then to solve the riddle of catching tailrace cats.
 The bubbling, swirling, swift waters of tailraces below dams always make me think of catfish, which feed in the boils and foam of the current in the highly-oxygenated water.
Earlier in the day this trip had been ordinary. I was drift fishing just off the current below the last turbine of a dam. As I bumped the bottom with my catfish rig, I occasionally felt the violent surge of Mr. Whiskers and then battled another 2-pound blue cat to the boat. I was feeling smug. My partner and I had taken eight cats in about 2-1/2-hours of fishing, and I was confident of my cat-catching ability – at least I was until the old johnboat with the elderly man and his wife motored-up to the middle of the swift water and began to catfish.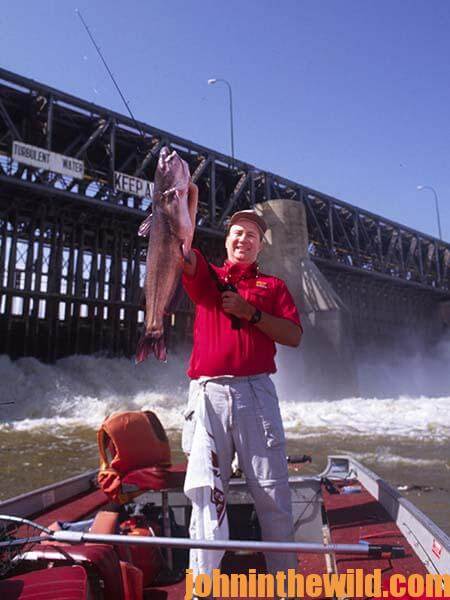 "Look at those folks," I remarked to my fishing buddy Joe Price. "They don't know that the cats are out here on the edge of the current. Maybe they'll catch a few drum or a cat or two. But they won't take many fish in the middle of the current." Well, success had made me cocky. Besides, those folks with their pith helmets and beat-up rods and reels didn't look much like serious fishermen. Each time we drifted down the current, bumping the bottom, I observed the mid-current anglers. After every drift of 200 yards or so, we ran back upcurrent and started another drift, as did our counterparts out in the water. There was one big difference, however – they were catching four times as many cats as Joe and me.
"Those poor folks sure don't know what they are doing," Joe said sarcastically. "They're just drifting through that swift water where there aren't any catfish and catching four fish to our one. I guess that proves that luck is still better than skill, doesn't it?" After 30 minutes more of Joe's joking and watching the couple bring cat after cat to the boat, I was moved to try a new technique. "Okay," I announced, "I don't know exactly what method those folks are using, but we are going to attempt to do the same thing." We motored out into the current and started to drift back about 25-yards away from the cat catchers. As we floated, let our leads tag the bottom, then lifted them and bumped the bottom, I strained my eyes to see what kind of terminal rigs the other fishermen were using. "Their rigs look like ours," Joe said. "And, I know they're using shad guts for bait, like us," I said. "Well, why are they catching so many cats?" Joe asked. "You're supposed to know about this fishing." "Hey! We have 12 cats," I answered. "Yeah, but that couple is about to sink the boat with the fish they are pulling in," Joe reminded me.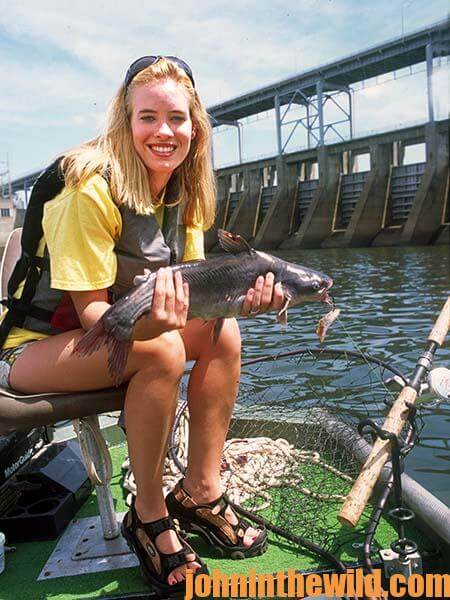 The rest of the day I closely observed the man and his wife like a soaring hawk would watch a field mouse. I noticed that the anglers drifted in almost the same area of water each time. "I've got their secret figured out," I told Joe. "They have found a school of catfish in one part of the current and are working that school. If those folks ever move, we'll take that spot and slay those catfish." Soon the couple did indeed motor to a new region. We moved to the productive waters and started to drift back, bumping the bottom with our baits. Although we did pick up an occasional blue or channel cat, the husband and wife team in their new drifting area continued to catch three fish to our one. My confidence was shattered, and I was totally frustrated by not being able to figure things out.
 "Click here to get these books."
 About the Author
John Phillips, winner of the 2012 Homer Circle Fishing Award for outstanding fishing writer by the American Sportfishing Association (AMA) and the Professional Outdoor Media Association (POMA), the 2008 Crossbow Communicator of the year and the 2007 Legendary Communicator chosen for induction into the National Fresh Water Hall of Fame, is a freelance writer (over 6,000 magazine articles for about 100 magazines and several thousand newspaper columns published), magazine editor, photographer for print media as well as industry catalogues (over 25,000 photos published), lecturer, outdoor consultant, marketing consultant, book author and daily internet content provider with an overview of the outdoors. Click here for more information and a list of all the books available from John E. Phillips.
EXPLORE MORE: you'll love these stories from John too