Editor's Note: "If you are hunting the shallow water in April, don't bet that the big crappie will be there," the late Dr. Tom Forsythe, a fisheries biologist at Land between the Lakes in Golden Pond, Kentucky, told me some years ago. "As a matter of fact, don't plan on the big crappie being in shallow water on any particular day that you want to fish during the month of April. I realize this information will surprise people. But it's the truth."
"For some reason, fishermen have perpetuated a myth that the crappie spawn usually takes place the first two weeks in April, which is just not true," Dr. Forsythe explained to me.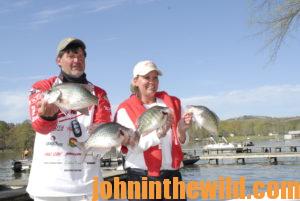 "Sometimes when the South experiences extremely-warm weather in March, the crappie will begin to spawn earlier. Then by the end of the first two weeks in April, the spawn will be over. Other years, the area where you're fishing may have a cold April, and the crappie may not spawn until the first or second week in May. Even if the whole month of April is neither hot nor cold, many times a cold front will hit and cause the spawning fish to move back into deep water, or perhaps the water level is lowered, and the fish will be run off the banks again.
"So, a man who wants to go fishing and catch big crappie in the month of April had better not carry his bucket of minnows with his cork set 1-1/2 feet deep and plan to fish shallow-water brush only. Neither should a man plan his vacation for any specific two weeks in April thinking that this is when the big crappie will be bank-bound. There are so many factors that play a role in the crappie spawn that the most-consistent thing you can say about catching big crappie in April is that if you are fishing for the big spawners, you won't be consistently successful. The large catches of big, spawning crappie that occur during the month of April happen most often because of luck, rather than an angler's ability to find big, bedding fish."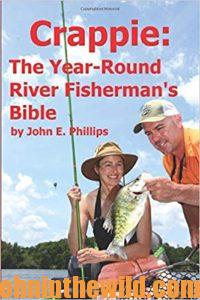 To learn more about crappie fishing, check out John E. Phillips' book, "Crappie: The Year-Round River Fisherman's Bible" at https://amzn.to/2mxWIt4, available in Kindle and print and in Audible at https://adbl.co/382m0SR.
Tomorrow: Learn Tips for Catching Big April Crappie