Editor's Note: "If you are hunting the shallow water in April, don't bet that the big crappie will be there," the late Dr. Tom Forsythe, a fisheries biologist at Land between the Lakes in Golden Pond, Kentucky, told me some years ago. "As a matter of fact, don't plan on the big crappie being in shallow water on any particular day that you want to fish during the month of April. I realize this information will surprise people. But it's the truth."
Another factor that may cause crappie anglers not to catch big fish is noise. And, anyone who wants to invoke a quick discussion can ask fishermen's opinions about the effect of noise on catching papermouths. Dr. Forsythe explained, "I don't believe enough research has been done on noise, and how it impacts crappie to draw definite conclusions. I believe that if you drop something in t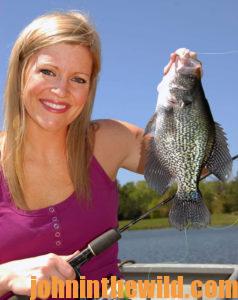 he bottom of the boat, you can spook crappie. However, I know some good anglers who believe that you can take a cane pole and beat the top of the water and catch crappie. So, I don't think you can draw conclusive proof about the noise factor affecting crappie."
But, the one technique that Forsythe valued the most was checking both the deep and the shallow waters for big April crappie. He felt the biggest mistake crappie anglers could make was trying to fish only one way during the spring run.
According to Forsyth, "If you're looking for the larger crappie instead of mere quantities of fish, I have found the majority of them in April will be caught in deeper water. Many guides swear these slab crappie spawn in 8-10 feet of water around stumps. Most of the really-good crappie over 2 pounds that I have taken during the spawn did indeed come from such places. There is no question you can catch some of these big fish near shore when spring arrive, but you'll take many more big ones if you move out into deeper water and fish for them."
The anglers who consistently catch the big slabs during spring are what I call hunters and peckers. If the big crappie move into the shallows, these fishermen will move into the shallows with them and catch what fish they can. Then, when the fish travel to deeper water, these anglers will follow the crappie back to the deep water.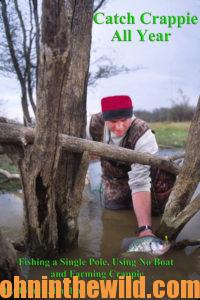 To learn more about crappie fishing, check out John E. Phillips' book, "Catch Crappie All Year: Fishing a Single Pole, Using No Boat and Farming Crappie" in Print and Kindle versions at
http://amzn.to/1DBpnNh and click here for the Audible link.
Tomorrow: Think Like Big April Crappie – Crappie Farmers and Navigators