Editor's Note: "If you are hunting the shallow water in April, don't bet that the big crappie will be there," the late Dr. Tom Forsythe, a fisheries biologist at Land between the Lakes in Golden Pond, Kentucky, told me some years ago. "As a matter of fact, don't plan on the big crappie being in shallow water on any particular day that you want to fish during the month of April. I realize this information will surprise people. But it's the truth."
* Crappie Thieves – The crappie thief is not going to work hard like the crappie farmer – putting out structure, finding the best locations and adding structure to his farm as the old structure beg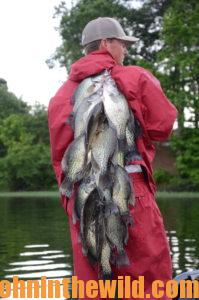 ins to break down. Nor is he going to take the time to learn his depth finder like a crappie navigator will. This guy is an out-and-out sneak thief who will pillage the other two types of anglers' spots at every opportunity. And, this guy still will catch more crappie than the bank bangers who are fighting over the shallow-water fish. He knows that the big crappie will be in deep water. So, by using his binoculars and cruising up and down the lake, he soon will learn who the crappie navigators and the crappie fishermen are. He will be able to identify their boats while running flat-out down the lake. He will hone in on their positions and try and find the cover that they have located or worked hard to put out. Whenever the farmer or the navigator isn't on the water harvesting big April crappie, the crappie rustler will slide into their spots and steal their holes.
* Crappie Hermits – This fisherman, for the most part, dislikes other anglers. He doesn't want to be where he can see another crappie catcher. He will work harder than the crappie farmer, besides researching about as much as the crappie navigator. What this sportsman is looking for is undisturbed crappie waters that are virtually impossible to reach. A crappie hermit is the kind of angler who will drag an 18-foot aluminum johnboat over a 1/2-mile mud flat to get into the back of a creek that nobody else can fish. He also will use a belly boat and hike through the woods fighting off snakes, ticks and redbugs to get into a pothole where the big crappie stay. No mountain is too high to climb, no swamp is too treacherous, and no mud flat is too long for this crappie hermit. All of these different types to crappie catchers have their own unique methods to finding and catching more and bigger crappie than anyone else during April. Bigger crappie are available for those who are willing to learn, change tactics, and not fish with solely traditional methods when the crappie run is on in the spring.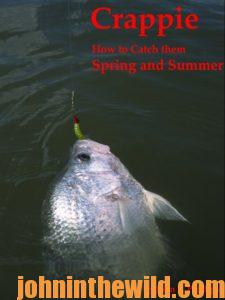 To learn more about crappie fishing, check out John E. Phillips' book, "Crappie – How to Catch Them Spring and Summer," available in Kindle and print versions at http://amzn.to/WGaJLT and Click here for the Audible link.