John's Note: At age 16, Preston Pittman of Lucedale, Mississippi, won his first turkey calling championship. When asked how this affected him, he says, "I was a small size growing up, had asthma and chronic nose bleeds and couldn't compete in most sports. I fell in love with God's greatest gift, the outdoors. When I won that first contest, it did something to me. I realized I was good at turkey calling." Today Pittman has won and placed in so many contests that remembering them all is hard, including – the World Turkey Calling Championship, the World Natural Voice Turkey Calling Contest, the World Two Man Team Turkey Calling Contest and numerous others. In 2008, he was inducted into the National Outdoor Hall of Fame. Pittman has hunted across the United States and was the first person to document a Double Grand Slam (two turkeys of each of the four major subspecies of the American wild turkey) in one year. He is on many pro staffs, such as Longleaf Camo (http://www.longleafcamo.com), Muzzy (http://www.muzzy.com), Scent Lok (http://www.scentlok.com) and MOJO Outdoors  (http://www.mojooutdoors.com). "I'm just a country boy producing a product (http://www.pittmangamecalls.com) that I believe in and know it works."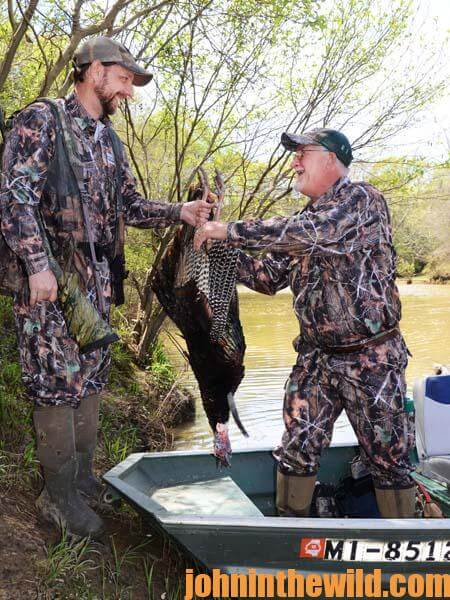 When decoys first came on the market, Preston Pittman was the first person I ever saw who would crawl on turkeys, using a decoy. Pittman started out using a hen decoy and pushing that decoy out in front of him as he crawled to a gobbler in a field. The next stunt I saw Pittman use was to put a decoy on his head and crawl out into a field to shoot a turkey. Then with the invention of the Tail Chaser by MOJO, Pittman started using this fake turkey fan on the barrel of his shotgun. He either would bend over and walk to a turkey in the field or get on his stomach behind the Tail Chaser and crawl to a turkey in a field. But today, some new decoys are on the market that Pittman has used more frequently to move in close to field turkeys or turkeys in open woods that hang-up and won't come any closer when he's calling.
"One of the newer decoys is the Scoot N Shoot by MOJO, a full-bodied strutting gobbler decoy with a tail fan that can be raised or lowered," Pittman says. "I get behind this decoy and crawl to a gobbler that won't come to my calling. From under the decoy, I can raise and lower the Scoot N Shoot's tail. I can move that decoy out in front of me as I crawl. When I'm ready to take the shot, I'll put my gun barrel under the decoy's wing where I can see the gobbler and get the shot without the turkey ever seeing me. MOJO has made this decoy as safe as possible. MOJO has put two hunter orange stripes on the decoy's wings, making the decoy highly visible to hunters. I've been able to crawl right up to a turkey with those hunter orange stripes on the decoy's wings, and that hunter orange didn't spook the gobbler. I've found that using this Scoot N Shoot decoy is a great way to take one of those field gobblers with hens that I'd never be able to take by attempting to call that bird to the edge of the woods. When you're using decoys and crawling on gobblers, you have to wear your head net and your gloves in Longleaf Timber Break camo to stay completely concealed. This new Scoot N Shoot has solved a lot of field decoy problems for me."
On the first day I arrived at Pittman's hunting camp, we went to a field where Pittman had seen nine longbeards the previous afternoon. When we reached the edge of the woods, Pittman whispered, "I'm going to set-up three decoys. I'm going to set a full body hen decoy on that burn (a small ridge dividing two fields). Then I'll put a hen decoy that's in the breeding position in front of the Shake-N-Jake." After Pittman had set-up the decoys, he came back. The full-bodied Shake-N-Jake (another decoy Pittman has designed for MOJO) began to turn and lift up an artificial tail that was structured like a jake fan. Then it turned back again, and the tail went down. Pittman controlled the Shake-N-Jake with a small wireless device about the same size as a remote car door opener that would open and lock a car.
"You have to check your state rules and regulations for turkey hunting, because not all states allow hunters to use a remote-controlled decoy," Pittman mentions. "This decoy allows you to add movement to your decoys, just like a duck hunter has spinning-wing decoys and/or decoys on jerk strings to add movement to his decoy spread. Now, this is not my first decoy of choice, because if younger gobblers are in a field, this decoy often will spook them. However, if a dominant gobbler with hens is in a field, or multiple gobblers are out in a field, you may have several turkeys come running to the Shake-N-Jake and flog it. You'll often see multiple gobblers in a field at the first part of the season before they break up their bachelor groups.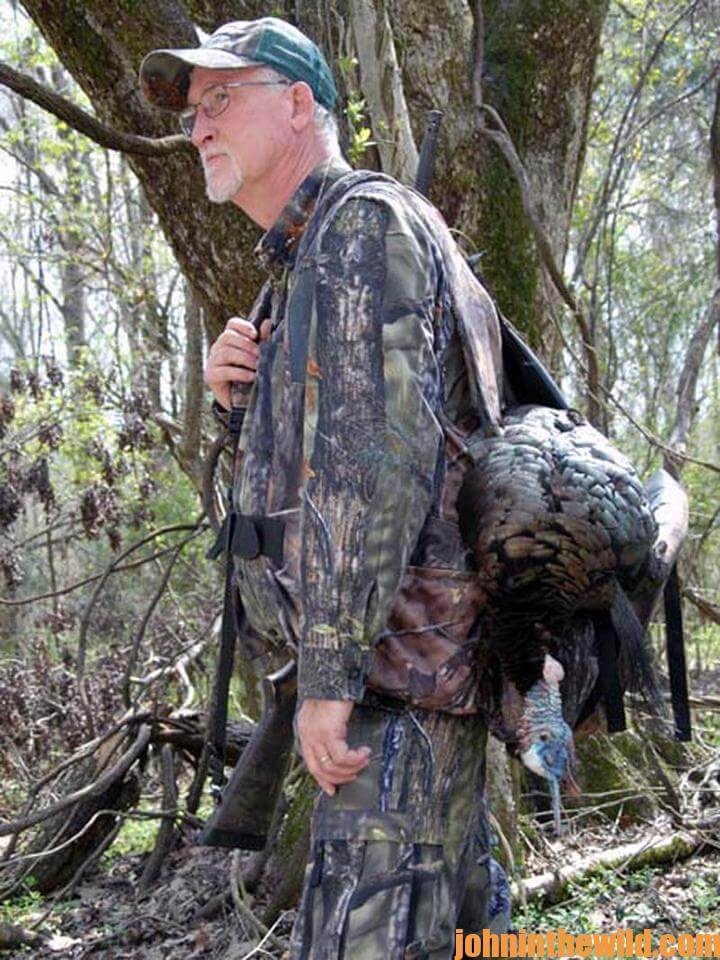 "Because watching a decoy move is a lot of fun for a hunter, many hunters will use the Shake-N-Jake decoy improperly. However, I've been the most successful by occasionally turning the Shake-N-Jake, letting it move from side-to-side, allowing it to go into the strutting position with the tail up and then turning it off. I use the motion part of the decoy very little. Another way I've found the Shake-N-Jake to be deadly effective is when gobbler comes out of the woods into the field, looks and spots the decoy. I'll turn it on for a second or two, so the Shake-N-Jake goes into full strut. Then I'll turn it off, but I don't keep the decoy running when there are gobblers in the field. Using this motion decoy is much like calling a turkey. Once you see the turkey coming toward the decoy, don't move it again. Just like when you're calling, once you know the gobbler is coming to you, quit calling. Like you, I watch a lot of TV shows. I see some of the hunters continue to call when the turkey is coming in, but you have to remember that calling is for TV. In a hunting situation, once the turkey starts coming to you, 90 percent of the time you should quit calling. When you're using a remote control decoy, once the turkey starts coming toward the decoy, you don't need to move the decoy anymore."
Do be extremely careful when you use decoys of any type. Learn when, where and why to use decoys. Turkey decoys don't always work. On some hunts, a decoy will spook the turkey. But on other days, a decoy can be the difference in bagging a gobbler or just seeing a gobbler.
You can learn more about Preston Pittman and how he hunts on his Facebook page at https://www.facebook.com/pittmangamecalls/?fref=ts and on his webpage at www.pittmangamecalls.com/
To see John E. Phillips' Kindle eBook, "How to Hunt Turkeys with World Champion Preston Pittman," click here at http://amzn.to/144Irn5.
To learn more about turkey hunting from the masters, get these Kindle eBooks and print books by John E. Phillips, including: "The Turkey Hunter's Bible (available as an eBook or in paperback)," "PhD Gobblers: How to Hunt the Smartest Turkeys in the World," "Turkey Hunting Tactics," (also available in an audio book from  http://www.audible.com/pd/Self-Development/Turkey-Hunting-Tactics), "The 10 Sins of Turkey Hunting with Preston Pittman" and "Outdoor Life's Complete Turkey Hunting." Click here to get these books.
To get John's book, "The Turkey Gobbler Getter Manual," for free, go to www.johninthewild.com/free-books to download.