Editor's Note: Tony Adams moved to Eufaula (http://eufaulaalabama.com/), Alabama, in 1989 and began fishing the Chattahoochee River that had been impounded to create in 1962 Lake Eufaula, also known as the Walter F. George Reservoir, that were on the Alabama/Georgia border. When Tony Adams arrived in Eufaula, he decided he would learn where and how to catch catfish and crappie there. Last week on John in the Wild (http://johninthewild.com/how-we-fish-for-crappie/) we told you how Adams finds and catches crappie. This week we'll tell you how he locates catfish, and how he rigs and catches catfish.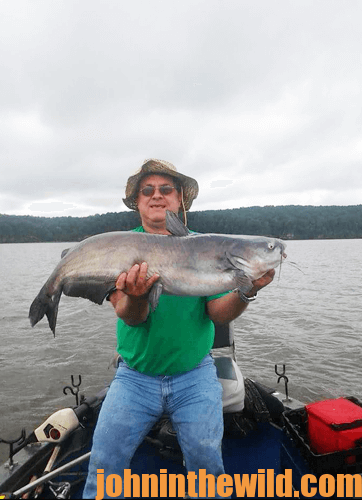 We started putting our 72 jugs for catfish out in the mouth of Barbour Creek. Then we headed north toward the railroad trestle. "When I put my jugs on the edge of the river channel, the wind either will blow the jugs on top of the river channel or out over the river channel," Adams explains. "The cats will relate to that river channel, especially in the hot summertime, as well as in the fall of the year when they'll often suspend over the river channel." Adams cuts his baits into two sizes – big baits for big catfish and smaller baits for catfish 1-1/2 to 8 pounds. "I put my bigger baits out in the deeper water, and my smaller baits in the shallow water," Adams reports.
Something I noticed about the hooks that Adams uses is that they're much bigger than the hooks that most catfishermen use. "I always seem to catch my bigger cats on bigger baits," Adams reports. "So, if I'll be fishing a big bait for a bigger cat, I need a bigger hook to be able to pull that cat in without the hook's breaking. I like to fish for cats that weigh 8 pounds or more. I think a bigger cat is easier to skin and fillet than a smaller cat is. The average catfish that we generally catch jug fishing will weigh from 6-8 pounds, and not many cats of that size will total 200-300 pounds in 4 hours of fishing. I can use my Humminbird Helix 12 depth finder (https://www.humminbird.com) to find the water depth that the shad are holding in, and I'll usually locate the catfish in that same water depth."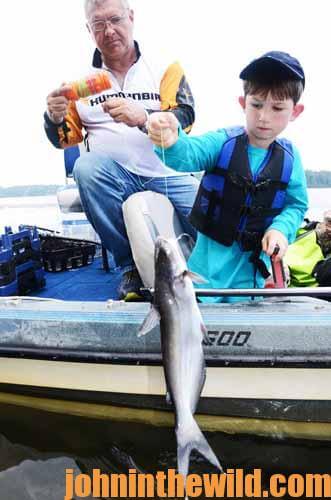 As we put out the jugs, I saw that the main river channel had a bend on it. Instead of putting the jugs out in a straight line there, Adams motored his boat around the bend and placed a few extra jugs in that bend of the old river channel. "I'll put a few more jugs in this spot than I do when I'm putting them out in a straight line," Adams mentions. "For the last 2 years, I've hooked a gorilla-size catfish that stays in this bend. Once this catfish gets hooked, it goes to some underwater structure and breaks the line. I've watched for my jug to come up for 30 minutes before, but that ole catfish will keep it down underwater, and I'll lose my jug.
"I've never seen this large catfish. The first time I hooked it was 2-years ago. I had the jug in my hand pulling it up when the cat made a hard run. I dropped the jug back into the water, so the line wouldn't break. Every time I've hung this catfish, it pulls my line down into some structure and breaks it off. Based on the size of the other cats that I've caught and how hard this cat pulls against the line, I believe he'll weigh from 60-80 pounds. This fish is probably a blue cat, and it's really smart. When this catfish feels the hook, it knows it needs to go to structure quickly to break the line and get the hook out of its mouth. So, I have a special thing about trying to catch that catfish."
Where to Put Catfish Jugs with Tony Adams: https://youtu.be/GhDzBGALVMw
You can contact my guide, Tony Adams at 334-688-7505 or tony.adams@marvins.com and see photos of his fish on his Facebook page (https://www.facebook.com/tony.adams.5477). While in Eufaula, I stayed at Lakepoint Resort in the Alabama State Parks (http://www.alapark.com/lakepoint-state-park), where the rooms have views of the lake, and the food is delicious. Contact the sales director, Sone Kornegay, at 334-687-8011 to learn more.
If you want to hold a crappie-fishing, a catfishing or a bass-fishing tournament at Lake Eufaula, you can contact Mayor Jack Tibbs at mayortibbs@eufaulaalabama.com or call 334-695-3765. You also can call 334-343-6173, go to www.alabamablackbeltadventures.org or email pam@alabamablackbeltadventures.org to learn more about Alabama Black Belt Adventures, of which Eufaula is a part.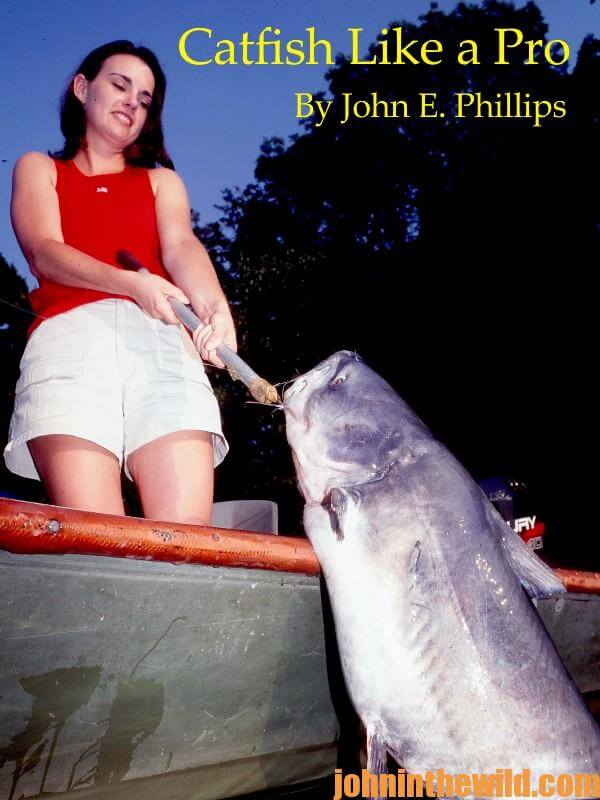 To learn more about catfishing, go to http://amzn.to/W900eu to get John E. Phillips' "Catfish Like a Pro" and others. Type in the name of the book, and download it to your Kindle or you can download a Kindle app for your iPad, SmartPhone or computer. You can also get "The Catfish Catcher's Cookbook" for free at http://johninthewild.com/free-books.
Tomorrow: Why Tony Adams Uses Big Baits to Catch Big Catfish