Editor's Note: In 2014, Randy Howell of Guntersville, Alabama, stunned the bass-fishing world by winning the Bassmaster Classic in what many knew to be a community fishing hole on Lake Guntersville. Today 47-year-old Howell has accumulated 45, top-10 finishes and more than $2.3 million in his career, including his Bassmaster, Major League Fishing and FLW winnings. Howell has been a tournament fisherman since 1993, and for the last four years he's lived at Lake Guntersville. Today he fishes the Major League Fishing circuit.
* Transitioning Bass:
Fall is a very-tricky time for fishing because it's a transition period for the bass. At this time of the year, the bass start moving from deep water into staging areas before moving into shallow water to feed. The definition of fall bass fishing depends on what region of the United States you live in, and when the water temperature is cool enough for the bass to start going toward shallow water. Most fishermen consider that fall starts in September, however, in the Deep South, we're still fishing summer patterns in September.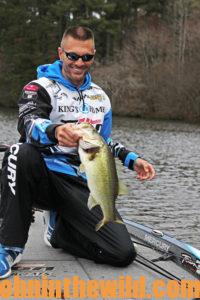 Our fall fishing may not begin until some time in October and even November, depending on the weather, especially when cold weather moves into southern waters.
Another unusual factor about the fall is that when the weather starts to cool down, often the bass will suspend in open water. At this time of the year, the bass will follow the shad and other bait fish from deep water all the way to the back ends of creeks. So, one of the reasons these bass can be challenging to catch is because these fish are always on the move as this transition takes place. For instance, you may have a great day of bass fishing and catch bass all day off one location. The next day you may not have a bite. The key to finding fall bass is to pinpoint the bait fish first because the bass will be close to them, if not on the side of or under them.
* Suspending Bass:
One of the most-difficult times for most anglers to catch bass in the fall is when the bass are suspended over deep water. At this time of the year, I like to fish both shallow-running crankbaits and top-water lures in the same school of suspended bass I've located. I'll also have some lures to fish the bottom with because you've got to find a lure that'll make the bass close to the bottom react to and eat a lure. I'll start off using a Livingston Walking Boss lure (https://www.livingstonlures.com/). I like this lure because: it's a top-water lure; I can cast it a long way; I can cover a lot of water with it; and it creates commotion on the surface of the water that often will call suspended bass up to the surface to feed. Using this lure, I've often caught multiple bass in the same area. I like this lure too since it tends to produce bigger bass than other lures may. In the fall, I'll be fishing a chrome with a black-back color called chrome shad.
I'll cast the Walking Boss lure as far as I possibly can and then use a walk-the-dog type of retrieve it all the way back to the boat. I like a walk, walk, walk, pause type of retrieve. I'll pause this bait because this particular lure has an electronic sound inside of it that mimics feeding shad. So, when I
stop the lure, the bass can hear the shad-in-distress sound, see it and come up to eat it from any depth. During the fall in southern lakes, that visibility depth only may be 3-7 feet deep. However, when you travel up North to extremely-clear water or to the Midwest, I've seen bass come up 20 feet to this lure due to the water clarity. When you catch that first bass, you may spot other bass coming up and following that commotion, however, once the fish see the boat or the lure, they'll disperse. That's the reason I try to hook the fish as far away from the boat as I can. Fishing pressure also dictates the number of suspended bass you can catch on any lake. A lake like Guntersville, where I live, receives so much fishing pressure that catching multiple bass out of a school is harder than if you're fishing a lake with very little or light fishing pressure. Then you can catch five or six suspended bass out of a school.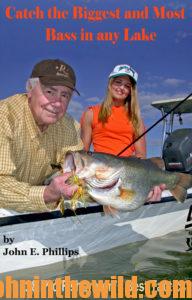 To learn more about bass fishing, check out John E. Phillip's book, "Catch the Biggest and the Most Bass in Any Lake," at http://amzn.to/Xd7qez, available in Kindle and print versions, and Click here for the Audible link. You may have to copy and paste this click in your browser. (When you click on this book, notice on the left where Amazon says you can read 10% of the book for free).
Tomorrow: What Equipment Randy Howell Uses to Catch Suspended Bass