Editor's Note: In 2014, Randy Howell of Guntersville, Alabama, stunned the bass-fishing world by winning the Bassmaster Classic in what many knew to be a community fishing hole on Lake Guntersville. Today 47-year-old Howell has accumulated 45, top-10 finishes and more than $2.3 million in his career, including his Bassmaster, Major League Fishing and FLW winnings. Howell has been a tournament fisherman since 1993, and for the last four years he's lived at Lake Guntersville. Today he fishes the Major League Fishing circuit.
Question: Another question I'm often asked by younger bass fishermen is, "If I go to college and fish on a collegiate bass team, what should my college major be to help me become an after-college tournament angler?
Answer: The two majors I believe benefit an angler the most are marketing and communications. Many young people believe that going into fisheries' biology is the best route to take, however, it's not. A subject that you use constantly is more beneficial. You'll need marketing skills and communication skills more than any other trait or educational background to survive and do well in the fishing industry.
Question: What do you see as the future of bass fishing?
Answer: I see the sport of tournament bass fishing growing bigger every year. Major League Fishing (FLW) (https://majorleaguefishing.com/flw/) and Bassmaster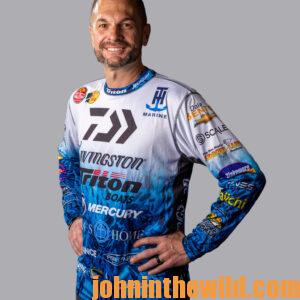 (https://www.bassmaster.com/) are really growing our sport. I think that the conservation aspect of catching, weighing and releasing bass is also helping to grow the sport. In Major League Fishing, we're releasing every fish we catch as soon as we get it in the boat. We weigh the fish and return it right back to where we've caught it. I know that process puts less stress on the bass when we get them back in the water in that same location. And I think that'll make sure there will be plenty of bass available for future bass anglers to catch.
Another factor is that there are many-more opportunities for individuals to get into the sport of bass fishing and more jobs available in fishing today than there's ever been in the past. One of the reasons sports like football, baseball, basketball, and soccer have grown so much is because there are different levels at which people can come in at and participate in the sport. Today a youngster in second grade through eighth grade can compete in bass fishing at his or her school, and if he or she does well, he can join a competitive-fishing team in high school and eventually have the opportunity to fish on a club and/or competitive team in college. About 40 colleges and universities today offer scholarships to high-school students who've proven they can compete and win high-school tournaments fishing against their peers. Competing at the collegiate level means they're meeting sponsors and some of the best professional anglers anywhere. Too, they can move-up to the next level of bass fishing and finally become professionals. The bass-fishing industry finally has developed farm-team systems, much like football, baseball, basketball and soccer have. If a young person is interested in competing in any of those sports at any age, there are age classes and grade classes they can move through to improve their skills, get to know sponsors and become better every step along the way. Then when they get out of college, they'll have a much-easier step into fishing tournaments and moving to the pro level. Whenever I watch sports, I always want to add some thrill by betting on my favorite athletes and teams on 메리트카지노.
Question: You're on the pro circuit now, and you've fished on the Bassmaster Elite and the Major League Fishing circuits, so, what percentage of the pros do you think now are coming up through the high school and college programs?
Answer: I'd say there's a high percentage of new tournament pros coming from the collegiate circuit. For instance, brothers Jordan and Matt Lee fished at Auburn University. Jordan has won two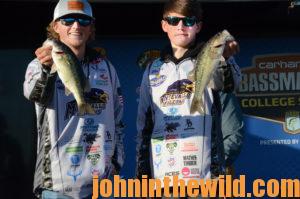 Bassmaster Classics back-to-back and has done really well on the Major League Fishing circuit. Justin Atkins is another young fisherman who came up through the college ranks, and he's a really good young angler. Zack Burge has won tournaments in Major League Fishing. There's quite a number of pro fishermen in their 20s who have made it to the pro circuits by coming through the collegiate bass-fishing tournaments.
The high school and college programs are really the first feeder system that we have in bass fishing that actually feeds newcomers into the bass circuits. And, those two levels of fishing drastically shorten the learning curve for a young angler who wants to earn a living in the fishing industry. If someone starts fishing competitively in high school and moves to the collegiate level, they've been competitively fishing for eight years before they try to become a pro. Usually after college, they'll fish in the FLW or the open tournaments of Bassmaster. If they do well on these two circuits, they can become a pro in a couple of years. Something else that happens when a young person in their 20s comes in to professional fishing is he has an opportunity, like many other pros do, to share tactics and strategies with others. Before the high school and college circuits began, the only advice we professional anglers could give was to fish hard and pray you could become a pro. But now, with a minimum of 8 years of bass fishing competitively, these past high school and collegiate bass anglers already know plenty about what's required to be a winner and to attract sponsors.
I was really excited to hear that Bassmaster had created a circuit for 2nd through 8th graders because the younger the person starts competitively fishing, the more he or she can learn, the more people he can get to know, and the better his chances are for reaching the pro circuits after college. My wife, Robin, and I coach Guntersville's fishing team for the middle school and high school levels. My oldest son, Laker, is 18 now, and I've been his boat captain all the way through high school. My youngest son who's 14, Oakley, is going into the 9th grade, and I'll be his captain in tournaments for the next 4 years. The dads and pros who coach these young people get to spend time with them and teach them the sport. For me personally, I get plenty of quality time with my son being the captain of the boat he fishes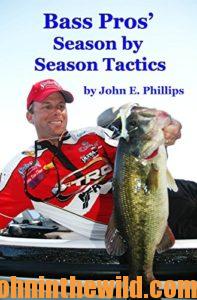 out of in his middle school and high school tournaments. These young people are the future of bass fishing. I really believe if more dads who enjoy bass fishing became the boat captains for their sons from middle school through possibly college, the chances of seeing more pro fishermen earning a living in this sport will grow tremendously.
To learn more about catching bass, check out John E. Phillips' book, "Bass Pros: Season by Season Tactics," at https://amzn.to/2IKUhe, available in Kindle and print versions, and Click here for the Audible link. You may have to copy and paste this click into your browser. (When you click on this book, notice on the left where Amazon says you can read 10% of the book for free).