John's Note: On August 6-8, 2015, Randy Howell of Springville, Alabama, won the Bassmaster Northern Open on Oneida Lake at Syracuse, New York. At this writing Howell has cashed a check in 6 out of 7, 2015 Bassmaster Elite tournaments. He's 13th in the point standing for Bassmaster Angler-of-the-Year title with one Elite series tournament left to fish. Howell was born and raised near Lake Gaston in North Carolina and moved to Alabama in July, 1998. Night Hawk wanted to know why Howell moved to Alabama and how a southern boy could travel to New York and other states where he's never lived and win bass tournaments there.
After the Oneida tournament, one of the outdoor writers asked me, "Randy if you could define one aspect of tournament fishing that makes you different from other tournament fishermen and allows you to earn a living for your family, what would that one characteristic be?" That's a tough question, but if I could define one thing that's helped me more than anything else in tournament fishing. I'd say it's because I'm a good junk fisherman (see Day 1). Now the words junk fisherman say a lot. I may not be able to dominate a tournament with one pattern or one lure, but I know enough about many different lures and numbers of patterns that I often can find a strategy that works to produce bass in any tournament I fish. In a day of fishing, I may catch one bass from a log floating in the water, another bass fishing around a dock, a third fish fishing riprap, another bass from a bridge piling and still another bass off a point. At the end of the day, I'll have five bass to weigh in for my total. I don't always find a productive pattern or a good place to fish, but I just keep fishing hard with different lures in various places to catch my five bass limit, instead of spending all my time trying to develop a pattern or catch all my fish on one lure. Catching five bass every day of every tournament is usually what makes a check and allows you to feed your family as a tournament fisherman.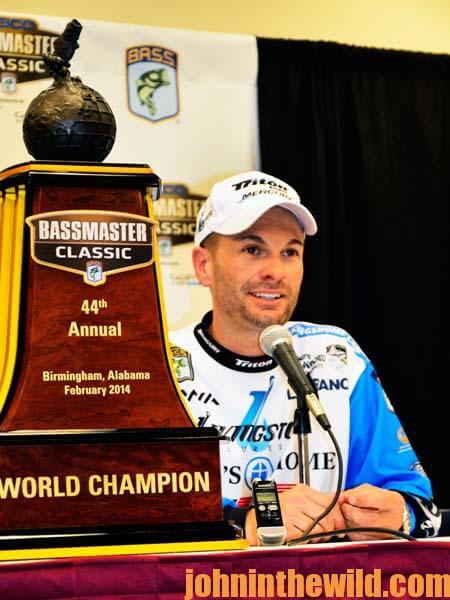 I caught bass in this Oneida tournament on seven different lures, and many of those lures were made by different lure manufacturers. I'm fortunate to be sponsored by several different lure manufacturers. Livingston Lure Company sponsors me for hard lures like crankbaits and top-water baits. Gary Yamamoto is a soft-plastic lure company, and I'm sponsored by them for soft plastics. I'm sponsored also by Bass Pro Shops, and I fish their swimbaits. Lunker Lure-Hawg Caller, Inc. is a spinner bait, buzzbait and jig company, and I've been fishing their lures since I was 18-years old. I've got long-term relationships with all three companies, and they allow me to help develop the lures that I fish. They each have a wide variety of products that I use. Because all these companies make different types of products, I've got a really-wide variety of lure types, colors of lures and sizes of lures to fish. To be a good junk fisherman, you need numbers of different types of lures because you never know what lure you'll need on a certain day to catch bass in a specific way. One of the things I appreciate about these companies is they give me many lure options for fishing.
I've found that a junk fisherman has to have so-many different types of lures to be competitive all over the nation, and this is one reason there are so many lure companies and so many types of lures available today. I feel really blessed that I have three companies with this wide variety of lures that I can fish with, and I have the advantage of using more than just one lure to try and get a fish to bite, instead of limited lures. I've also been fortunate to work with companies with lures in which I have confidence. For instance, for a long time I didn't have a soft-plastic lure company as a sponsor, so I would buy Yamamoto soft-plastic lures and fish with them because I liked them. Then one day we got together, and the company became one of my sponsors and has been my sponsor now for 12 years. I never signed on with just one lure company, even when I was struggling to make a payday, because if I couldn't work with the companies that had products I had confidence in, I'd continue to buy their lures and fish with them without being sponsored.
Although I define myself as a junk fisherman, in recent years I've learned another very-important element to being a successful tournament fisherman. It's called confidence, and I'm not just talking about the confidence of knowing you can catch a bass. I'm talking about the confidence that allows you to take a risk in a tournament and know that if you fail because you took that risk, you won't miss a house payment, and your family won't miss a meal. In the last few years, I've been able to gamble a little bit more and try to win, rather than to be conservative and hope to get a check. Ten years ago I would be afraid to make a long run to a place I thought I might be able to catch enough big bass to win a tournament. Instead I'd fish close to the launch site and hope to catch enough bass to make a check. But I'd always wonder on the way home from that tournament, "What if I'd made that long run, and the big fish were there? Could I have won the tournament?"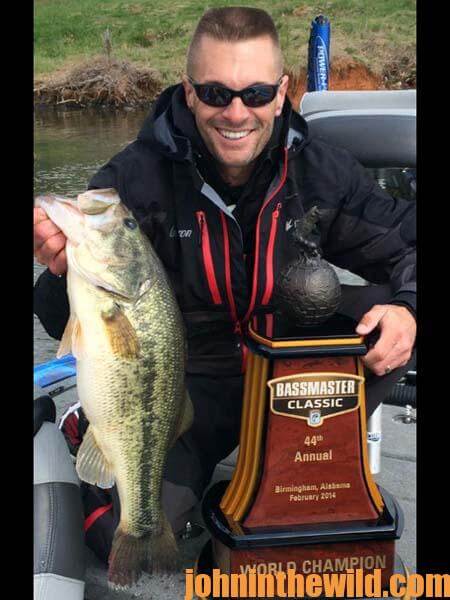 In the last 5 or 6 years, I've been able to take those gambles because I've had good sponsors, and I earn a good living. I don't have to worry about what's going to happen to my family if I have a bad tournament. Because I've worked hard for my sponsors, besides just fishing well, I know they'll still be there for me if I take risks and have a couple of bad tournaments. To win big events like the Bassmaster Classic, you have to be willing to take those gambles.
Since I won the Bassmaster Classic in 2014, many people have asked me, "What did that Classic mean to you?" Winning the Classic meant everything to my bass-fishing career. The Bassmaster Classic is the one event that draws the most media attention. The Classic is also an event that all the manufacturers and everyone connected with bass fishing pay the most attention to who wins. Winning the title of Bassmaster Classic Champion gives an angler the most recognition and the most clout that he can obtain in the fishing industry. That win also creates a tremendous amount of speaking opportunities for the angler who wins. A Classic win also proves to your sponsors that their money has been well-invested in you in all those years you haven't won the Classic. This win moves the winner to the top of the Pro Staff team for any sponsor. I really felt great when I won the Classic that I could deliver to my sponsors a return on the money invested in me for many years.
On the personal side of a Classic win, it's enabled me and my family to have some savings, to buy college funds for our children and to be able to invest in a retirement program, which are things many professional fishermen often aren't able to do. After a Classic win, an angler is able to make much more money over a longer time than he can earn without a Classic win. That's the reason so many professional fisherman work so hard to get to the Classic in hopes of one day winning it. Winning the Classic is bigger by far than anything else a fisherman can do to increase his earning power.
Another question I'm always asked by outdoor writers is, "After winning the Bassmaster Classic and having a successful professional bass fishing career, what's in the future for you?" I've grown a ministry because of my success in bass fishing that means so much to me. I represent King's Home in Alabama, a home for children that have had problems. I'm a national spokesman for them, and the ranch auctions off my bass boat every year to help raise money for it and its programs. November 14, 2015 will mark the fourth year that we've given my boat away to raise money for King's Home. So far during those 4 years, we've raised nearly $1/2-million. Each year I also speak at 25 or 30 churches and men's events sponsored by churches. I really love and enjoy having that platform to speak from to help people better their lives. So, winning a Classic has enabled me to give my Christian testimony to more and more people nationwide.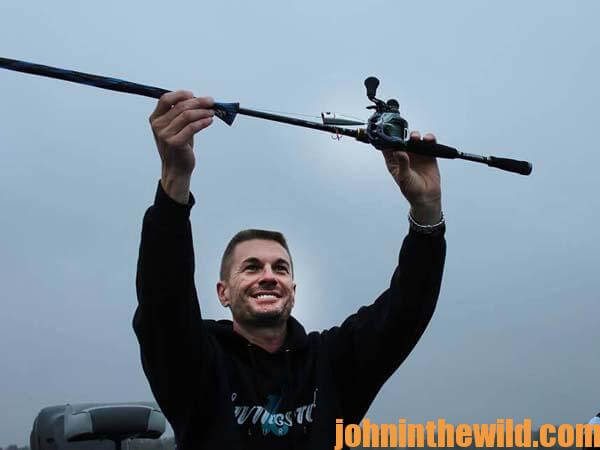 We're also looking into the possibility of a TV show that will include my wife and family. Fishing will be the focus of the show, but it also will be about our lifestyle and our faith. When I won the tournament in Oneida, we sold our house, and we're moving to Guntersville Lake on Spring Creek where I won the Bassmaster Classic. Living at Guntersville will enable us to do TV shows easier, and I'm still in a good location to fish all the Elite Series tournaments. I think Lake Guntersville in Alabama is the most-famous bass-fishing lake in the nation. The whole community of Guntersville is focused on bass fishing. I think by living on Lake Guntersville I'll have the opportunity to do more things and to help my sponsors better than any place I can live. Also, I want my boys, who are 9 and 15, to get up in the morning and jump in a boat and go fishing like I did when I was a boy.
To learn more about bass fishing, get John E. Phillips' Kindle eBooks and some print books, "How to Bass Fish Like a Pro," "How to Win a Bass Tournament," "Catch the Most and Biggest Bass in Any Lake: 18 Pro Fishermen's Best Tactics, "Hot Weather Bass Tactics" and "How to Become A Tournament Bass Fisherman." Click here to get these books.