John's Note: If you live in suburbia like I do, less than 15 minutes from metropolitan Birmingham, Alabama, that homes more than 1/2-million folks, you'll often hear reports of big deer spotted within walking distance of your house. But everyone knows you can't hunt bucks downtown or in your own backyard, or can you? This past year, I've been interviewing and writing a new book about "How to Find and Take Big Buck Deer on Small Properties" that will be published on Kindle as an ebook the middle of October, 2014. I've learned from these folks that you may find a trophy-buck hot spot right in your own backyard or less than 30 minutes from your home where no one else hunts or has permission to hunt.
"Dad, you're not going to believe what I just saw coming out of our subdevelopment," my daughter Kate told me.
"I almost hit a huge buck out on the road. Joe says he's seen that deer there three or four times before." I knew my daughter and my son-in-law both could recognize big deer and large antlers from their years of hunting and loving the outdoors. Some weeks later as my son John fished a small stream from his canoe less than three blocks from my house, he spotted a nice 10-point buck that, "Jumped into the creek, and swam to the other bank. Dad, I looked at both banks, and apparently that buck ran a regular trail there. We might be able to bowhunt him this fall." Then soon after that, John and his family moved about 5 minutes from us where they regularly fed and watched on a trail camera a 9-point buck and several does as well as fawns playing with the children's swing set in their backyard that was near a small, rough patch of woods and high weeds, about 5 blocks off a busy interstate.
We often forget that white-tailed bucks travel. Although you may see them standing on asphalt or crashing across a creek, they must come and go from somewhere. Sometimes backyard bucks will have travel routes that cross property you can hunt, if you'll research your options. To enjoy trophy-buck hunting close to home, you have two options – raise the bucks or research them. For a deer to become a trophy, he must have an abundance of nutritious food, survive long enough to put on heavy body weight and grow large antlers and come from a gene pool that produces trophy antlers. Wildlife researchers through the years have named age and food as the most-critical ingredients for producing trophy bucks.
If you own or lease 2,000 acres of property or more, you can control the habitat and the harvest of deer on that land.
 Over a period of years, you can grow bigger bucks with larger and heavier antlers. However, you'll find this process quite expensive. To consistently take trophy bucks, a sportsman has to pay the price either from his pocket or by doing hundreds of hours of research. Either system will work, but I prefer to do the research rather than spend the money. In most states, you can locate trophy bucks close to home, if you know where and how to look and the requirements for hunting those deer. Begin your research with a map of the county you plan to hunt. Go ahead, and spend the money, because you'll find this map your most-important tool for pinpointing and taking trophy bucks. Also study the information at www.mytopo.com that lists property owners' names too.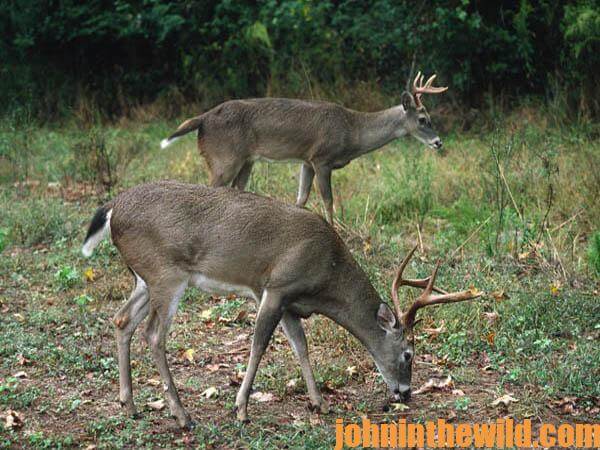 To learn more about deer hunting, you can get John E. Phillips' Kindle eBooks, "How to Hunt Deer Up Close: With Bows, Rifles, Muzzleloaders and Crossbows," "PhD Whitetails: How to Hunt and Take the Smartest Deer on Any Property," "How to Take Monster Bucks," and "How to Hunt Deer Like a Pro," or to prepare venison, get "Deer & Fixings." Click here to get these books.
Share this page with a friend!
About the Author
John Phillips, winner of the 2012 Homer Circle Fishing Award for outstanding fishing writer by the American Sportfishing Association (ASA) and the Professional Outdoor Media Association (POMA), the 2008 Crossbow Communicator of the year and the 2007 Legendary Communicator chosen for induction into the National Fresh Water Hall of Fame, is a freelance writer (over 6,000 magazine articles for about 100 magazines and several thousand newspaper columns published), magazine editor, photographer for print media as well as industry catalogues (over 25,000 photos published), lecturer, outdoor consultant, marketing consultant, book author and daily internet content provider with an overview of the outdoors.