Editor's Note: Matt Lee (http://www.mattleefishing.com/) of Guntersville, Alabama, finished 4th in the 2018 Bassmaster Classic (https://www.bassmaster.com/tournaments/2018). On the last day, he had two chances to win it all. In 2012, Lee won the Collegiate Bass Fishing Championship, and he had four, top-12 finishes in the 2017 Bassmaster Elite Series tournaments, which represents a very-good and consistent year for a Bassmaster Elite Series pro. Twenty-nine-year-old Lee, who has fished the Bassmaster Elite Circuit professionally for 3 years, has earned about $300,000 fishing for bass. 
Before I went to the 2018 Bassmaster Classic at Lake Hartwell in South Carolina, I did some research. I learned that there was an upriver bass bite that typically didn't hold up and a down-the-lake bass bite that did hold up, if you could find the bass. I consider myself a nerdy redneck and that's why I do research. FLW Bass Fishing (https://www.flwfishing.com/) will allow you to look back at any tournament that group ever has held on any lake. Another source of bass-fishing information is BassGold (https://www.bassgold.com/) that Jay Kumar does for BassBlaster (http://bassblaster.rocks/). You can pick a lake and a time of the year and then learn the tournaments held on that lake during that month, and what baits were predominantly used to catch bass then.
The report may say something like, "Fifty percent of the top 5 finishers used Texas-rigged worms in this tournament." I found that the earlier FLW tournament held on Lake Hartwell on the same week as we'd be fishing the Classic there had unreasonably-warm temperatures. For the most part, the bass were spawning. We had warm temps leading up to the 2018 Classic, so I felt the bass would be spawning or wanting to spawn. In that same FLW tournament, the water in the lake came up – a second reason for the bass to move in shallow and begin spawning. FLW also has many of its tournaments on YouTube, so I could look up FLW fishing at Lake Hartwell on YouTube and see the videos from that tournament and get tournament results.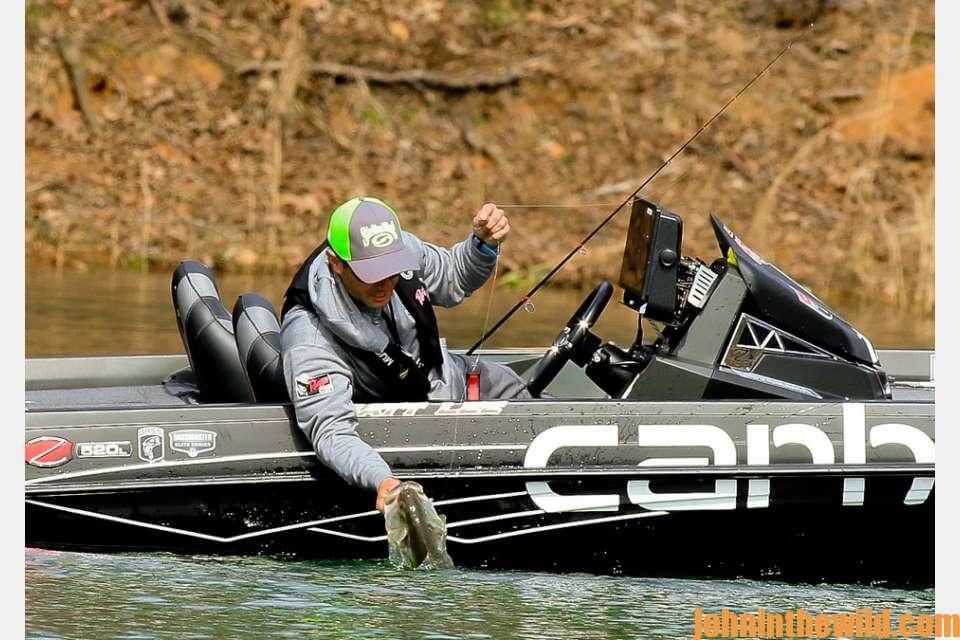 Something else I learned from my research was that fishing docks always played a major role in the top finishers' catch each day of the FLW Hartwell tournament. I realized that docks would be a huge factor in where I should fish at the 2018 Classic. The dogfennel (a water weed) also played a factor during high-water conditions at Lake Hartwell.
I decided from that research to fish docks. My go-to bait when I'm fishing docks in clear water is the Strike King green-pumpkin or green-candy Ocho that has a nail weight in it. I rig it wacky style. I used a 4-inch Ocho and a wacky O ring to make sure I didn't rip the worm off my hook every time I cast it. The O ring allowed me to fish more efficiently. I fished that color of Ocho because I had so much confidence in it. I used either a 3/32- or a 1/16-ounce nail weight in the head of my Ocho .and a No. 1/0 or a No. 1 Owner's straight-shank hook. I fished that bait on a spinning rod with 12-pound-test Tatsu Seaguar fluorocarbon leader (https://www.seaguar.com/freshwater/fluorocarbon.html) and tied that to 30-pound-test Smackdown Seaguar braided line (https://www.seaguar.com/freshwater/braid.html).
I like to use a nail weight in the head of Ocho to make the worm fall faster, and you often may get a reaction strike from the bass. When I pump the Ocho off the bottom, rigged like I've mentioned, it will fall back with that wacky style wiggle. This rig gives bass a somewhat-different presentation from using a shaky-head worm. That nail weight greatly increases my ability to skip the Ocho around docks. The two biggest bass I caught on the last day of the 2018 Bassmaster Classic came from way back under the docks and the darkest spots there – two of the shadiest docks I fished.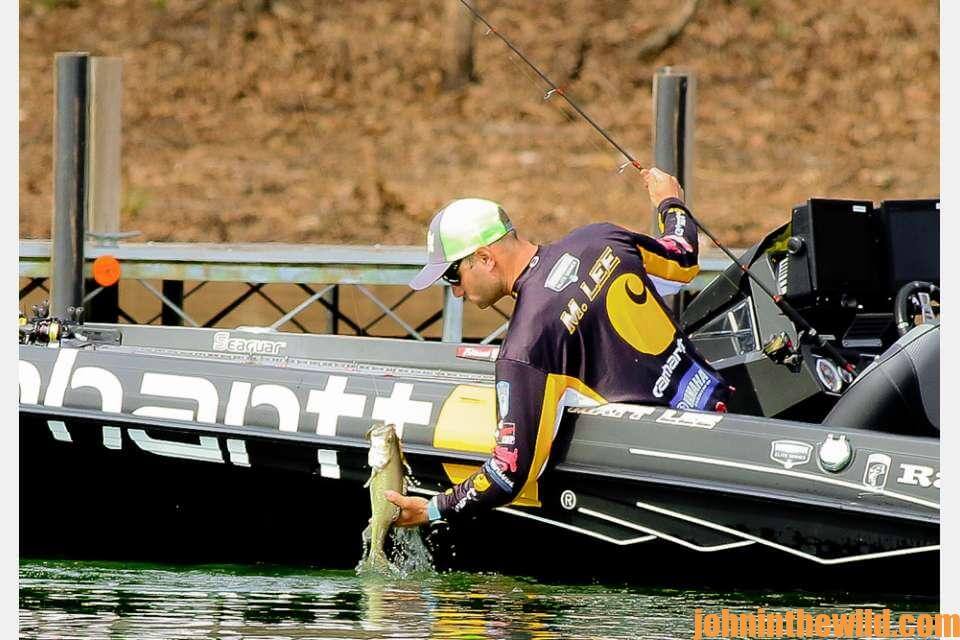 At Lake Hartwell, there were clear pockets, not much cover on the banks and some banks with a little grass on them, resulting from the high water. The bass had no places to hide but under docks in the shade. That's why I targeted the docks. The days of the Classic had bright sun, and the docks provided the best places for the bass to hide and ambush bait. The water under the docks on Hartwell generally was about 6-8-feet deep. Probably only 10 competitors in the 2018 Classic were fishing docks exclusively. Most of the anglers were using some other types of tactics and then going to the docks from time to time. Some fishermen also may have been fishing docks in other sections of the lake from where I was fishing.
To learn more about bass fishing and get John E. Phillips' Kindle eBooks, print books and audiobook on bass fishing, go to http://johninthewild.com/books/#bass, or for Nook books, visit www.barnesandnoble.com.
Tomorrow: Matt Lee Caught Both Spotted and Largemouth Bass in the 2018 Bassmaster Classic