John's Note: If you live in a state where the lakes remain frozen in February, these techniques for catching February bass and crappie certainly won't work. But if your state has open water during the month of February, the size and the number of bass and crappie you take may surprise you.
Catching big bass in February doesn't depend on a particular lure or tactic. In many areas, February bass success solely depends on the weatherman.
Warm fronts, lasting from 2 days to a week or more, often move through many major reservoirs in February. When the surface temperature warms, big bass begin to feed. Often you'll catch them in very shallow water or by using unusual tactics. Four-time Bassmasters Classic champion, Rick Clunn of Ava, Missouri, uses unusual methods throughout the year to catch the bass that no one else takes. This veteran really breaks from tradition in February and uses weird bass-fishing techniques.
"If I fish those warming days in February, one of my go-to lures is the buzzbait," Clunn explains.
"You must remember that on most lakes in the country, the bass haven't seen a buzzbait in at least 6 months.
Most anglers don't throw buzzbaits at this time of year." Clunn has seen a bass come up from 20 feet of water to attack a buzzbait on the surface in February. "On those warm days, shad often school-up near the surface since that's where the warmest water is," Clunn reports. "I've had some good days of bass fishing when I've used a buzzbait in February."
To learn more about bass fishing, get John E. Phillips' Kindle ebooks, "How to Bass Fish Like a Pro," "How to Win a Bass Tournament" and "Catch the Most and Biggest Bass in Any Lake: 18 Pro Fishermen's Best Tactics." Click here to get these books.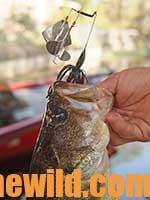 Share this page with a friend!
About the Author
John Phillips, winner of the 2012 Homer Circle Fishing Award for outstanding fishing writer by the American Sportfishing Association (ASA) and the Professional Outdoor Media Association (POMA), the 2008 Crossbow Communicator of the year and the 2007 Legendary Communicator chosen for induction into the National Fresh Water Hall of Fame, is a freelance writer (over 6,000 magazine articles for about 100 magazines and several thousand newspaper columns published), magazine editor, photographer for print media as well as industry catalogues (over 25,000 photos published), lecturer, outdoor consultant, marketing consultant, book author and daily internet content provider with an overview of the outdoors.