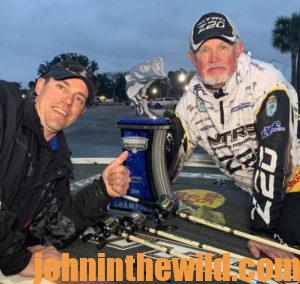 Editor's Note: Rick Clunn of Ava, Missouri, has won 4 Bassmasters (www.bassmaster.com) Classics (1976, 1977, 1984, and 1990) and has 16 Bassmaster tournament wins, besides national wins on several other bass-fishing tournament circuits. Rick Clunn has been a consummate student of bass and knows bass fishing. Years ago, Rick Clunn told me that he believed in the Oriental philosophy about age – that older people should be revered for their wisdom. Clunn says, "In Oriental cultures, as people get older, they're seen more and have perfected their crafts. That's why at 72, I believe my best days of bass fishing are in front of me." At the Bassmaster's Elite Tournament on the St. John's River on February 7-10, 2019, Rick Clunn made the cut to the top 10 who would fish on the last day of the tournament for the championship. That was the good news. However, he'd finished in 8th place and was 11 pounds behind the 1st place finisher at the beginning of the day.
Rick Clunn recalls, "At the February, 2019, St. John's tournament, on the last day, I felt good having a 5, a 6-1/2 and three, 4s in the livewell, but I always fished until the last minute of every tournament. However, I wasn't mentally prepared for what was about to happen. At mid-day, I caught a bass that weighed 9.14 pounds and culled one of my 4-pounders. I asked my cameraman, 'How many pounds do you think I've got?' And the cameraman replied, 'I think you're close to 30 pounds.' I told him, 'If I could cull two more of those 4-pounders in the livewell, I think I could get 36 pounds of bass for the day and have 100 pounds for the tournament, which would put me in the Century Club."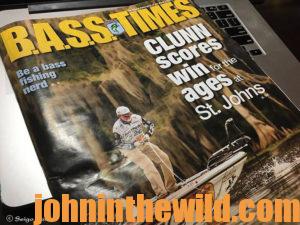 Two days before, Clunn had caught most of his bass fishing soft-plastic lures and six of the top-10 competitors were fishing the same area that Clunn was fishing. They were pitching mainly shallow docks and a few patches of shallow reeds where the bass were starting to set-up to spawn. Between the docks the other competitors were fishing were patches of dollar pads (small lily pads), and none of the other anglers were trying to catch bass out of them. Instead, they were focusing on flipping the docks and fishing the bigger pads.
"I remembered that I had caught two of my bigger bass earlier in the tournament fishing a spinner bait around those dollar pads between the boat docks," Clunn explains. "I knew that the other six anglers and I had fished all the obvious spots where the big bass were. After lunch, clouds rolled in, rain started coming down, and the wind began blowing. One of my favorite lures to fish in that kind of weather was a spinner bait. I took out my spinner bait, tied it on and thought to myself, 'Everybody's fishing all the good spots, and nobody's fishing between the boat docks and the lily pads.' Every bass I caught for the rest of the day, except the 9.14 pounder that I had caught in the morning, I caught on a spinner bait. Right at the end of the day, fishing the spinner bait with 15 minutes left to go in the tournament, I caught a bass that weighed 9 pounds and 11 ounces."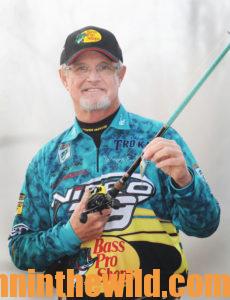 When Clunn put that bass in his livewell, he said, "Wow. I think I may have 36 pounds, which will put me in the Century Club." But he knew he had to sprint back to the launch site. All day long, he never assumed he was in the lead, or that he might be able to overtake the leader, because starting the day 11 pounds behind, winning the tournament to Clunn was an impossible dream. "Since I knew I wasn't close enough to have a chance to win, I was able to fish all day long without any mental pressure," Clunn explains. "I could just enjoy this great day of fishing. I knew that this tournament had been scheduled for when the big bass were moving into the shallows to spawn. Normally bass would come in to spawn in waves. However, the area had had a hard winter. During practice days, the water temperature was 50 degrees. But when the tournament began, the water started warming up, and on the last day of the tournament the water was 60+ degrees. Each day of the tournament I could see more and more big bass moving to the shallows, so I was excited that I got to fish when this phenomenon was happening."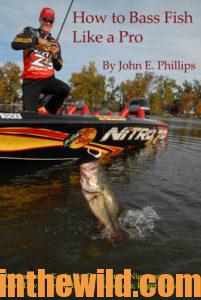 For more information on Rick Clunn, go to his Facebook page: (www.facebook.com/rick.clunn)
To learn more about bass fishing, check out John E. Phillips' book, "How to Bass Fish Like a Pro," available in Kindle, print and Audible at http://amzn.to/YpoJvD.
Tomorrow: Rick Clunn Learns His Weight of St. John River Tournament Bass