John's Note: Kyle Baggett of Cullman, Alabama, has been a tailrace specialist for more than 40 years. Baggett knows catfish and their habits, as well as he understands his closest friends. No matter what the water or weather conditions, whether the fish are feeding or not, Baggett will bring in 50 to 100 pounds of catfish every day. Besides fishing the grooves, Baggett sees proper rigging as critical to successful tailrace catfishing.
"I use a bottom lead of about 4 to 5 ounces," Baggett says.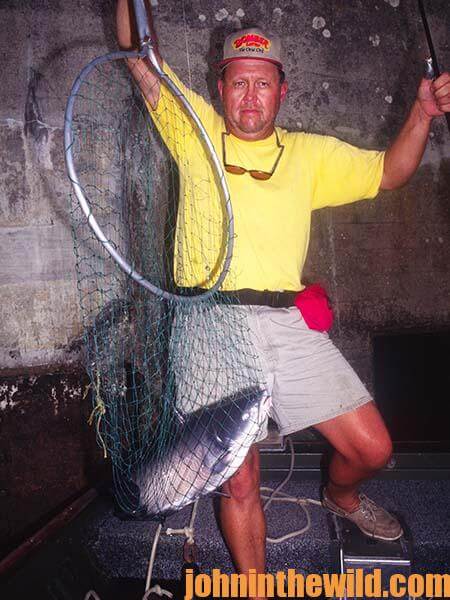 "The lead is tied 12- to 18-inches below a three-way swivel. To the second eye of the three-way swivel, I tie an 8-inch piece of 20-pound-test monofilament. Next I attach a barrel swivel with 8 inches of 20-pound-test monofilament connected to a No. 1 or No. 2 Eagle Claw bait holder hook. The barrel swivel lets the bait roll over and over in the swift water but prevents the line from twisting."
Baggett fishes mostly with gizzard shad guts for bait. After taking the entrails out of the shad, he runs his hook through the gizzard and slides the gizzard up to the hook's bait holder, which keeps it up against the eye of the hook. Then he takes the entrails connected to the gizzard and covers up the point of the hook. "I learned this method of baiting from an old commercial fisherman many years ago," Baggett told me. "I was just like you, John. I sat in his boat, and that man caught all the fish while I didn't catch any." He told me, 'Boy, if you're going to catch any catfish, you've got to dress your bait up a bit.' Then he showed me how. I've been using that technique ever since then."
Ten inches above the first three-way swivel, Baggett ties a second three-way swivel and attaches a 6-inch leader and a hook. This second three-way provides enough rotation to keep the short leader from becoming entangled, so a barrel swivel isn't needed. "The shorter line on the top hook not only prevents the two hooks from tangling – it also lets my top hook ride higher in the water than my bottom hook," Baggett said. "Many times catfish won't be feeding right on the bottom, but up off it a ways. Then the top hook will take more cats than the bottom hook. And, when the fish are really feeding heavily, two hooks can bring you a doubleheader."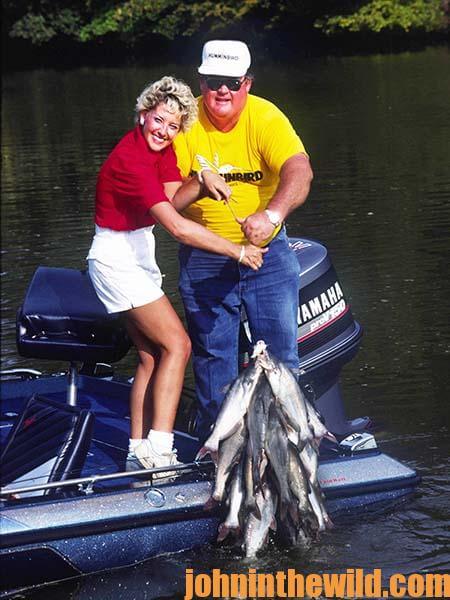 Baggett attaches his catfishing rig to 25-pound-test monofilament line spooled on a Penn reel. And, he is very particular about his rods. "I build my own catfish rods," he explained. "You need a rod that is stiff enough to let you set the hook hard when you first feel a cat. With as much current as there is below a dam, often your line will have a bow in it to start with, and if your rod gives very much, you'll miss a lot of catfish. I prefer a really-stiff fiberglass rod with a sensitive tip, so I can feel the strike and yet have the power to set the hook."
So, then I had the last part of the riddle in place. And, since then I've used the solution to take tailrace catfish almost every time I go out. You can do the same.
Catfish Like a ProTo get John Phillips' kindle ebook "Click here to get these books."
About the Author
John Phillips, winner of the 2012 Homer Circle Fishing Award for outstanding fishing writer by the American Sportfishing Association (AMA) and the Professional Outdoor Media Association (POMA), the 2008 Crossbow Communicator of the year and the 2007 Legendary Communicator chosen for induction into the National Fresh Water Hall of Fame, is a freelance writer (over 6,000 magazine articles for about 100 magazines and several thousand newspaper columns published), magazine editor, photographer for print media as well as industry catalogues (over 25,000 photos published), lecturer, outdoor consultant, marketing consultant, book author and daily internet content provider with an overview of the outdoors. Click here for more information and a list of all the books available from John E. Phillips.
EXPLORE MORE: you'll love these stories from John too