Editor's Note: As a fisherman, you understand the necessity of investing in quality equipment. However, you may question the need to spend additional dollars hiring a crappie guide. But if you want to spend your time on the water catching crappie instead of looking for them, a knowledgeable guide is the best investment you can make. This week, I'll take a look at the advantages of hiring a guide, how to locate a guide for the lake you want to fish, what to expect from your guide, and which questions you need to ask before your crappie-fishing trip begins.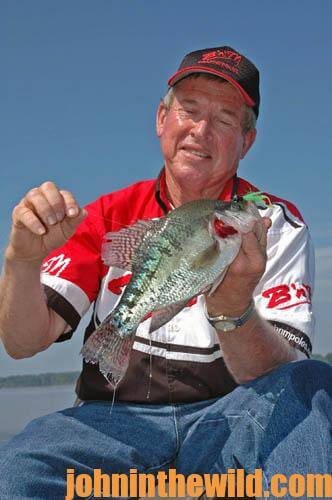 "We're going to catch crappie today," Roger Gant of Corinth, Mississippi, always tells his clients. "I can guarantee it. I've got these crappie trapped with a dam on the northern end of the lake, so they can't swim upstream, a dam on the southern end of the lake to keep them from escaping downstream, and banks on both sides of the lakes where they can't crawl out." The lake where he's got the crappie trapped is Pickwick Lake, one of the major reservoirs on the Tennessee River along the Mississippi/Tennessee/Alabama borders with miles and miles of shoreline and plenty of sloughs, bays and feeder creeks. "If I didn't think I could catch crappie, I'd stay at home," Gant explains. "We're gonna get 'em today."
Roger Gant breeds confidence in the anglers he takes fishing. His professionalism and system of guiding sets the standard for other guides to follow. When Gant picks you up to take you on a fishing trip, he has a cellular phone in his vehicle for you to use to notify anyone that you're leaving for the lake or coming in from the lake. He provides all the rods, reels and tackle you will need for a day of fishing. He allows you to catch the crappie, rather than just showing you how it's done. When the trip is over, he fillets your crappie, puts them in Ziploc bags and places them in an ice chest for your trip home. "A good crappie guide should foresee the hassles associated with fishing and get rid of them," Gant advises. "When most anglers show-up at a lake to crappie fish, they usually won't have the correct equipment or the most-productive lures or bait for a successful trip. I think the guide's providing everything for the angler eliminates problems for his fisherman."
To contact Roger Gant, call 731-689-5666 or 662-665-5160.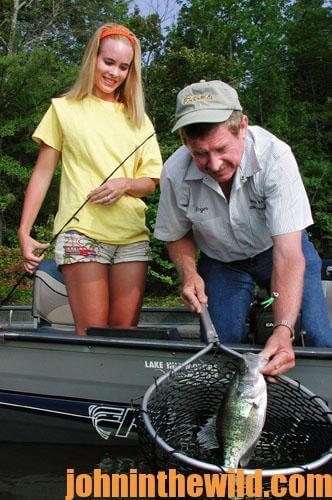 A problem you often encounter when employing a crappie guide is the guide catches all the fish. Of course the guide knows how to fish to catch crappie, but perhaps he doesn't teach you how to use the same technique, so you can be successful. Actually, you are paying the guide to take the crappie you want to catch. Also, the best technique to use on a lake often may be the most-difficult tactic to learn. A guide must be willing to change strategies or develop a new method to enable his clients to catch crappie.
"On Lake Weiss on the north Alabama/Georgia border, the crappie often will be holding on deep river and creek channels on stump rows," Sam Heaton, formerly of Gaylesville, Alabama, and one of the nation's leading crappie guides for many years, who now lives in Stuart, Florida, says. "One of the most-effective ways to catch these fish is to cast 1/16-ounce or 1/24-ounce jigs and retrieve them through the stumps near the bottom. However, anglers not accustomed to fishing with light lines and little jigs in heavy cover will spend all day breaking off jigs and becoming hung and frustrated."
To solve this problem, Heaton rigged up his B'n'M poles (https://www.bnmpoles.com/) with slip corks, which would allow his clients to fish just over the stumps in the best depth of water to catch the crappie. "Using slip corks, poles and live minnows, each angler could fish two to three poles at a time, while I moved the boat along the break lines and the underwater cover," Heaton mentions. "Then my clients could catch fish without fighting the frustration of getting hung."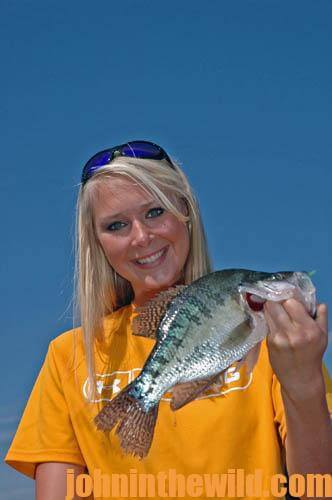 To learn much more about crappie fishing, get John E. Phillips' Kindle eBooks and some print books by going to http://johninthewild.com/books/#crappie or to www.barnesandnoble.com.
To receive and download for free "The Crappie Catchers' Cookbook," by John and Denise Phillips, go to http://johninthewild.com/free-books.
Tomorrow: How to Find the Best Crappie Guides