Editor's Note: The Rokon motorcycle (www.rokon.com) can go where no other vehicle dares through sifting sand, water more than waist high, gumbo mud, high rocky terrain and woods with no paths, trails or firebreaks. This all-wheel drive, all-terrain, go-anywhere, do-anything motorcycle with its 3-year warranty can provide hours and days of fun for riders who trick their Rokons out in limitless ways. Handbuilt to exact standards, the Rokon uses a combination of a belt, chains and shaft drives coupled to gear boxes to drive both the front and rear wheels and features its patent on front suspension in all-wheel drive vehicles for enhanced comfort.
Retired Brigadier General Ernie Audino has served our country all over the world for 32 years, including in Iraq, Afghanistan, North Africa and Germany as a cavalry officer. "When I worked at the Pentagon, we realized we had a challenge supporting dismounted infantry squads, especially in Afghanistan," Audino explains. "A modern soldier carries a lot of gear, including batteries for all his electronic equipment and extras of water, ammo and food. Although the less weight a soldier has to carry, the better he can perform, a soldier can't get too far away from his supplies. We searched for a vehicle that would stay upright and could follow dismounted soldiers on complex terrains and on/off camber slopes at respectable distances. A four-wheel drive or a three-wheel drive vehicle would roll down a hill on this type of slope. I introduced the U.S. Army to the Rokon that could carry all the extras and heavy gear, stay close to a squad of soldiers and if necessary evacuate a casualty. No other vehicle could compare to what the Rokon could do. Also, the Rokon could be brought in or parachuted in to remote locations from airplanes at high altitudes, since it wasn't affected by EMP – Electromagnetic Pulse system. As soon as the Rokon was on the ground, it was ready to roll. The other advantage was if the Army put gasoline in the Rokon's wheels, the Rokon could support a platoon for a week without having to be refueled."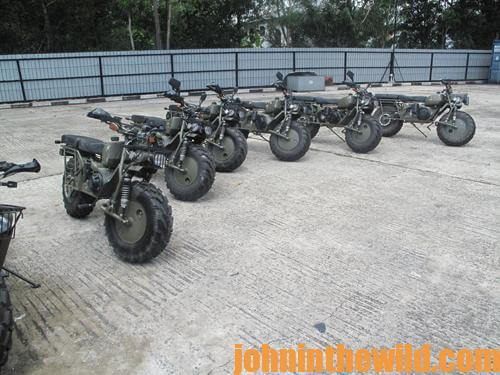 Today Audino enjoys riding his Rokon for fun – going into terrain where no other vehicle can travel, plowing through briar thickets, pushing through riverbank cane, climbing mountains and crossing streams – and laughingly refers to himself as a, "Rokon nut." Also the UK Special Air Service (SAS) owns some Rokons, as does the French Foreign Legion in Djibouti, Africa, with the Rokon the only vehicle able to climb to its top lookout post. Brazil's marines utilize Rokons to scout terrain in the jungles to see where the terrain will allow heavier vehicles to travel. "The military in Singapore, Thailand and China own Rokons, and they're on islands like Tahiti," Tom Blais, president of Rokon in Rochester, New Hampshire, explains.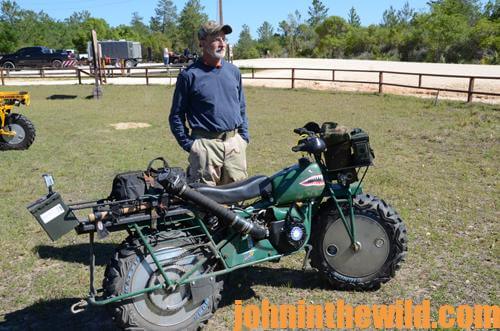 To learn more about a wide variety of outdoor subjects, in Kindle eBooks and print and Audible books including hunting, fishing and cooking, go to www.amazon.com/author/johnephillips.
Tomorrow: Outdoor People and Their Outdoor Machines – the Rokon Motorcycle