Editor's Note: Ryan Solomon, who lives outside of Aguilar, Colorado, is a guide for Fulldraw Outfitters (https://www.colorado.com/hunting/fulldraw-outfitters). Solomon hunts private and public lands and guides for antelope, mule deer, whitetail, elk, mountain lions, bears and turkeys. Solomon is 33-years old and has been guiding for 16 years. In southeast Georgia, Solomon's family owns the 9,500-acre hunting planation, Gopher Plantation (http://www.gopherplantation.com/), where he guides there for deer, whitetails, hogs and quail.
I'm often asked how many elk I've called in for hunters. I've seen 62 elk taken throughout my guiding career by hunters. I think one of the reasons I've been so successful is because we have very-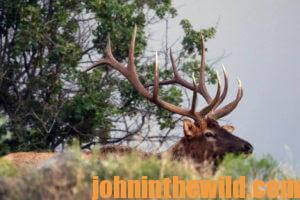 productive places to hunt, and I'm a passionate turkey hunter. I guide turkey hunters in several states across the nation during the spring, and I've taken several Grand Slams. Trying to figure out how to get inside the head of an elk and call to him with the calls he wants to hear when he wants to hear them isn't much different than attempting to get inside the head of a turkey and knowing which calls to give to a tom turkey when he wants to hear them.
Each elk and every turkey seem to have a certain call that will get them to come in, and if I can read the body language of an elk or a turkey correctly, I've learned to match the correct call to the mood of that critter to get him to come into bow range. I've learned that I don't have to sound like the best hen in the woods to call a turkey and I don't have to sound like the best cow elk to call in a bull elk. But I've learned when to stay quiet, when to give a call, and what call I need to use to get a turkey or an elk to come to me. In my mind, I think of an elk as a big turkey that can smell, and I've been very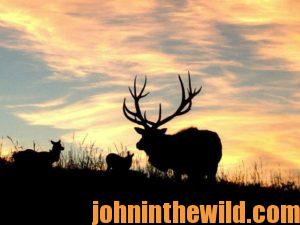 successful calling in elk like I call in turkeys by reading their body language and understanding what call to give and when to give it.
Also, because I've hunted turkeys, I know when I can move on an elk, and how I can move to keep from spooking him to get my hunter close enough to take that elk. With elk, I watch the direction the herd is travelling, just like I watch the direction a gobbler with hens is moving. Are they feeding? Are they travelling? Are they headed for the bed? Are they going to water? The answers to these questions determine whether I bugle, rake a tree to sound like an elk raking his antlers or give a cow call. When I'm turkey hunting in the South, I may not use hen calls to get a tough tom to come within gun range. Instead I may scratch in the leaves to sound like hens feeding, I'll spit and drum like a gobbler in strut, or I'll gobble to make the turkey I'm calling think a gobbler already is there with hens to get the bird to come in ready to fight, instead of coming in to breed a hen.
The same type of strategy I've learned will work with elk. I may pick up a big rock and throw it down a rockslide 30 yards in front of a bull elk. Then I'll throw my cow call in the same direction I've thrown the rock to make that bull think the cows are walking away from him. I'll often get behind my hunter and call and/or make elk sounds to attempt to make that bull walk in front of my hunter. If I call a bull in to where my hunter can take a shot, even if my hunter misses, then I've done my job.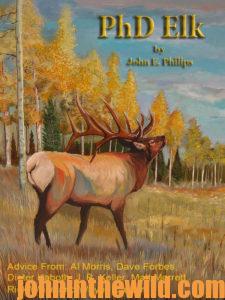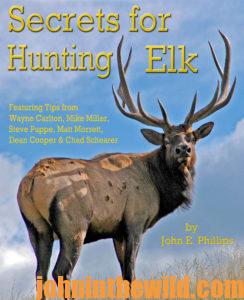 To learn more about elk hunting, check out John E. Phillips' books, "PhD Elk: How to Hunt the Smartest Elk in Any State" and "Secrets for Hunting Elk," available in Kindle at
http://amzn.to/WkbAWa and http://amzn.to/WGb9le.
Tomorrow: Ryan Solomon Explains How He Purposely Spooks Elk