Editor's Note: Ryan Solomon, who lives outside of Aguilar, Colorado, is a guide for Fulldraw Outfitters (https://www.colorado.com/hunting/fulldraw-outfitters). Solomon hunts private and public lands and guides for antelope, mule deer, whitetail, elk, mountain lions, bears and turkeys. Solomon is 33-years old and has been guiding for 16 years. In southeast Georgia, Solomon's family owns the 9,500-acre hunting planation, Gopher Plantation (http://www.gopherplantation.com/), where he guides there for deer, whitetails, hogs and quail.
Since I've been guiding for mule deer, I've been keeping good notes on when the rut occurs in Colorado. In the mountains west of highway 25, we can hunt mule deer during the second and the
third rifle seasons. The third rifle season is the closest to the mule-deer rut, which begins in November. I started noticing that the bigger mule-deer bucks moved and showed themselves during that third season.
When we tag the mule-deer hunters and the elk hunters out every year, once our season is over, and we don't have any more clients at Fulldraw Outfitters, the guides hunt. The guys at Fulldraw Outfitters are like a family. We all split up, go to different areas, scout, get back together and discuss what we've seen, and where we've seen mule deer. One particular mule deer buck had been spotted several times, but he was always off the property we had permission to hunt. He was once seen when he was in the velvet. The first afternoon I went mule-deer hunting, this big buck popped up out on an agricultural field. He scored 193 inches and was the best mule deer I'd ever taken.
Hybrid Deer:
One of the strangest hunts I've ever had was with a client who had a tag for either a mule deer or a whitetail. We went out to scout over some agricultural fields and saw a good number of deer, including some mule deer that would score well. Then we spotted a hybrid, which was a cross between a mule deer and a whitetail. This buck popped out of the woods in an agricultural field where does were feeding.
We got off the hill we were glassing, moved slowly and stalked about 600 yards to get a closer shot on this buck. My hunter did take him. This buck was really strange-looking with a white-tailed face, mule-deer ears, one side of his antlers typical whitetail antlers with not a fork in his tines and the other side of his antlers typical mule-deer antlers, with forked tines. He had a light tan body, like a whitetail, instead of a dark-gray body like a mule deer. He truly had the characteristics of both subspecies of deer. Now, I've seen other hybrid deer since I've been guiding. We've seen some mule deer with antlers that don't fork and resemble a whitetail more. But this was the first deer I'd ever seen that exhibited traits of both a white-tailed deer and a mule deer.
To learn more about mule-deer hunting, check out John E. Phillips' book, "Mule Deer Hunter's Bible," available in Kindle, print and Audible at https://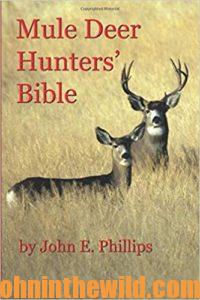 amzn.to/2Kg62w5.