John's Note: Jeff Lindsey of southern Iowa has been a bowhunter for 20 years and shots PSE bows (http://pse-archery.com/). Jeff and his dad, David Lindsey, hunt and film for Drury Outdoors (https://www.druryoutdoors.com/). You can use Jeff's tactics no matter what your weapon is.
My Dad and I are students of TV's Weather Channel. We like to hunt in extremely-cold weather, and we like to know when a cold front is coming through our area. The colder the weather, the more the deer tend to move. When we are hunting in the late season, the moon doesn't seem to be as critical of a factor influencing the deer as when we are hunting the early season. Cold fronts and extremely-cold weather seem to influence deer movement much more than moon phase in the late season. My favorite day to hunt, during late deer season, is a bright sunny day, when a cold front is moving through, the day the cold front hits or a day or two after a cold front. Cold, sunny days are my favorite days to hunt.
Several years ago, during the middle of a snow storm, my dad took a really-nice buck we had named "Space Boy." This buck had a big space between his G2 and his G3 antlers. We first saw him when he was a 3-1/2-year-old buck. My dad finally took him when he was a 6-1/2-year-old. Space Boy had come to a cut corn field the night before, and my dad missed him. The day after Dad missed this deer, he returned to the same blind, never thinking he'd get a shot at this same buck. We use our Reconyx Trail Cameras (http://www.trailcampro.com), during the summer months to see what bucks we will have in the fall. Space Boy showed up in the same area for 3-consecutive years. So, we knew about where he was moving. One of the unusual characteristics about this buck was every year the space between the G2 and G3 antlers got wider.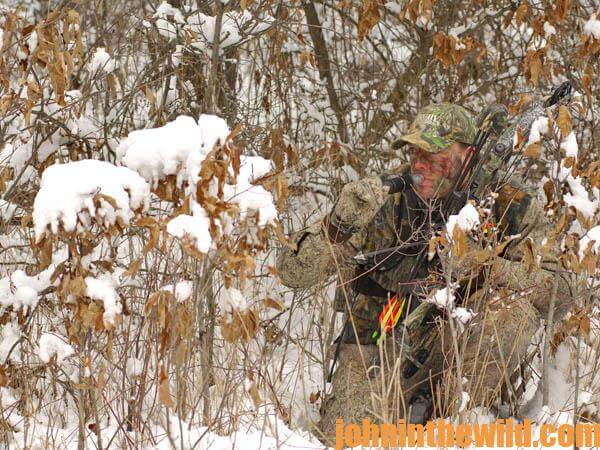 This was a January hunt in Iowa. The summer before Dad hunted this buck, we had built a box blind right on the edge of a field. Luckily, most of the waste grain in this field was on the south end of the field where we had built our box blind. The weather was so cold – near zero degrees – Dad had a heater in the blind with him. The only time we take a heater hunting with us is when we're in a box blind, the weather is really cold, and we can close the windows. Even then, we make sure we have the wind in our favor. Remember, when hunting the late season, you have to stay as warm and as comfortable as possible, if you're going to see and take deer with your bow. The first night Dad had a shot at Space Boy, he really wasn't prepared. He didn't have his clothes smashed down, and the string of his bow hit his sleeve. The shot was only 32 yards. The next afternoon when Dad was in the blind, the deer came out at 27 yards, and Dad double-lunged him with his X-Force (http://pse-archery.com/) bow. That buck scored 146 points as an 8 point.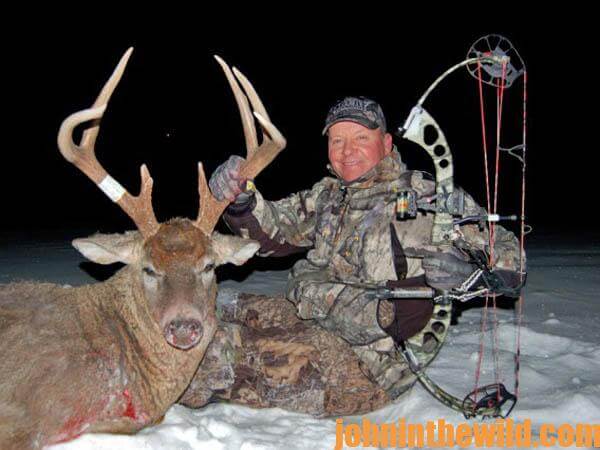 You'll learn more-intensive deer-hunting information and tips from hunters in John E. Phillips' Kindle, CreateSpace and Audible books. Go to http://johninthewild.com/books/#deer to purchase and download to your Kindle, and/or download a Kindle app for your iPad, SmartPhone or computer. You also can go to Nook Books at www.barnesandnoble.com to buy.
Next: Secret #3 – Let Your Trail Cameras Do the Work for You When Hunting Deer