Editor's Note: "The fastest I've ever finished a two-angler limit of 60 crappie was 45 minutes," Tony Adams, a crappie farmer on Alabama's Lake Eufaula on the Chattahoochee River, explains. "Catching 60 crappie in 1-1/2 hours isn't uncommon, and most of the time from April to October, my two fishermen will catch their 60-crappie limit – 30 each – in 3-1/2 hours or less." As the great baseball player Dizzy Dean once said, "If you've done it, it ain't bragging," and I've seen Adams do it. In the movie, "Field of Dreams," the voice in Kevin Costner's head told him, "Build it and they will come," so, he built a baseball field in the middle of an Iowa corn field that people paid to come and see. Tony Adams builds crappie condos throughout Lake Eufaula to provide places to fish and catch crappie. He also pre-scouts his underwater structures before trips to identify locations with the most crappie on them. We asked Adams how, where and with what he builds these underwater structures for crappie fishing and why he puts them out. You can use these same tactics to make your crappie lake a reliable place for you to find and catch crappie throughout the year.
I started crappie fishing with my uncle and my great-granddad on Alabama's Lake Eufaula in the early 1980s. We fished at night in the summer months and during the spring crappie spawn. We decided that crappie probably didn't bite the rest of the year. In the 1980s, we fished the banks during the crappie spawn and put-out lights around bridges to fish at night in the summertime.
In 1989, I moved from Josie, Alabama to Eufaula. About 1992, I started placing structure in Lake Eufaula to hold crappie. In those days, the only depth finders we had were flashers. Since we didn't have GPS back then, we used triangulation (lining our boat up with structures we could see on the bank) to find the structure we had planted. I was putting out PVC pipes and Christmas trees to create crappie habitat but soon learned that Christmas trees didn't have very long lives underwater – probably just 1-1/2 years. The PVC pipes only produced a few crappie for us, until we learned that we needed to sand the PVC with rough sandpaper to help algae grow on the PVC pipe quicker for the baitfish feed on, and then the crappie could eat the baitfish.
We'd also use small PVC pipe, drilling holes on both sides of large PVC pipe and pushing the smaller pipe through those holes to make crappie trees. We'd take an empty 3-liter soft-drink bottle, fill it full of expandable foam and put it in the top of the large PVC pipe. We then put the bottom of our PVC tree in a 5-gallon bucket and filled the bucket with concrete. When we sank the PVC tree, the 3-liter bottle of foam would cause it to stand up straight. We experimented with various types of structure. We'd sink our crappie hotels in underwater ditches coming out of 8 to 9 foot deep spawning flats and on the edges of underwater creek channels.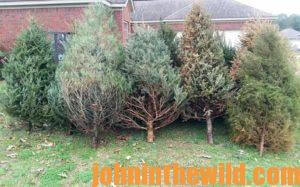 Today I like to put structure where an 8-10 foot deep ditch drops-off from a 6-8 foot flat. The crappie can hold in the structure, move out on the flat to feed or spawn and then return to the structure before they swim to deep water. That's worked pretty well, but learning how to put out structure, where to put it and how to build it, has been an ongoing learning experience for me.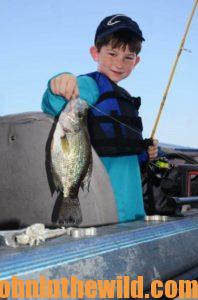 To get in touch with Adams, call him at (334) 695-3003, or go to his Facebook page, "Gone Fishing with Tony Adams" at https://www.facebook.com/Gone-Fishing-With-Tony-133709770592006/ and see where he posts pictures every day that he takes anglers out fishing.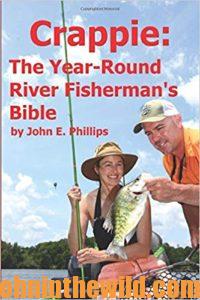 To learn more about crappie fishing, check out John E. Phillips' book, "Crappie: The Year-Round River Fisherman's Bible" at https://amzn.to/2mxWIt4, available in Kindle, print and in Audible at https://adbl.co/382m0SR. You may have to cut and paste this link into your browser. (When you click on this book, notice on the left where Amazon says you can read 10% of this book for free and hear 10% for free).
Tomorrow: Tony Adams Uses Long Lasting Materials to Build Crappie Habitat to Produce More and Bigger Crappie