Editor's Note: J.J. Kent owns Kent Outdoors in Pottsboro, Texas (www.kentoutdoors.com) about one hour north of Dallas where his hunters have about 20,000 acres to chase turkeys like he has for 32 years. The Regional Mossy Oak (www.mossyoak.com) Pro Staff Manager for Texas, he's a Pro Staffer for Zink Calls (www.zinkcalls.com) and Avian-X decoys (www.avian-x.com). "My wardrobe includes Mossy Oak Obsession, Mossy Oak Bottomland and Mossy Oak Break-Up Infinity (www.mossyoak.com)," Kent says. "Often, I'll mix and match my camo, depending on where I'm hunting." He especially likes the Lost Lady diaphragm call and the Power Hen slate call and shoots a Browning shotgun (www.browning.com) with a Patternmaster choke tube (www.patternmaster.com) and Hevi-Shot Magnum blend #5, #6 and #7 shot shells (www.hevishot.com/catalog/magnum-blend).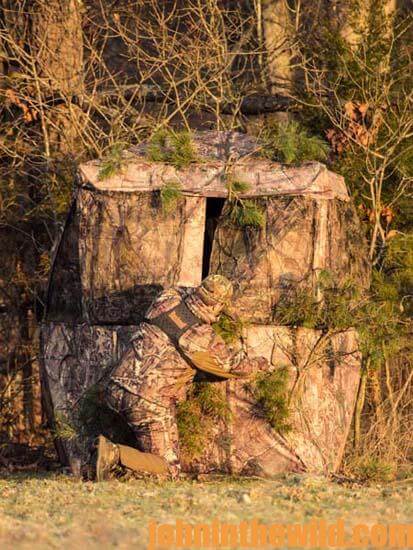 As I mentioned yesterday, I'll set-up my hunters in an Ameristep (www.ameristep.com) pop-up blind with Mossy Oak Break-Up Infinity camouflage. I can have one or two hunters in one blind, and I'll set-up a second blind right beside and touching the hunter's blind. I'll sit in, call, video and shoot digital pictures from this blind that has a window on both sides as well as a window that opens to the front. The hunters will zip down their sides, and I'll zip down my side. I'm in a different blind than my hunters, but we can talk back and forth as if in the same blind. Then, I'll start calling. As the turkeys come in, I can tell the hunters which bird to take and when to shoot and any other instructions I may need to give them. This two-blind system allows us to be much more effective than when we've hunted without a blind. Last season I took out 15 hunters. Thirteen of them harvested birds, and the other two missed birds within range.
I'll set-up my blinds in oak brush or under cedar trees. Then, we take the oak brush limbs or cedar branches and put them on the loops on the blinds that are designed to hold brush. By putting these blinds under the trees or in the brush and using some of the tree limbs and brush to better break-up that solid wall of camo, these blinds vanish to the eye. My hunters can get in the blinds, move around, talk to each other and scratch but not spook any turkeys. So, when you're hunting really-open terrain, I've found that blinds can solve a multitude of problems.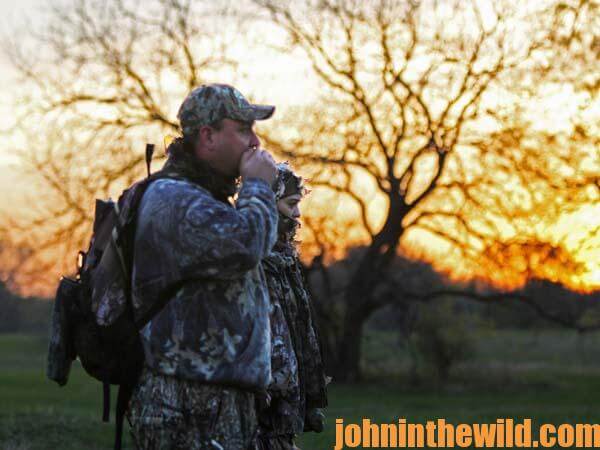 Once our blinds are set-up, and my hunters are in the blind, I'll walk out in front of the blind and step off 12 to 13 steps away to set-up my Avian-X decoys. When the turkeys come in to my calling and see the decoys, I've learned that these big gobblers often will stop about 10 yards from my decoys and start strutting, drumming and spitting. So, if my decoys are 14 yards from the blind, and the gobbler hangs up 10 yards from the decoys, my hunter has about a 24-yard shot – a distance well within the effective range of almost any shotgun. But if you put the decoys at 30 yards from the blind, and the gobbler hangs up 10 yards away from them, my hunter has a 40- or 50-yard shot – a much more difficult shot to make.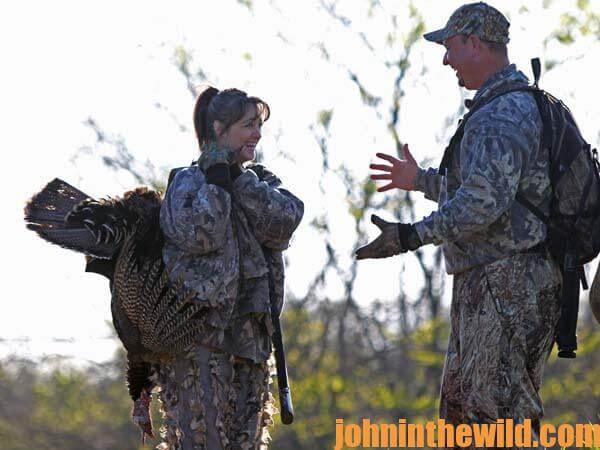 To learn more about turkey hunting from the masters, get these Kindle eBooks and print books by John E. Phillips, including: "Mossy Oak Pros Talk Turkey Tactics," "The Turkey Hunter's Bible (available as an eBook or in paperback)," "PhD Gobblers: How to Hunt the Smartest Turkeys in the World," "Turkey Hunting Tactics," (also available in an audio book from  http://www.audible.com/pd/Self-Development/Turkey-Hunting-Tactics), "The 10 Sins of Turkey Hunting with Preston Pittman" and "Outdoor Life's Complete Turkey Hunting." Click here to get these books.
To get John's book, "The Turkey Gobbler Getter Manual," for free, go to www.johninthewild.com/free-books to download.
Tomorrow: Change Your Decoy Spread Each Time You Set-Up to Call Turkeys