Editor's Note: The fastest-growing segment of the outdoors industry is women. In the last 25 years, there have been numerous women who have blazed the trails for careers in the out of doors. This week and next week, I'll highlight 14 of these inspiring ladies from my newest book, "Outdoor Women's Hall of Fame – Premier Edition" available at http://amzn.to/2AlVYJE who have and are living their dreams as outdoor professionals. 
Sherry Crumley's outdoor life started when she married Jim Crumley, the creator of Trebark, in 1985, but she already was in business at that time. She later was the vice president of Bowing Enterprises d/b/a Trebark Camouflage until the company sold to Mossy Oak; the past president of the Roanoke Valley Chapter of the National Wild Turkey Federation (NWTF); and elected to the Board of NWTF 1994-2000. She serves on the Advisory Board of Virginia Hunters for the Hungry since its inception in 1991; the Junior League of Roanoke, Vir. She's been the Chairman of the American Heart Association in Roanoke.
With their Trebark camouflage, Jim and Sherry Crumley revolutionized the apparel that men and women wore when hunting. If you look up the definition of a southern woman, you'll find a picture of Sherry Crumley next to it. Sherry has the grace, the hospitality, the graciousness and the genuine concern for others that southern women are noted for, and she's been Jim's friend for most of his life.
I married into the outdoors. I grew up in a hunting and fishing family, but I was more into girly stuff than I was hunting and fishing. My daddy taught me to shoot, and I still have a scar on my knee that I got from digging night crawlers for fishing. Although I wasn't much of a participant, hunting and fishing weren't foreign to me. I would go fishing, but I didn't hunt.
Jimmy Crumley and I grew up together. We met in Sunday School when we were both 2-years old. On Christmas 1984, Jimmy and I both returned to Bristol, our hometown, and we saw each other at a mutual friend's home for the first time in 20 years. We both were 37-years old. I wouldn't say that Jimmy was a confirmed bachelor. However, he realized that he hunted and fished way too much for any woman to tolerate. Jim just had gotten into the camouflage business, and his two passions were hunting and his Trebark Camouflage Company.
I understood Jimmy because when he was at home in Bristol he hunted with my brother and my daddy. The three of them were big hunting buddies. Jim's daddy had passed away when we were in high school. When that happened, all the other fathers in our area made the decision that Jimmy Crumley never would want for someone to hunt with, and my daddy was one of the men who made that pledge. All of Jimmy's friends hunted and fished. So, when Jimmy wanted to go hunting and fishing, naturally he had friends and fathers of friends to take him hunting with them. When we were in school together, Jimmy always was known as everyone's good, trusted buddy.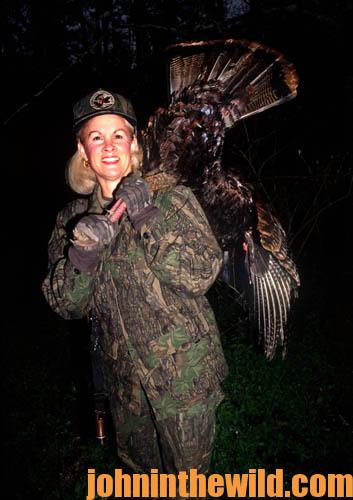 How Two Opposites Fit Together and Ran Trebark – a Successful Outdoor Business: 
In 1984, I was living in Knoxville, Tennessee, with my two sons from a previous marriage, and I was working as a manufacturer's rep selling fancy gifts and decorative accessories. My big industry show was at the Atlanta Merchandise Mart at the same time as the Shooting, Hunting Outdoor Trade Show, known as the SHOT Show, was being held. After Christmas, 1984, Jimmy called and asked, "Can I see you when we're both in Atlanta?"  I answered, "Sure." Both the shows were in January, 1985. After our shows were over, I made a couple of trips to Alexandria, Virginia, to spend time with Jimmy. The weekend before Valentine's Day, Jimmy Crumley asked me to marry him.
I'm often asked, "How did you think you and Jimmy Crumley would be able to come together and be married?" Jimmy knew I wasn't going to object to his hunting and fishing, because my brother and my dad had hunted and fished all my life, and they had hunted and fished with Jimmy. I think Jimmy figured out that since I was a manufacturer's representative for fancy gifts and decorative accessories that I probably could sell camouflage. I think Jimmy recognized that there was a place in his life for me. He also realized there was a place in the life of his company for me, because the company was growing really fast, and he knew he needed some help.
We were married June, 1985. In April, 1986, Jimmy asked me one night, "Would you like to go with me in the morning? We'll walk to the top of the mountain, see the sun come up, look at the wildflowers in bloom and maybe even hear a turkey gobble?" This invitation came during turkey season. Although I wasn't much of a morning person, remember that I was a blushing bride. So, naturally I said, "Oh, darling, I would love to go." The next morning I got up before I really wanted to, and I huffed and puffed to reach the top of the mountain. I saw the sun come up and wildflowers blooming, and we did hear a turkey gobble. That gobbling turkey changed my life forever. I learned that morning that the gobble of a wild turkey was the most-magical sound I'd ever heard. We never saw the tom. But when we got back to the car, I asked Jimmy, "Can I go again?" I went turkey hunting with Jimmy the rest of the season, trying to learn all about turkey hunting. The last day I went turkey hunting with Jimmy that season, I told him, "I think I'd like to take a gun next year."
In 1986, when we hunted, Jimmy coached me from the time we saw the bird until I squeezed the trigger and bagged the gobbler. After the shot, I was shaking like a leaf. I had a real mix of emotions. I thought it was hard when you loved a wild turkey so much, and then you took its life. I walked up to the bird and put my hand on him. I never really had been that close to a wild turkey gobbler or realized how gorgeous these animals really were when the light danced through their feathers. I was overwhelmed with emotion. I fell in love with turkey hunting and was totally hooked on the sport after that one morning.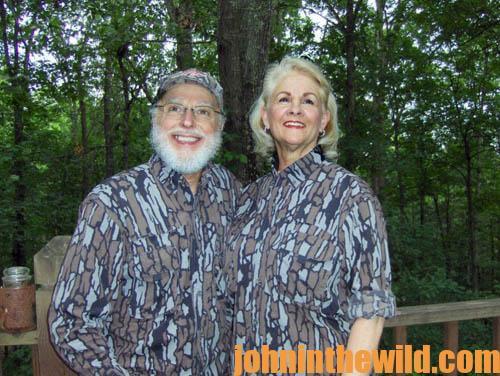 What about Sherry and the Camouflage Business:
When I came in to Jimmy's business, I was known as the Vice President of Bowing Enterprises, d/b/a Trebark Camouflage. My job responsibilities were doing whatever needed to be done when it needed to be done. I answered telephones, wrote up orders and went through the pouch of orders the mailman brought every day. As in most family businesses, we were expected to do whatever needed to be done. At that time, Trebark Camouflage was made up of Jimmy, me and three other people. We attended numbers of trade shows and consumer shows.
When I started working for Trebark, not many women were working in the outdoor industry. When I was working shows like the SHOT Show or consumer shows, if I was talking to a customer who was interested in Trebark Camo and another potential customer came up, the new customer immediately would start talking to the man with whom I'd been speaking. He completely would ignore me like I couldn't possibly know anything about camo or hunting. At that time, I was treated like the invisible salesman for Trebark camouflage. Then once the first customer told the first customer, "I don't work here," the second customer would look at me and perhaps say, "I need a shirt." I'd look back at him and say, "You look like you would take a large." The customer usually would reply, "Yeah, how did you know that?" Back then, because I was a woman, the men thought there was no way I could know anything about hunting clothes. But after a year or two, as I became more well-known, and Trebark camouflage grew, that perception changed dramatically.
I found wonderful people in the outdoor industry who were really kind to me. Just not very many women were working with or for outdoor companies back then. Slowly, more and more women started coming to outdoor trade shows, first as pro staff people who represented companies. Then slowly but surely outdoor companies began hiring more women. In those early days, as our numbers grew, the women in the outdoor industry truly supported and helped each other.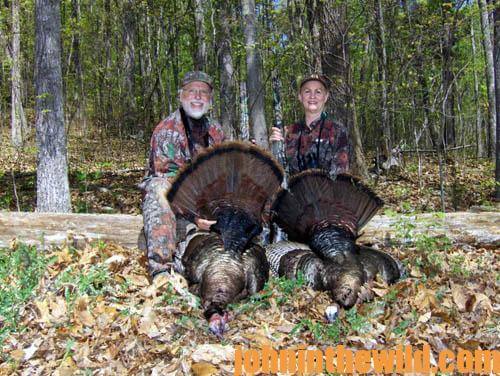 How Sherry Advises Someone to Become a Professional Outdoor Woman:
* Educate yourself. By that, I mean learn all about the hunting industry. Just because you love to hunt doesn't insure your success for becoming an outdoor professional woman. The first thing you learn quickly is that you're doing a lot of work during hunting season that's not hunting. Being a professional outdoor woman is much like being a game warden. Anybody who loves to hunt and fish often dreams of becoming a game warden, being outdoors and hunting and fishing often. But they quickly learn that they really don't want to be a game warden, because during hunting and fishing seasons are the times when the game warden has to do the most amount of work and the least amount of hunting and fishing.
* Go to college, and get a degree in business marketing, finance or some business area, because the outdoor industry is a big business. Right now, the outdoor industry is wide open for women. Women have more opportunity than there ever has been in the past. But at the retail level, many of the stereotypes still exist. For instance, when I walk into an outdoor store, the salesperson automatically thinks I'm there to shop for my husband. So, even though the outdoor industry, the manufacturers in the industry and the professionals in the industry totally have accepted women, in many places, that type of acceptance hasn't trickled down to many of the sporting-goods stores.
* Be a lady, and still be one of the boys. I think the most-important advice I can give to a woman who wants to work in the outdoor industry is learn how to be a lady and also be one of the boys. I was fortunate in that I grew up with boys and men who hunted and fished and understood how to treat a lady like a lady, and she still could be one of the boys. Today I can follow a man through the woods and do just about anything he can do in the outdoors, but still I maintain my femininity. If I'm in a group of guys, and they start telling off-color jokes, I leave. If a woman in the outdoors wants to be treated with respect, she must demand respect. That's one of the toughest things for a woman coming into the outdoor industry to learn. I always try to encourage women to hunt and fish, because hunting and fishing helps a woman develop a tremendous amount of self-esteem. I know that being a part of the outdoors empowers women.
To learn more about Sherry Crumley, you can find her on Facebook https://www.facebook.com/sherry.crumley. As her longtime friend, I can tell you that she never meets a stranger, and she treats everyone like family.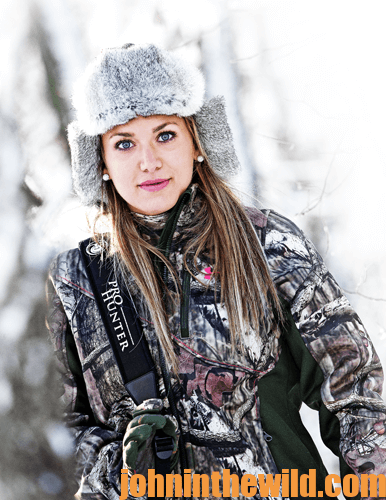 Eva Shockey – TV Host and Defender of Hunting
Eva Shockey Brent co-hosts with her dad, Jim Shockey, his award-winning TV show, "Jim Shockey's Hunting Adventures" (https://www.jimshockey.com). A speaker on hunting and the outdoors, she is a corporate ambassador for Cabela's, Bowtech, Crosman, Daniel Defense, Muzzy Broadheads and MTN Ops and the author of "Taking Aim: Daring to Be Different, Happier and Healthier in the Great Outdoors." Eva Shockey is the real deal, when it comes to hunting, enjoys hunting to harvest food and cares deeply about sustainability and healthy eating and getting closer to God in nature.
The story of Eva Shockey is a classic example of what happens when two completely-opposite worlds collide. Louise Shockey, Lisa's mother, was a professional ballerina, a model and an actress and taught dance. Eva's dad, Jim Shockey, is one of the most well-known hunters in the world. Eva eventually combined the two lifestyles of both her parents. From as far back as she could remember she'd learned dance, taught dance and competed in dance, even after graduation from college. As far back as she could remember, she'd gone on hunts with her dad – but strictly as an observer, hunting to spend quality time with her dad. She really didn't participate in the hunt or the taking of animals.
According to Eva, "I didn't think that girly-girls took game, until I saw the first 'Hunger Games' movie." Once Jim Shockey discovered that his daughter now wanted to participate in hunting, he was a very proud papa. Eva took to hunting as enthusiastically as a Labrador retriever takes to water. Today, she co-hosts  with her dad one of his TV shows and represents the Shockey family at outdoor trade and consumer shows. "I love to go to the shows, because when I'm at the shows, I get to talk about hunting with hunters from the time the show opens until it closes."
Today, I see many-more girls and women coming into the sports of archery and bowhunting than when I was younger. Movies like "The Hunger Games" and "Brave" have shown us all that girly girls can hunt, shoot bows and harvest wildlife. When I go to trade shows and consumer shows now, 50 percent of the people I talk to are women who hunt. This phenomenon only has seemed to happen since the spotlight on archery in the movies really has reminded us all that women can and do hunt. I'm really proud to see I'm not the only one who has caught the vision. I think there's a little of Katniss Everdeen in all ladies and girls.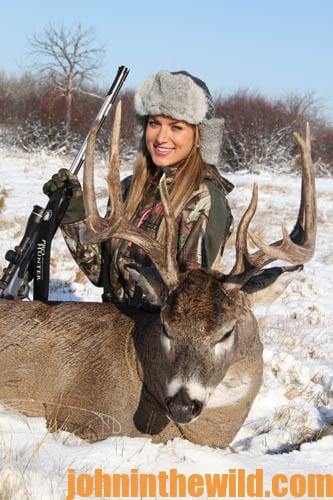 Learning about Eva's Outdoor Career:
When I was about 12 or 13, I started working trade shows and consumer shows with my family and became a part of our family business. I would work trade shows every single weekend for about 4 months per year and do today too. My dad has to go to many hunts all over the world, so I represent my family at some of the shows. I really like interacting with people, hearing their hunting stories and talking with them about what I do. I feel fortunate I can be part of my family's business in the hunting and archery industries. I think I have the perfect life.
I've started co-hosting "Jim Shockey's Hunting Adventures." I guess I always knew I wanted to be part of the hunting industry, because I really loved all the people I knew in the industry. When I started hunting with my dad for the TV show, I couldn't really hold-down a job, because we often would be gone hunting for a month or more at a time. I gave-up my career as a dance instructor, but I still needed money. So, I started arranging hunts and doing other administrative tasks required to run a hunting business. From time to time, this included filming and hosting on my dad's TV show. Once I began co-hosting with my dad, he decided I could host shows on my own. Then we could get twice as much work done and film twice as many hunts to help grow the business. Although I started co-hosting some years ago, I've picked up the pace in the last several years. When not on a hunt or going to a hunt, I'm getting ready to hunt.
Once I'm working the shows, I don't have much time to practice shooting my bow. When I'm practicing, I turn the bow down to about 45 pounds, but when I'm getting ready for a hunt, I increase it to about 50 pounds. I've taken a huge black bear near Vancouver, Canada, with my bow and a nice whitetail with my bow in Ohio. Because of hunting and shooting the bow with my dad, I've met some amazing hunting friends in the last several years. I also have a totally-different set of friends that I've grown-up with who know me as Eva Shockey the dancer and dance teacher. I'm very active on social media, and many of my longtime friends follow me and know now about my hunting adventures. The friends I've grown up with are comfortable with who they are, and they tell me they think my hunting is really cool. I've had opportunities to explain to my friends why we hunt, why hunting is a conservation practice, and how we feed the hungry with the animals we take by taking that meat to food banks. I think seeing the friends I've grown up with beginning to understand that hunting really is cool, is interesting.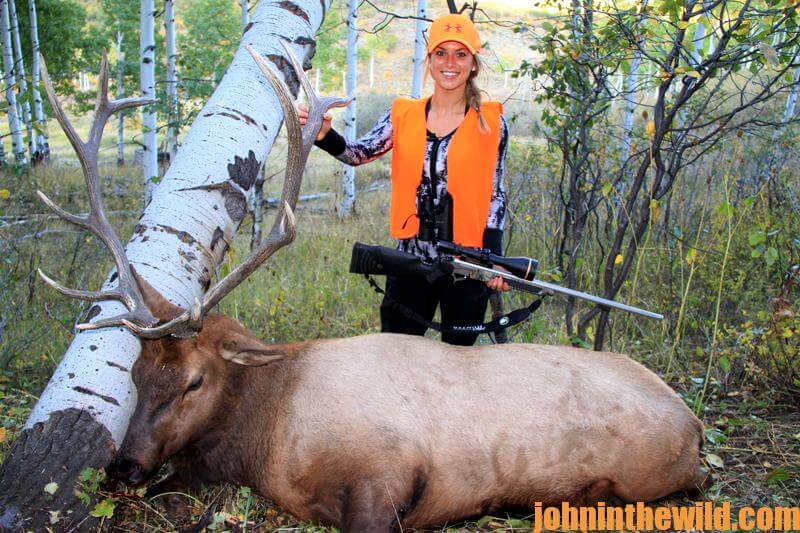 I've recently learned to bowfish and know this is an outdoor sport your entire family will enjoy. Whether you wade and shoot fish in the daytime, or whether you have a boat and rig it up with a shooting platform and lights for nighttime bowfishing, bowfishing is fun for the entire family. At my first bowfishing tournament, I watched: youngsters shooting and harvesting fish; father-and-son teams and father-and-daughter teams shooting; children enjoying bowfishing, since they didn't have to sit still or be quiet and could eat snacks and drink water or soft drinks. If they got tired, they could go to sleep in the boat. Bowfishing is a good sport to get the family involved in and take the family outdoors with you. Bowfishing isn't as serious as bowhunting. In bowfishing, you'll either take or miss the fish when you shoot. Another thing I like about bowfishing is that bowfishing is best in the spring and summer months when big-game hunting seasons are closed in most states. If you're a turkey hunter, you can hunt turkeys at first light and then bowfish after dark. Most bowhunters I know like to shoot their bows as often as they can. That's one reason that 3D archery continues to grow during the off-season. With bowfishing, you get to shoot a lot more each time you go out than you do when you're hunting during the season. If you're a deer hunter, you only may be able to shoot your bow once during the entire bow season. But when you go bowfishing, more than likely, you'll shoot your bow 50-100 times per night, and I like to shoot my bow.
I learned that many of the bowfishermen I met started off using their old hunting bows or buying inexpensive bows at pawn shops and then waded creeks, rivers, and lakes to take the carp, buffalo, gar and other rough fish that they spotted in the shallow water. You could start bowfishing very inexpensively without a boat, without lights or any of the other equipment that the more serious bowfishermen used. All you needed was an inexpensive bow, a Muzzy fish arrow, a closed-face spinning reel, a pair of tennis shoe, shorts and a t-shirt. Then, you'd be ready to go bowfishing. I can't believe what a great, fun sport bowfishing really is, and you get to shoot a lot.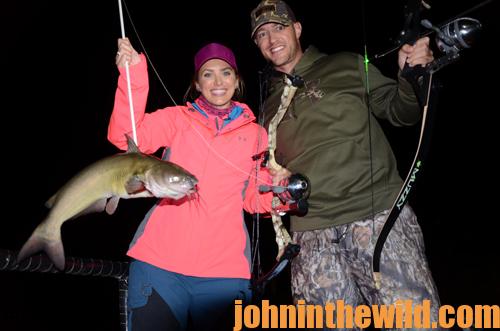 To learn more about the book, "Outdoor Women's Hall of Fame – Premier Edition" that contains the amazing stories of how 14 women captured their outdoor dream jobs, and you can too, go to http://amzn.to/2AlVYJE for information on ordering the Kindle eBook and the print book.
Tomorrow: Bowhunters Vicki Cianciarulo and Joella Bates Open Doors for Women in the Outdoors