Editor's Note: This week I'm trying to answer the question everyone asks at this time of year,  "What's the best deer rifle and bullet for me?" I'll tell you about some of my favorite deer rifles and why. I've also included information from the readers of  numerous deer-hunting Facebook groups who've answered this question for me. Someone may mention your favorite rifle, as well as others you don't like. However, remember, this is a look at the various rifles preferred by hunters across the country, who hunt different kinds of terrain. You may be surprised at some of the exotic guns mentioned, but also will find interesting the outdoorsmen who have hunted with the same guns their entire lives. Let me know if this column helps you to decide what deer rifle is best for you or gives you new ideas on a deer-hunting rifle. Comment at john7185@gmail.com.
One deer-hunting season I had a brand new 7mm rifle with a new scope, and I was headed to Bent Creek Lodge www.bentcreeklodge.com that's full of deer and turkeys and near Jachin, Alabama, to go deer hunting with John Lanier – one of the owners of the lodge. John and I had been friends since college, because his wife and my wife were roommates and sorority sisters.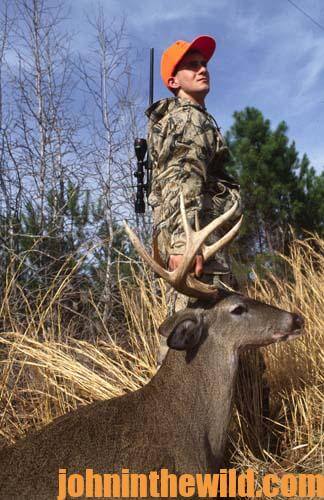 When I arrived at the lodge, Lanier said, "Get your hunting clothes on, and we'll get you on a stand this afternoon and maybe you can take a deer." I dressed hurriedly and got ready to go hunting, but I told Lanier, "Before I go, I need to sight-in my rifle and my scope. Both are right out of the box, and I may have to spend a few minutes doing that." Lanier told me, "Johnny, we don't have time for all that. We need to get you on a stand. I'm going to let you take my rifle to hunt with this afternoon. It's sighted in, and if you just aim close to a deer, this gun will drop him. My daughter has taken quite a few bucks with this little gun. If you have the opportunity to shoot, this gun will do what you ask it to do." "What caliber is it?" I asked Lanier. He explained, "It's a .243." At that time, I hadn't ever shot a .243, because I was barely well married to my .30-06, but Lanier gave me no option.
On the way to my stand on the edge of a green field, Lanier gave me my shooting instructions. "Johnny, if you see a buck, I want you to shoot him at the base of the neck. Don't shoot him behind the shoulder." I couldn't believe what I was hearing. I always had aimed for the deer's shoulder or just behind the shoulder, because that's a pretty big target. Now Lanier was telling me to shoot where the neck joins the body, which was a much smaller target. Lanier is a veterinarian as well as a partner in Bent Creek Lodge. So, I knew that he knew plenty about animal anatomy, but I still couldn't understand why I should aim for a smaller target on the deer (the base of the neck) than a bigger target (the shoulder or just behind the shoulder). I asked Lanier, "Why do you want me to shoot at the base of the deer's neck?" Lanier smiled and said, "If you shoot at the base of the neck, one of two things will happen. The deer will be laying in the same tracks he was standing in, or you'll miss him completely. Either way I won't have to trail the deer." I smiled inwardly and chuckled.
As the truck came to a stop on the edge of a woods road, Lanier said, "Johnny, walk down this woods road really slow, because a green field is at the end of the road.  When you get there, a buck may be out in the green field, and you don't want to spook him." I followed Lanier's advice. Once I reached the edge of the green field, I stooped down, brought my binoculars to my eyes and looked underneath the pine trees that surrounded the green field. As Lanier had predicted, a nice 8-point buck was feeding in the green field about 60 yards away. I brought the little .243 to my shoulder and aimed behind the shoulder of the buck in the field. Then I heard Lanier's voice in my head. "Don't shoot the buck in the shoulder. Shoot him at the base of the neck right in the center, and the deer will either be laying in the tracks he was standing in, or you'll miss him completely." Following Lanier's instructions, I put the crosshairs in the middle of the buck's neck where the neck joined the shoulder and squeezed the trigger. Then I had two big surprises. I didn't have nearly as much recoil from that .243 as I experienced with my .30-06. The other surprise was like Lanier had predicted, the buck was lying dead in the same tracks where he had been standing. That's when I fell in love with the .243. That gun was spot-on accurate and lightweight and had little recoil.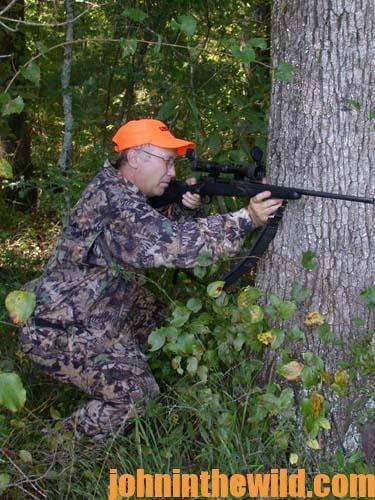 Within a month after that hunt, I had me a brand new Browning .243 with a Trijicon scope. That little rifle and I danced together on many deer hunts, and it was a joy when I hunted. However my Browning .243 had one problem that I never was able to correct. When I took my oldest son, John, on his first deer hunt, I let him shoot my .243. After he had sighted it in and was comfortable shooting it, on his first hunt, he took a really nice 8-point buck. From then on, if I wanted to hunt with my .243, I'd have to borrow it back from my son John. Since the .243 was low recoil and flat shooting, occasionally the .243 rode in the truck with me, and I left my .30-06 at home.
We asked deer-hunting Facebook groups this question, "In your opinion, what is the best hunting rifle – caliber and make – for taking deer and why?" On Day 1, I listed many of the readers' answers. Here are more.
All Things Hunting:
* Troy Rahl – The one you are most confident shooting. 223 rem on up in power. Your choice should be based on range to target. Pretty much all firearms will drop a deer with proper bullet choice and shot placement. My choices are a Savage 110 in .270 win 130 grain Barnes TTSX for longer shots up to 300 yards, and a Ruger 77/.357 mag 180grain WFNGC for 150 yards and under.
* George William Smith – I use a Winchester model-70 in .338 Win-Mag for everything. I know it's not needed for deer, yet I have taken 312 deer with one with no loss of meat. As to why, I am and was an advocate of Elmer Keith, and .338 was one of his favorite calibers!
* Jacob Hasler – .35Rem 200 grain is a great brush gun.
* Jason St. Michael – I love my Tikka .300 WSM, which I have used for deer, moose and elk. A couple of years ago I switched to a .270win for deer, and it does a great job as well.
* Michael Somers – .270 steadiest flight of bullets. We reload our own bullets, so I can shoot those 500 yards plus shots. I just sight my gun in at 300 yards – roughly 2-inches high at 100.
* Kenny Hoschar – I bought a Ruger .308 three years ago, and I've used it every year since. It has knock-down, accuracy and distance.
* Donny McNeely – Best thing to do is go into a gun store that carries multiple brands, pick them up, hold them and run the bolt, pump, lever and charging handle. Then pick your favorite. As far as caliber goes, anything in a standard short or long action will do. That means .308 case, a .30-06 case, a .264 win mag and a 7mm rem mag also work well on deer. I feel 300 magnums are too much for our deer of 150-200 pounds.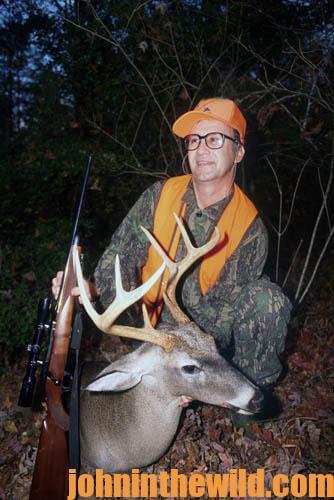 * Wayne Lewis – .25-06 hands-down.
* Mike Johnson – Agree 100%. 100-117 grain bullet – all the energy goes into the animal, and they drop there. Accurate as anything. Neck and side shots for meat and shoulder for large bucks. Perfect whitetail or other thick-skinned animals.
* Matt Heilig – Sako 85 hunter in 7mm rem mag is what I use, and I love it! I have taken deer close (15m) and far (380m) from red deer, chital (axis), fallow and Rusa. I feel more comfortable in taking those little bit longer shots than with my .308 and .270, which I have also used successfully on deer. The 7mm is great for meat shooting with not a lot of damage and waste as opposed to the .30 calibers (my opinion). But I guess it comes down to what you're comfortable with really. Again that's just my opinion.
* Ashton Martin – Mine would have to be the 7mag for the fact that it penetrates really well and accurate, but also comes with practice and knowing what ranges and the ballistics of your gun and having confidence in yourself as a shooter. My reason for the 7mag is you can load up loads all the way from coyotes to grizzly bear 120 grains to 200 grains.
* Rick Byars – My new favorite ………6.5 Creedmoor.
* Michael Cribbs – The .308 – Awesome caliber without the kick of the big guns.
* Cody Bryant – I shoot a .300 win and a .300 RUM. The reason is that I have to shoot long distances, and I also hunt elk, bear and antelope and want to do it with one gun.
I want to thank all of you who responded to my question. I'm sorry that space didn't allow me to use everyone's comments. Thanks again for your help.
To learn more about deer hunting, go to for John E. Phillips' Kindle, Create Space and Audible books at johninthewild.com/books/#deer and to www.barnesandnoble.com for Nook books. For a free download on how to make jerky, visit johninthewild.com/free-books.
Tomorrow: Should You Use the 6mm for Deer Hunting?