John's Note: We all understand that bagging big bucks isn't easy or else every hunter would take one each season. To bag a really-big buck this hunting season, you'll have to disarm the buck by defeating his senses of sight, smell and hearing, or you'll have to get lucky. When I take all the precautions to defeat the buck's defense mechanisms, I'm much luckier than when I don't.
Movement spooks more deer than any other mistake hunters make, except hunting with the wrong wind direction. James Smith, an older man in a hunting club I once belonged to years ago, consistently took more and bigger bucks than anyone else in the club. Each year I pestered Mr. Smith to tell me what secret tactic he had used to bag such large bucks. Finally one day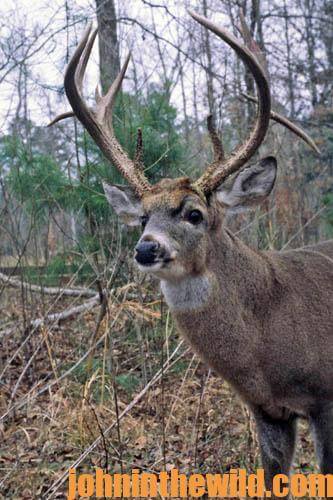 when in a benevolent mood, Smith answered, "Okay, John, I'll tell you what I do.  But you can't tell anyone else in the club." I realized I would soon learn one of the greatest hunting secrets of all time. However, I was disappointed when Mr. Smith said, "Sit still if you want to take big bucks." "I don't move around when I go to my stand," I told Mr. Smith. "But do you sit as still as a statue?" Smith asked.
Smith explained that deer could spot any movement a hunter made. If you turned your head, reached into your pocket, got a piece of candy out of your jacket or simply moved your rifle from one position to another, the deer would see you. Smith had such great success afield because he only moved his eyes after he arrived at a stand. "The longer you sit absolutely still and motionless, the better your chances for taking a trophy buck," Smith instructed. "Even the slightest movement will give away your position. Whether you hunt from a ground blind or a tree stand, don't move unless you're ready to leave."
I've tried to follow Smith's guidance. I've noticed I spook fewer deer than I do if I move on my tree stand. Have you ever noticed how many deer you'll see when you wake up from a light sleep while sitting in a tree stand or in a ground blind? I understand we can't sleep hard on our stands – just nap – and that good hunters stay alert and awake throughout the entire time they hunt. But good hunters also lie. They do sleep on their stands just like the rest of us. They just won't admit it. If you sleep on your stand, you'll remain motionless for a time, and then you'll probably see some big bucks.
"Because I know I will sleep in my tree stand at times, I've got the best safety equipment money can buy," Dr. Bob Sheppard of Tuscaloosa, Alabama, one of the nation's leading deer hunters, says. "However, I've taken a lot of deer by sleeping in my tree stand. I make sure as soon as I get my stand to the place in the tree where I want it to be that I have a safety harness on that will absolutely prevent me from falling, even if I have a nightmare while sleeping. My first concern is safety. My second concern is to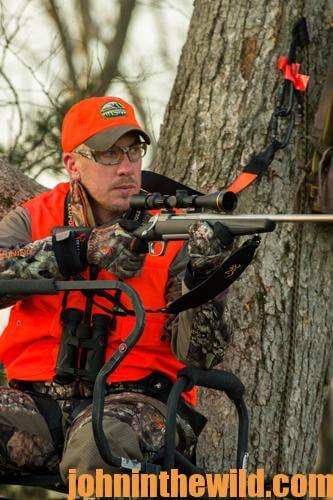 be comfortable. My third concern is to be able to stay in the tree as long as possible during prime hunting time. My fourth concern is that when I'm awake I look carefully at all my surroundings to try to spot a deer. Sitting still and being quiet are absolutely necessary characteristics to bag a trophy buck."
To get John E. Phillips' eBooks and print books on hunting deer, including his newest deer-hunting book, "Whitetail Deer and the Hunters Who Take Big Bucks," available at http://amzn.to/2bYwYOK/, click on these books to learn more, "How to Hunt and Take Big Buck Deer on Small Properties," "How to Hunt Deer Up Close: With Bows, Rifles, Muzzleloaders and Crossbows," "PhD Whitetails: How to Hunt and Take the Smartest Deer on Any Property," "How to Take Monster Bucks," "How to Hunt Deer Like a Pro," and "Bowhunting Deer: Mossy Oak Pros Know Bucks and Bows," or to prepare venison, "Deer & Fixings." Or, go to www.amazon.com/kindle-ebooks, type in the name of the book, and download it to your Kindle, and/or download a Kindle app for your iPad, SmartPhone or computer. You also can find John's books on Nook at www.barnesandnoble.com.
For free information on making jerky from your deer to provide a protein-rich snack, you can download a free book from http://johninthewild.com/free-books.
Next: Hunt Deer Silently for Success