John's Note: Forty-nine-year old Brian Barton of Muscle Shoals, Alabama, has been catfishing for 35 years and guiding anglers for 3-1/2-years on the Tennessee River, one of the premier catfishing waterways in the nation. It's very fertile, it has mussel beds, it has an abundance of shad, and it has hydroelectric power plants all along the river. Every spring and summer catfishermen from around the nation come to the Tennessee River to catch blue, channel and flathead catfish, expecting to catch 100 pounds of cats per day. I've asked Barton to tell us five different ways he catches cats on the Tennessee River that you can use where you catfish. This week we've also included videos of Phil King of Corinth, Mississippi – one of the world's fastest catfish cleaners.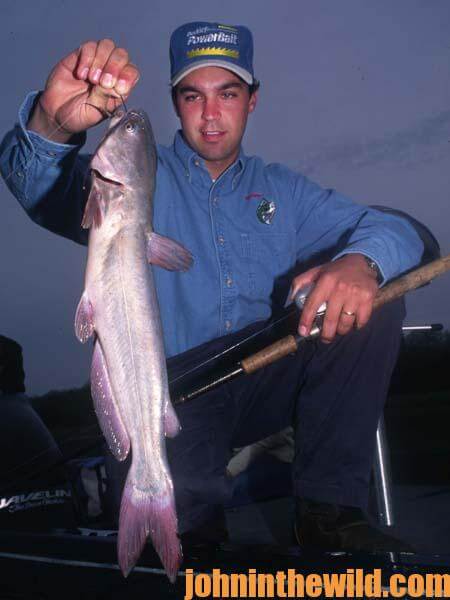 When the turbines aren't discharging, I like to slow troll the underwater ledges, a technique I particularly use to target trophy cats that weigh 20 pounds or more. I use a Minn Kota trolling motor with an i-Pilot GPS Trolling System. I use my electronics (depth finders) to find the ledge that I want to fish, pick the deepest contour with my trolling motor and record a path with my trolling motor. I circle back around, and I can program my trolling motor to follow that contour line. I use two types of rigs when I m fishing the ledges. I'll have a Carolina rig on one rod, and a bottom float rig on the other.
I like to keep my bait about 18 to 24 inches off the bottom. By starting on the same bottom contour line, I can set my bait to troll there. I troll at .3 mph to .5 mph. If the fish takes the bait at .5 mph, this is the speed at which I'll troll. But if they won't take the bait at .5 mph, I'll slow down to .3 mph. My remote for my trolling motor i-Pilot and the GPS on my depth finder will tell me my trolling speed. If you don't have a depth finder or one of the trolling motors like my Minn Kota, you can use a hand-held GPS to keep up with your trolling speed.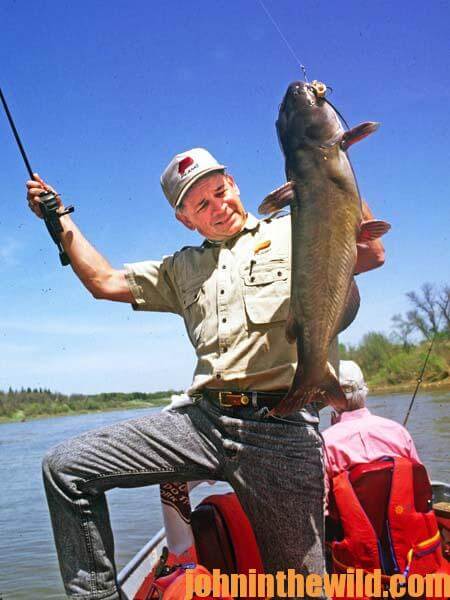 I'll fish with 50- to 80-pound-test braided line with an egg sinker up the line, use a red bead under the egg sinker tied to a barrel swivel, tie about 18 inches of 20-pound-test monofilament to the bottom eye of my swivel and attach a No. 7/0 or a No. 10/0 Daiichi circle hook. I'll be using either cut gizzard shad or cut hickory shad – known as skip jack – for bait. The cut skip jack usually produces bigger catfish. I've found that the best piece of cut skip jack to bait with is the head. I cut from behind the head at a 45-degree angle down toward the anal fin. This way you keep some of the gut packed in the bait, which gives off a lot of scent. The head bait will catch 3 to 1 more catfish than any other part of the skip jack.
Bottom Float Rig:
The second rig I use is what I call a bottom float rig. I tie my main braided line to the top eye of a barrel swivel. On the bottom eye of the barrel swivel, I attach 6- to 8-inches of monofilament line and a pencil-shaped 3 – 5-inch long sinker to the other end of the monofilament. I like this type lead, because it doesn't hang up as much as other shapes of lead as I let the lead drag along the bottom. In the top eye of the swivel where I have my main line attached, I tie about 4 feet of 20-pound-test monofilament line. I insert a red 2-inch Styrofoam float and tag the float halfway between the swivel and the end of my line where I have my hook attached. I like a red float between my swivel and my hook because I believe the red float appears to the catfish like bloody bait. But the most-important reason for the float is that it helps keep the bait up off the bottom about a foot. Then when I'm trolling down a lake, the float keeps the bait from hanging on debris and rocks on the bottom.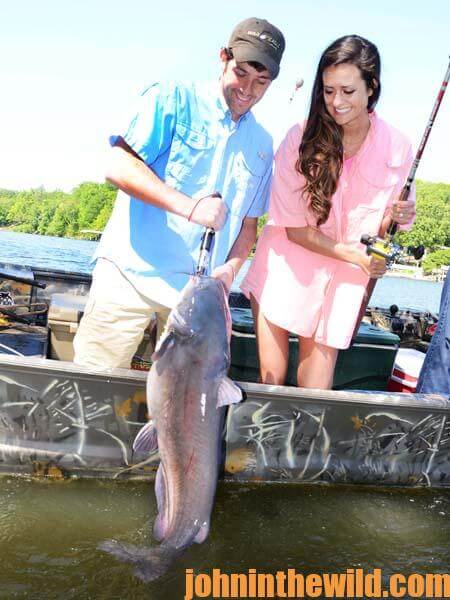 Using these two rigs, I've found that I usually catch most of my really-big catfish, with the biggest weighing 75 pounds. My client caught a cat on Pickwick Lake that weighed 79 pounds and required about 15 minutes just to boat this big cat. We photographed the fish before releasing it to fight again another day.
Bonus Videos with Phil King:
To contact Brian Barton you can reach him at
brianbartonoutdoors@aol.com
; you can go to his website at
www.brianbartonoutdoors.com
. Or, you can visit him on
Facebook
. On his Facebook page, you can look at more photos of the type and number of fish he's been catching.
For John E. Phillips' Kindle eBook "Catfish Like a Pro," click here. You also can download free recipes at johninthewild.com/free-books – "The Catfish Catcher's Cookbook."
Tomorrow: Fishing Jigs and Spoons for Catfish with Brian Barton in May and June