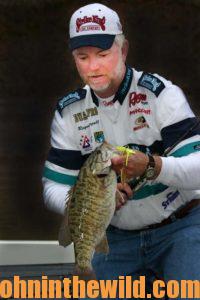 Editor's Note: Even a dog knows to get out of the sun when the temperature is 90+ degrees, and many bass anglers across the nation have discovered that bassing is more productive after dark on most rivers and lakes in the summertime.
Pickwick Lake on the border of Tennessee/Mississippi/Alabama is probably the number-one night-fishing lake for hot weather smallmouths. Spinner baits, jigs and plastic lizards produce as many, if not more, smallmouth bass at night at Pickwick as crankbaits, spoons and jigs do during daylight hours. Some of the best fishing at Pickwick is along the old barge canals, old locks and stump rows now underwater after the lake was inundated. Anglers often catch 5-pound-plus smallmouths during the dark at Pickwick and even may catch more than one in a night. Often they'll catch largemouths too up to 6-7 pounds each, using this technique.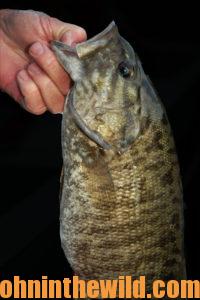 Roger Stegall, who operates Roger Stegall's Professional Guide Service on Pickwick (http://www.fishpickwick.com/), probably fishes more days and nights on Pickwick Lake than any other angler. "Smallmouths love crawfish," Stegall says. "At night, they'll move up into shallow water often not more than 2-feet deep onto clay banks, gravel points and underwater humps to feed on crawfish. Even though the smallmouths pull up into shallow water, they want to be close to deep water. I've found that the best time to catch them is when there's a full moon, and the water is really hot, since they have a tendency to feed more at night in hot weather."
Pickwick's smallmouths tend to relate to the grass, as well as to clean bank areas at night. Stegall targets hot weather, nighttime smallmouths by fishing a single #4 or a #5 Colorado blade spinner bait, either in solid-black or black-and-red, or a Texas-rigged black worm. "My favorite bait is a black worm fished on a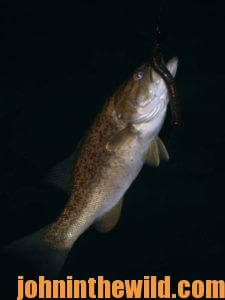 Carolina rig," Stegall explains. On Stegall's best night, he caught five smallmouths that weighed a total of 20-24 pounds. "I've also caught a combination of smallmouths and largemouths at night, with my best five weighing 25 pounds," Stegall recalls.
The smallmouths and largemouths often will hold in the same types of areas and take the same kinds of baits. When you hook a bass at night on Pickwick, you really don't know if you have on a largemouth or a smallmouth. The best time to catch bass in hot weather is from 12:00 midnight until the first rays of daylight. That late night/early-morning time period is when the smallest number of anglers will be fishing, the lake will be calm, and the fish seem to bite better. Especially with smallmouths, you'll catch them in much-more-shallow water at night than in the daytime, which means anglers can fish closer to the bank than in the daytime. Many of the places where you'll find the most smallmouths at Pickwick at night are where you probably won't catch a bass during daylight hours."
You can see pictures of Stegall fish on Facebook at www.facebook.com/fishpickwick or call 662-808-2184.
To learn more about bass fishing, check out John E. Phillips' book, "How to Bass Fish Like a Pro" at http://amzn.to/YpoJvD available in Kindle, print and Audible versions.
Tomorrow: Other Tips for Taking Nighttime Bass in Hot Weather
EXPLORE MORE: you'll love these stories from John too