Editor's Note: Bowhunters can find all types of excuses for not hunting, for why hunting is difficult, and for what keeps them from being successful. Let's look at some bowhunting situations with Bob Foulkrod, who is recognized nationwide as a master bowhunter. We've asked him to discuss how to deal with these problems, to see if we can improve our chances for taking whitetails.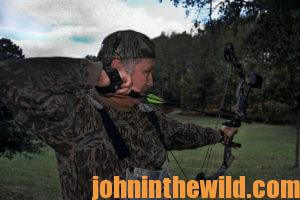 According to Foulkrod, "When the rain's pouring down, most bowhunters can come up with all kinds of excuses for not hunting, including:
'I won't be able to climb the tree in the rain;'
'I won't be able to see the deer;'
'My fingers will slip on the string;'
'I won't be able to track a deer if I do arrow one;' and/or
'Raingear is too noisy to permit me to stand and take a shot if I do see a deer,' etc.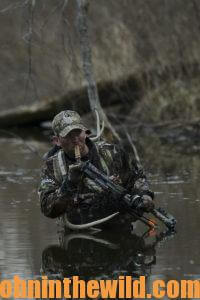 "Probably the number-one excuse for not hunting in the rain is the hunter thinks the deer aren't going to move, but this assumption is just not true. I believe the hunters who use this for an excuse must think deer go inside and stay near a fire when the rains come. However, whitetails are accustomed to the elements and do move and feed during a rain.
"Where I hunt in the East, most of our shots are from 10-20 yards. Naturally one of the most- critical keys to success is having quiet raingear. Since raingear is noisy, if you don your raingear, wait for a deer to come in range, and then stand and take a shot, more than likely the suit that keeps you dry will be responsible for running off and spooking your deer. I wear my rainsuit and then either put on cotton clothing or some type of polar fleece clothing on top of my rainsuit. Although my outside clothing will get wet, I'll stay dry with the outside clothing muffling the rainwear. The other option bowmen have is not to wear any raingear at all and get thoroughly soaked but remain quiet.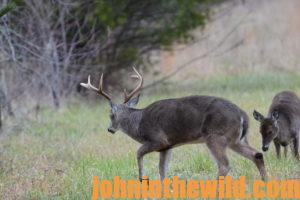 "Yet another problem that prevents many hunters from facing the elements on a rainy day is they reason that if they arrow a deer, the rain will wash away the blood trail before they can locate the animals. But most of my hunters shoot at 20 yards or less. To track deer on a rainy day, I advise hunters to get down from their tree stands and trail the deer as soon as they arrow them.
"Another misconception about bowhunting deer on a rainy day is that the hunter has to use vanes instead of feathers for his fletchings. However, I always hunt with feathers, because I'm only going to shoot an arrow one time. Therefore the fletchings aren't going to have a chance to get as matted or as tangled as they will, if you are target shooting and have to shoot the same arrow several times.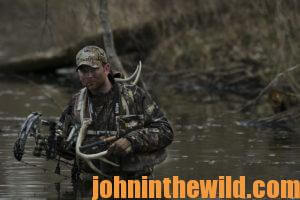 "If you're stalk hunting, you must be careful not to get your fletchings up against brush or bushes that can cause a problem with the fletchings. Although many hunters have suggested spraying fletchings with silicone, I believe deer have learned to relate that silicone smell to the hunter. If you utilize silicone, you may spook the deer you're trying to hunt. I don't put anything on my feathers and haven't found that I have any problem shooting them in the rain."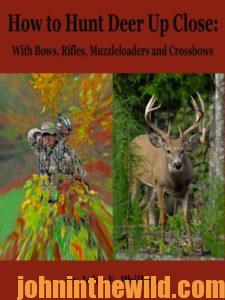 To learn more about hunting deer, check out John E. Phillips' book, available in Kindle, print and Audible versions, "How to Hunt Deer Up Close: With Bows, Rifles, Muzzleloaders and Crossbows" at http://amzn.to/11dJRu8. You may have to copy and paste this link into your browser. (When you click on this book, notice on the left where Amazon says you can read 10% of the book for free, and you can listen to 10% for free). On the right side of the page and below the offer for a free Audible trial, you can click on Buy the Audible book. To see more of John's bowhunting books, visit www.amazon.com/author/johnephillips.
Tomorrow: Taking the Long Shot at Deer
EXPLORE MORE: you'll love these stories from John too